Types of Cloud ERP: Definition, Features, Benefits, and challenges
The article, "Types of Cloud ERP" is for individuals or organizations considering using cloud ERP systems. It provides a comprehensive overview of five different types of cloud ERP deployments (Multi-tenant SaaS, Single-tenant SaaS, Public hosted cloud ERP, Hybrid ERP, and Private hosted cloud ERP), including definitions, features, benefits, and challenges for each type. This information can help businesses make informed decisions when selecting the best type of cloud ERP solution for their needs.
Cloud ERP solutions are the way to go these days. After understanding the pros and cons of cloud ERP systems, the next thing is to select the best type. Various cloud ERP deployments exist. Before picking the best, first, understand each type. We will define and analyze their features, benefits, and challenges. There are five types of cloud ERP we will discuss here include:
Multi-tenant SaaS
Single-tenant SaaS
Public hosted cloud ERP
Hybrid ERP
Private hosted cloud ERP.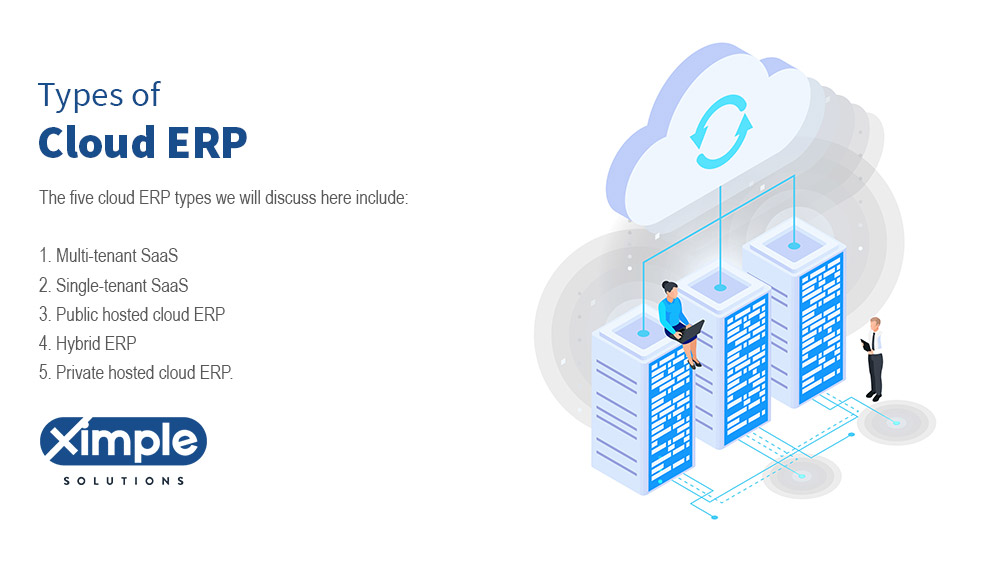 Table of Contents
1. Multi-tenant SaaS
Definition
In multi-tenant cloud software architecture, several customers use a single instance of a vendor's product. The vendor should create and maintain one software version to reduce production and distribution costs while enabling higher profits.
Many customers like the multi-tenancy cloud system because it is affordable and capable. Besides, the provider manages the software and hardware on the customers' behalf.
Features
Resource sharing – A multi-tenant environment consists of shared server resources. However, the tenant can configure and personalize the shared software to match their data and needs. Also, no customer can peep into their neighbor's private data. Each software user has a server space to place their private data and property. Multi-tenancy cloud ERP suppliers create scalable environments to support the ever-increasing number of customers.
SaaS-based – Multi-tenancy cloud ERP delivery uses the SaaS(Software as a Service) platform. Thus, customers purchase the monthly subscriptions they can afford. SaaS companies control their IT expenditures by creating flexible cost models. They also create customizable cloud solutions to accommodate as many users as possible.
Deployments – A multi-tenant SaaS ERP consists of two deployment types. The first one is called a single application and database. Customers use one database instance and one application. The other choice is a single application, multiple databases deployment method. As the name suggests, clients use a single application but separate databases to enhance isolation.
Benefits
The advantages of choosing the multi-tenant SaaS include the following:
The SaaS software suppliers upgrade their products automatically and enable each company to access the current version.
Software upgrades and maintenance activities do not disrupt customers' work.
A multi-tenant SaaS ERP is cheap for both users and suppliers.
Suppliers only focus on producing and improving one software version. It can simplify the development and maintenance process.
Customers who want to scale their operations need only buy a bigger subscription plan. If facing operation difficulties, they can get a cheaper subscription plan.
Challenges
A multi-tenant SaaS software architecture is the best for starters and experts. However, it has its demerits.
Uniform security measures in a shared environment are less reliable for businesses with higher odds of facing cyber-attacks.
Every tenant suffers during an outage or a disconnection due to a natural disaster or human error.
It does not provide adequate control and flexibility to users who need them.
2. Single-tenant SaaS
In a single-tenant SaaS, one tenant gets a single instance of software and server resources. They get a dedicated service, unlike the multi-tenant SaaS customer who has to share everything with others.
Single-tenant software models offer greater control and user engagement than multi-tenant SaaS solutions. However, the dedicated single-tenancy infrastructure is expensive.
Features
Dedicated resources – One tenant uses a single software instance alone, which ensures more control, flexibility, reliability, and security. A tenant gets a separate database and SaaS server.
SaaS-based – A tenant purchases a subscription that goes well with their business needs.
Customization – A user can tailor their single instance application to their needs. They can also alter the UI after installing the software locally.
Backup – A software tenant gets a separate backup for their data. They can be safe in a sudden data loss situation. Tenants using single-tenant SaaS infrastructures can easily install updates.
Benefits
Here are the reasons why you should consider a single-tenant SaaS ERP solution.
There is no sharing your infrastructure with anybody, which boosts data security, control, and flexibility.
You can customize the software and hardware as needed.
Reliable because it provides a disaster recovery plan via isolated backups.
Moving a single-tenant SaaS solution from its current host environment to another one is easy.
Challenges
Disadvantages include the following:
Hosting a single-tenant SaaS instance is expensive
Upgrading and managing a single-tenant system is challenging because the client does it personally. They need adequate finances and expertise.
Unless you optimize the system, you may not use all system resources.
3. Public Hosted Cloud ERP
A publicly hosted cloud ERP is an internet-based service model where the supplier provides shared resources. The general public can access applications, servers, and storage solutions in a multi-tenant cloud environment.
Hence, many customers share the same IT infrastructure and resources. The prominent examples of public cloud deployment solutions are Microsoft Azure, Amazon Web Services, and Google Cloud Platform.
Features
Did you know that eighty-nine percent of companies preferred using the public cloud in 2016? It is more popular than private and hybrid clouds. Features of the public-hosted cloud ERP include:
Scalability – It takes only a few hours to deploy a public cloud solution. It also provides several resources that support scalability.
Multi-tenant model – This is a shared cloud environment based on the multi-tenant model. It is cost-effective because the software supplier does the upgrades and maintenance tasks.
Benefits
Several businesses choose the public-hosted cloud ERP for these reasons.
The public cloud infrastructure is cost-effective. User pays for the resources they can afford rather than meeting a fixed charge.
You can easily customize the shared software depending on business performance. If you are not doing well, you can purchase fewer resources and vice-versa.
The odds of downtime are lower with a public cloud infrastructure. Since the system consists of several interconnected servers, the failure of one server does not affect others.
Challenges
The challenges you could face when using a publicly hosted cloud ERP solution include the following:
Moving an existing application to the public cloud environment requires a clear migration strategy, or it fails.
Enterprises may not cope with the rapid rate of change in the cloud infrastructure.
Cloud compliance and governance challenges can prevent most organizations from fully utilizing publicly hosted solutions.
The security of data and applications hosted in the public cloud is unreliable.
4. Hybrid ERP
A hybrid ERP is an infrastructure consisting of on-premise and cloud characteristics. It is a two-tier ERP system enabling a company to use its existing on-premise ERP and some cloud applications. A hybrid ERP solution is not as popular as a public or private cloud solution.
Features
A hybrid solution has the following features:
Two tiers – The first tier entails the on-premise ERP for handling various business functions. The second tier entails the added cloud features to boost productivity and visibility in given business regions or units.
Supports specific functions – If you use an on-premise ERP, your workers cannot access it outside the office. Adding a cloud solution can create an instant mobile ERP solution for remote users. Also, a hybrid solution partially simplifies integration with applications your on-premise ERP may support. For instance, you can add a CRM if it is hard to manage your clients.
Deployment – A hybrid ERP uses a Platform as a Service (PaaS) approach.
Benefits
A hybrid ERP solution is cheaper to install because you choose one business region or unit that needs the system the most.
Cloud ERP solutions to combine with your existing on-premise system are several these days. Hence, you can find the most appropriate solution for your business needs.
A hybrid solution is a unit-wide resource and less complicated than an organization-wide ERP system.
Challenges
Businesses that want the benefits of on-premise and cloud ERPs at once should opt for a hybrid solution. However, its main challenge is the lack of several built-in integration capabilities. Therefore, data synchronization and consolidation of financial information is complex. Sharing a single database across all departments and units is also a challenge.
5. Private cloud ERP
A private cloud ERP solution is a web-based computing environment for one user. As a result, a user does not need to share their software and other resources with anybody. This allows them complete control over their cloud computing environment.
Features
Dedicated resources – As earlier hinted, a private cloud ERP system entails just one user. They do not share resources and can add them at will.
Scalability – As your business grows, you can still scale your private cloud environment to meet your needs.
Cost – A private cloud ERP system is cheaper to manage because it creates no recurring charges, and upgrades are manageable.
Customization – A private cloud software solution is easy to customize according to your requirements.
Benefits
A private cloud ERP system can provide these advantages:
No need to invest in expensive servers
You can make your cloud ERP environment what you want based on your financial strength and other factors
You need not share server resources with strangers
It is easy to access the software from any place
A private cloud system is highly scalable and agile.
Challenges
Lack of adequate knowledge transfer prevents users from learning how the private cloud service works.
A private cloud may be susceptible to security breaches, making it less secure than a public cloud. Since the user is responsible for securing their private clouds, their lack of expertise can raise the odds of a cyber attack.
Conclusion
In conclusion, cloud ERP solutions are a popular choice for businesses due to their cost-effectiveness and delivery options. The five types of cloud ERP – Multi-tenant SaaS, Single-tenant SaaS, Public Hosted Cloud ERP, Hybrid ERP, and Private Hosted Cloud ERP – each offer unique benefits and challenges. Businesses must consider the cost, control, security, and management requirements when choosing the best solution for their needs.
Ximple is a popular cloud-based ERP solution designed specifically for the distribution industry. It offers features such as inventory management, order management, and shipping and receiving management that are essential for companies in the distribution sector. The solution is known for its ease of use and customization options, making it a great choice for businesses looking to streamline their operations and improve efficiency.
Hitesh Barot is a Technologist and blogger passionate about solving business and technological challenges in Wholesale Distribution, Retail, and Manufacturing Industries. He has more than 20 years of experience leading the IT department for the Distribution, Retail, and Manufacturing business. Learn more about him here and connect with him on LinkedIn.
---
Posted on