This article is ideal for business owners, managers, and professionals who are looking to improve their business processes through the use of software. The article discusses the key features of business software and deployment options, making it a useful resource for anyone considering implementing business software in their organization. The article also highlights common software tools used by businesses, including word processing, accounting and bookkeeping, billing, asset management, desktop publishing, and payroll management. The article also explains what business system software is, which makes it useful for anyone unfamiliar with the concept.
Business software is the ideal way to automate different processes in an enterprise. It increases productivity and profitability by streamlining all tasks, including repetitive ones. The term business software represents a wide assortment of tools. For instance, there are specific software systems for accounting and finance, marketing, customer support, human capital management, project management, etc.
Business software is vital for SMEs and large-scale businesses as it replaces manual data entry. Software applications reduce human error and the costs that arise from it. We will discuss the key features of business software and other vital details next.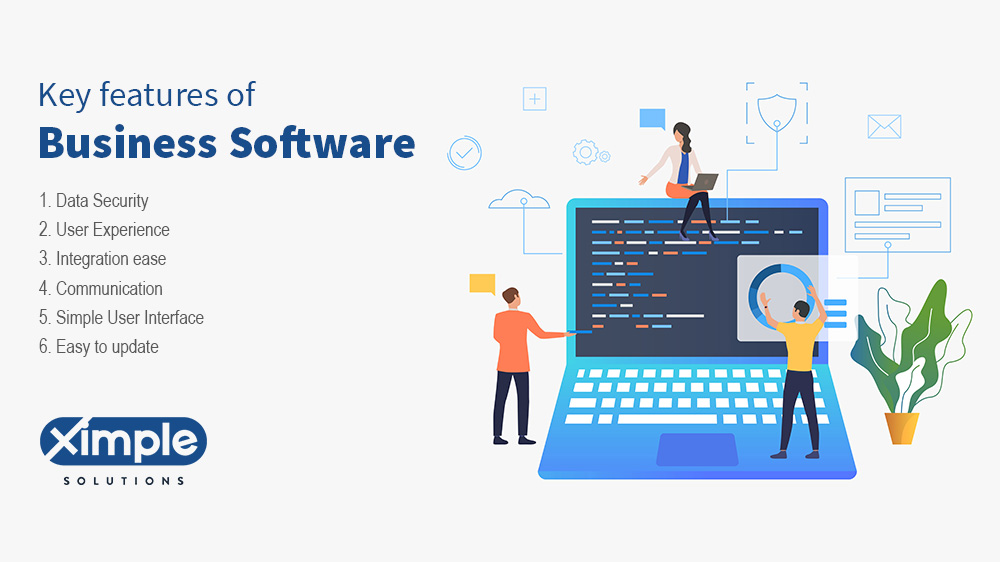 Table of Contents
Key features of Business Software
Operating efficiency can improve customer satisfaction and increase sales revenue. A company can best achieve operating efficiency via business software. Nevertheless, one software product may not work for all business types. It is necessary to choose features that can specifically help your enterprise. Bespoke business software is the best and should at least have the following features:
Data Security – Customer data is private and confidential and should stay that way for as long as you hold it. Unfortunately, data security requires investing in the form of business software. Not all software applications provide data protection. Hence, choose one that offers several levels of data security.
User Experience – Your employees need software tools they can understand and use. Hence, the best software should simplify user experiences to improve customer satisfaction. Also, the software is reliable if compatible with mobile devices. Most customers use their phones and tablets to access the internet. Your software needs to work on mobile devices the same way it does on a desktop PC.
Integration ease – The best business system should be easy to integrate with existing applications. It should adapt to existing processes and bring about optimization.
Communication – Communication is a vital aspect of business management. Hence, the best business system should consist of modern communication methods, including instant messaging features. These will allow faster information tracking and responses.
Simple User Interface – Current and new users need no strain when using business software. It should offer user-friendly navigation features as these can reduce customer support costs. For instance, a self-service support feature can help an organization reduce the number of workers in the customer service department. It can provide answers to simple queries.
Easy to update– The best business software should offer an updatable code for customization ease. Hence, you should understand popular coding practices when choosing the right software for your enterprise. It should have an adaptable architecture to guarantee easy connection to the cloud.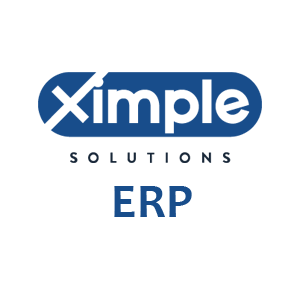 See How We Can Help to Reduce Your Operational Costs for Your Wholesale Distribution Business.
Ximple ERP automation improves workflows & processes across the distribution departments which help to reduce operational cost and productivity.
If you want our wholsale distribution business experts at Ximple Solution to help you digitalize your distribution business or upgrade your AS400 System, just book a call
Deployment options
Once you have the most suitable business software, you must deploy it. But what are your deployment options? Do the following:
1. Create a business strategy
The business software implementation process should begin with a suitable strategy. In your business strategy, do the following:
Re-define your business goals and needs
Assess the ROI of all technology investments your company wishes to do
Assess how your organizational structure might look in the future and whether the new technology can adapt to that
Predict how business processes and compliances might change in the future.
2. Compare software options
Software providers are in business and will make a profit at any cost. Hence, they can trick you with their advertising gimmicks and might offer you the wrong software. As you already know current and future business objectives, select a software tool that can meet help you meet them.
You may not require every software tool to streamline your operations. If you have finances, consider implementing the best Enterprise Resource Planning (ERP) software, as it is a single truth source. If you cannot manage an ERP tool, choose individual software tools.
These many include CRM (Customer relationship management), HCM (Human Capital Management), SCM (supply chain management), Accounting and Finance, Cyber security, business intelligence, etc.
Data transfer from existing tools to new business system is an irreplaceable step. Your deployment team must only transfer relevant data and ensure it has no duplication or other errors.
4. Change management
Your stakeholders and employers must all agree to the implementation of new software. If they cannot embrace change, the deployment process may fail. Carrying out an organizational change management process is a must to help everyone understand the benefits of the software and how it might affect their work. Different training levels are necessary when eliminating resistance to change.
5. Cost of business software
The cost of business software can vary based on the type you require. Common software types include the ones we have listed above. They address content process, billing, payroll processing, asset management, and so on. The upfront cost will be higher if you buy an ERP software product. However, the ERP software should recover the higher upfront costs in the future.
It places data from different departments in a single database, improving visibility. The total cost of ownership is high when running an on-premise ERP and lower for cloud ERPs. In contrast, software for managing an individual department, such as accounting and finance, is less expensive than any ERP platform. Nevertheless, you might spend these savings on software tools like CRM, SCM, HCM, etc.
What software do most businesses use?
Many businesses consider having essential software for:
Word processing
Accounting and bookkeeping
Billing
Asset management
Desktop publishing
Payroll management.
What is business system software?
It is a business application or set of computer programs that facilitate work. They help employees work faster without making mistakes. A business software system allows managers to track and measure employees' productivity. By automating business functions, the system software saves time and money.
What are the five basic business software?
It is easy to automate complex and easy tasks via software applications. Many of them now, and choosing the best can be tricky. As a small enterprise, you should aim at implementing five basic applications. These include the following:
Word processing programs include Microsoft Word, Google Documents, Zoho Writer, and others. These can help your employees create various business documents, including correspondence, reports, agreements, etc.
Data management software makes data analysis, calculation, visualization, editing, access, and storage easy—a business deals with multiple data sources requiring proper management to retain its integrity. The most popular data management software applications include Google Sheets, Microsoft Excel, Microsoft Access, Microsoft SQL Server, Oracle's RDBMS, MySQL, and IBM DB2.
Accounting, payroll, and finance software – One software that can do bookkeeping, accounting, financial reporting, and payroll processing is essential. Processing these business functions is hard without basic software, as they use a lot of data. Transparency is also imperative, which is easier to demonstrate with software. Tools like Sage or QuickBooks can simplify these activities.
Desktop publishers – Tools that employees can use when designing business logos, letterheads, images, videos, banners, brochures, and related items are a necessity. They facilitate the creation and publishing of digital content online. Examples entail Adobe Photoshop, Adobe Illustrator, Corel Draw, and so on.
Data storage software solutions – Companies get data from different departments and sources. They must focus on proper data storage solutions and comply with privacy rules. External data storage solutions are not always sufficient, making server-based solutions essential. Cloud data storage has become necessary for businesses with remote subsidiaries and employees. Cloud solutions like Google Cloud, Dropbox, IBM Cloud, and Microsoft Azure are required.
Conclusion
Business software is an essential tool for enterprises of all sizes. It increases productivity and profitability by streamlining all tasks, including repetitive ones. Business software is vital for SMEs and large-scale businesses as it replaces manual data entry, reducing human error and the costs that arise from it. The key features of business software include data security, user experience, integration ease, communication, simple user interface, and ease of updating. When deploying business software, it is important to create a business strategy, compare software options, carry out data migration, implement change management, and consider the cost of business software. The most common software used by businesses includes word processing, accounting and bookkeeping, billing, asset management, desktop publishing, and payroll management. Business system software is a set of computer programs designed to automate different processes in an enterprise and improve operating efficiency.
Hitesh Barot is a Technologist and blogger passionate about solving business and technological challenges in Wholesale Distribution, Retail, and Manufacturing Industries. He has more than 20 years of experience leading the IT department for the Distribution, Retail, and Manufacturing business. Learn more about him here and connect with him on LinkedIn.
---
Posted on