ERP Software Solution & Functions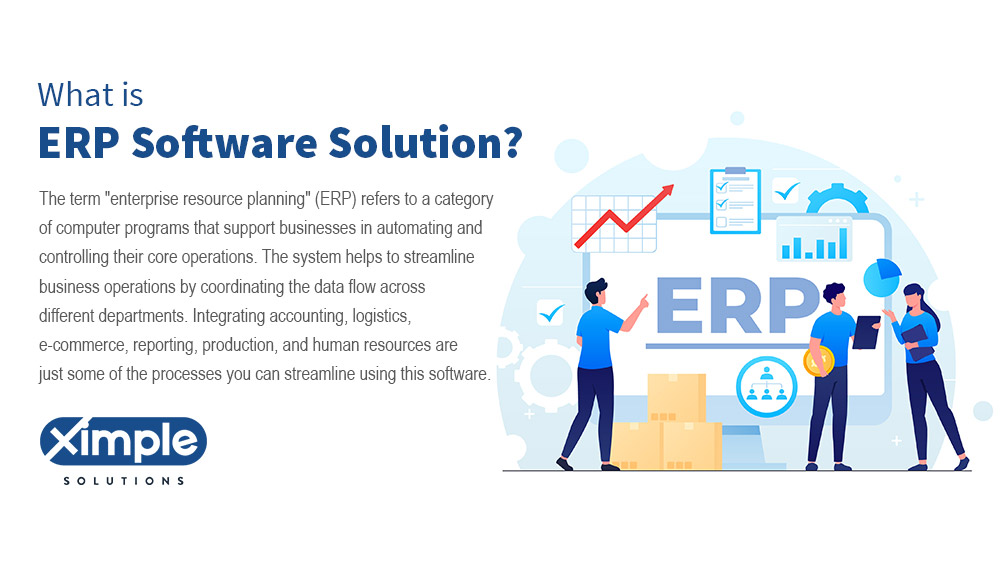 This article is about ERP solutions and their importance for businesses. ERP, which stands for enterprise resource planning, is a category of computer programs that help businesses automate and control their core operations. The article discusses how ERP technology can help unify business operations and provide businesses with enterprise knowledge, speed, and flexibility to optimize their processes. The article goes on to detail how various business functions such as commerce, finance, human resources, and distribution can be enhanced with ERP solutions. The article provides an overview of the key features of commerce ERP, finance ERP, human resource ERP, and distribution ERP, and how they can help businesses streamline their operations and improve their overall performance. This article is intended for business owners, managers, and anyone interested in learning more about ERP solutions and how they can benefit their business.
What is ERP Software Solution?
The term ERP Solution "enterprise resource planning" refers to a category of computer programs that support businesses in automating and controlling their core operations. The system helps to streamline business operations by coordinating the data flow across different departments. Integrating accounting, logistics, e-commerce, reporting, production, and human resources are just some of the processes you can streamline using this software.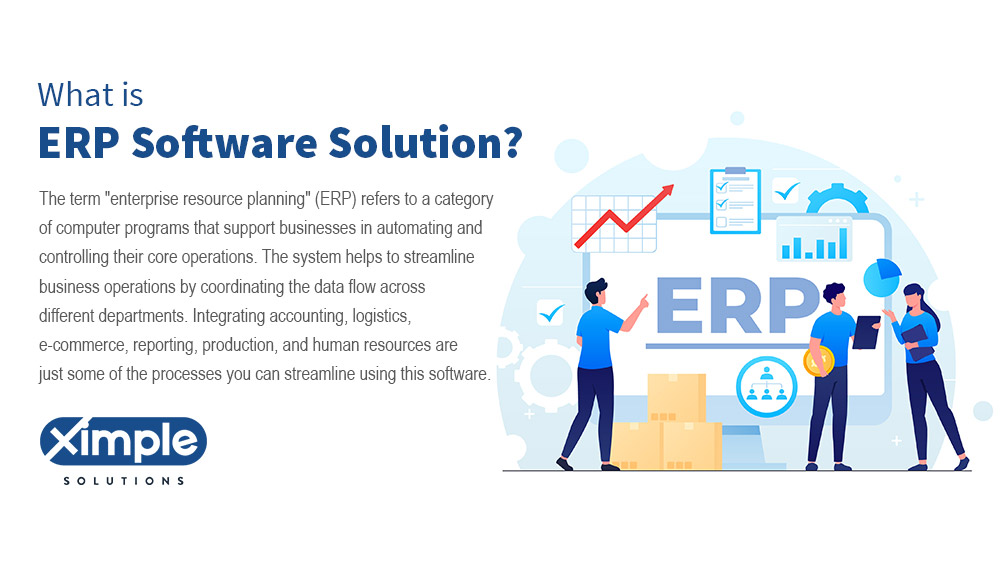 Table of Contents
What makes ERP so crucial for businesses?
ERP technology is improving at unifying business operations. Connecting your business data, systems, and processes will provide you with enterprise knowledge, speed, and flexibility to optimize your processes.
Business functions enhanced with ERP
Your organization cans immensely optimize many functions using the ERP system. It can help minimize the bottlenecks between different departments and offices. Besides, it enables you to adapt to new business environments. The following are examples of essential business processes that require ERP solutions:
Commerce
An enterprise resource planning (ERP) system can provide a unified back-office, in-store, and online shopping experience for modern businesses that confront various issues. Retailers benefit from increased employee efficiency, decreased fraud, and expanded commerce due to AI-recommended products. The following are essential features that you get in commerce ERP:
Combined Dashboards: A significant feature of commerce ERP has consolidated dashboards. Contemporary
cloud ERP software solutions include the creation of a standard dashboard that eases interactions.
Complex interfaces: ERP tools are effective in integrating different commerce systems. You need a sophisticated structure that improves the communication between the front and back ends of an e-commerce site. When you purchase an e-commerce ERP, expect to find a modulated interface that connects different processes such as payment, ordering, delivery, and other related e-commerce practices.
Improved Security systems: ERP software solution offers high end-to-end security levels through encryption. You need a security-compliant system to avoid losses or errors from the supply chain or distribution problems.
Business Analytics and Intelligence: Besides creating a systematic flow in the e-commerce framework, ERP solution software is necessary for managing big data. The ERP software will help you manage the data through analytics.
Finance
It would be best if you had ERP Financial software to improve your business's profitability and compliance. It provides real-time access to your financial data through dashboards and AI-driven analytics. These processes provide an overarching perspective of your situation. As a bonus, ERP automation reduces the manual data entry required. The solutions improve tracking functions to support your company's compliance issues. Some of the features include:
General Ledger: All of the business's financial transactions are recorded in the general ledger software. It monitors various assets, liabilities, income, and expenses. Ximple offers an ERP solution that integrates these accounting processes into the GL.
Accounts Payable (AP). Accounts Payable handles all payments due to suppliers and creditors. The function's automation helps businesses save time and money while reducing the likelihood of mistakes. Besides, the ERP module can improve your system's ability to process invoices. Similarly, the AP's integration into the ERP finance would enhance cash flow management.
Accounts receivable (AR). The accounts receivable function is necessary for handling customer transactions. It keeps tabs on money coming in and going out and handles billing and cash flow. This feature allows a business to create invoices, payment reminders, and financial statements routinely. Automating the accounts receivable will improve collections and ease the customer payment process. Thus, you'll manage cash flow while satisfying your client's needs.
Fixed Asset Management: Fixed asset management requires an ERP system to monitor and manage tangible assets. Your business needs ERP software to track your equipment and guide you on maintenance. For instance, the ERP can support processes such as tax compliance and depreciation calculations.
Reporting: Easy-to-use reporting tools make it possible to get the money numbers. They aid a business in creating financial reports, most of which are used internally. Additionally, certain products can provide information and auditing suitable for satisfying regulators' requirements. When a company has access to ERP financial records through the reporting tools, it can make informed decisions and projections. The revenue situation can be more clearly seen with analytics tools. On dashboards, revenue, expenditures, and other financial records can be viewed as they currently stand and are forecasted to be in the future. Managers are given a visual representation of the data, allowing them to rapidly grasp the state of the company's finances.
Human Resource ERP
The human resource ERP feature is a must-have for your business. The most up-to-date systems provide methods for managing firm data and streamlining staff administration chores such as payroll, recruitment, and other responsibilities. You have an opportunity to improve employee retention, acquire new workers, and inspire current staff while simultaneously analyzing employee performance and assisting you in identifying potential HR issues before they arise. The following represent the significant features of the HR module:
Organizational Management: It helps with personnel planning and application development. It makes it possible to analyze the entire corporate system. Because of this, planning and developing employees' profiles is now possible.
E-Recruitment: This ERP feature is necessary for hiring internal workers and external applicants. This involves having access to talented people regardless of where they live.
Time Management: This functionality allows the recording of employees' attendance as well as their absenteeism. Additionally, it assists in determining factors including attendance, absenteeism, overtime, incentive, and remuneration.
Personnel Management: the ERP feature involves administering employee information. You can use this software to save employee details, issues affecting them, and other related processes that would influence organizational culture. You can use the data to craft an influential corporate culture.
Payroll: companies need the payroll feature to manage employee payment processes. The ERP module can integrate various functions such as time management, accounting, and payroll. It provides information on payment records, daily attendance data, bonuses, and deductions. The employee data can be marked as present or absent by the user. In addition, you can enter data concerning the workers' overtime work if they have worked over their regular shifts.
Employee reporting: This is another essential element that requires ERP management. It offers both individual employee reports and demographics.
Distribution
Costs associated with purchasing, moving, and storing stock should be carefully considered by distributors. With these factors, success is guaranteed, and ERP is vital in achieving this. This article will look closely at some key ERP functionalities for distributors.
Rapid movement of inventory
Maintain constant sales of your stock to produce the required ROI. An ERP will provide a standard report for picking sales orders.
When a new shipment arrives at a warehouse, the warehouse management software will automatically sort the goods into containers according to their appropriate points based on future needs while only allowing the selection of bins that have room for the new shipment.
The ERP system's business intelligence feature can spot unsold stock and recommend appropriate measures swiftly. Surplus inventory is reduced if those items are sent back to the original vendor or given to a client at a discount for a quick sale.
Financial Management in Distribution Processes
Accounting and finance features such as GL, AP, AR, and other ledgers are essential components of an ERP for distributors. It would help if you considered using ERP-managed electronic money transfers for all cash payments and receipts. It saves time and money compared to writing checks and making bank deposits.
Use an enterprise resource planning (ERP) system to keep track of a supplementary chart of accounts and generate consolidated financial statements to convince prospective clients to do business with you.
Automation of Identification
These days, you can find a QR code or barcode on the label of almost anything you buy. A tag in different striped symbols represents each field of information. Typically, this is done to track the unique identifier of a product. In modern times, an existing data record can be represented by increasingly dense codes. This record may include an overview, timeframe obtained, batch number, lot number, and other relevant information. Fast and error-free financial transactions are possible with any of these formats.
Radiofrequency identification, or RFID, is another technology in the ERP. A laser scanner is not necessary when checking a package. As long as the package is within reading range, the transaction will be finalized as soon as the tag is read. This exemplifies the use of RFID in a passive fashion.
Instead of waiting for a reader to come close, active RFID constantly transmits information. Since they are battery-operated, these tags regularly share data. The reader can read the signal from further away than a passive ID. When the value of your stock is high, an effective RFID structure will provide you with peace of mind. Active IDs can also be linked to other sensors, such as temperature or location trackers, to guarantee that your item is safe and in the right place.
Stock management
Distributors can better manage their stock and prepare for sales with the help of ERP solutions. The most frequently used components should be stored closest to the front. Distributor stock can be either small and easily transported in a basket or large and cumbersome and best kept on the floor. ERP will help you organize your inventory in the best way possible. Your enterprise resource planning system (ERP) will notify you when an item stored in the back of the warehouse but urgently needed for shipping can be moved to a bin near the loading dock.
Mobile Access
Users can now access ERP from their mobile devices. While the display may be diminutive, all data remains accessible. A distributor, perhaps more than anyone else, requires constant mobile connectivity. One of your customers is currently meeting with another one of their clients. They find out about an urgent requirement. Customers with access to your company's mobile site and inventory data can place orders via their phones this morning for same-day shipping. Both you and your client's client are pleased. You closed a deal with zero effort.
Your financial officer can now access real-time financial data on their phone, thanks to a business intelligence dashboard that displays all relevant data in one convenient location. The CEO can keep tabs on the day's shipments and orders wherever they happen. Warehouse patrons might come across an item with a mangled label. Their mobile app can still scan the bar code to determine what it is and its contents, allowing for a proper label.
Supply chain
Automating the supply chain system using the ERP can reduce wastage and time. You're losing a lot of money if your organization is still keying information manually or trying to monitor items in your warehouse. You can get a better hold on your inventory management with assistance through modern supply chain solutions. These ERP elements include dashboards, business information, and the Internet of Things.
Software designed to manage supply chains makes it easier for producers, suppliers, and clients to communicate with one another. This simplifies their work. Users are given the ability to safely manage inventory levels, purchase orders, and bids by using self-service interfaces. In addition to this, you can predict production volumes and prepare for projected sales. Besides, this can enable customers to personalize products online. The following are essential ERP tools for the supply chain management.
Freight handling: The ERP tool can track all freight activities in real time and provide reports. This will help you plan in order management processes
Logistics: Real-time data can help in high-level decisions that encourage high performance.
Warehouse management: you can effectively track warehouse processes and understand the process of products getting in and out of the warehouse. This aspect reduces losses.
Order processing: This process requires a systematic approach. You can automate your order processing by investing in supply chain ERP software.
FAQs
Q: Are there any risks associated with using ERP software?
A: As with any software solution, there are always risks associated with using ERP software. However, these risks can be mitigated by working with a reputable ERP provider and carefully assessing your organization's needs before selecting a solution. At Ximple Solutions, we provide our clients with a comprehensive analysis of their business needs to help them choose the best ERP solution for their organization.
Q: How simple is it to use ERP software?
A: The complexity of ERP software varies depending on the specific solution. Most ERP software solutions are designed to be user-friendly and easy to implement. Additionally, many ERP providers offer training and support services to help users get the most out of their software. If you're considering an ERP solution that will cater to all your business needs, Ximple ERP is an excellent option, as it is simple to use and implement. Our team can also provide you with training and support to ensure you get the most out of your investment.
Conclusion
Overall, the importance of ERP solutions for businesses cannot be overstated. With the ever-growing demand for automation and integration, businesses must adopt modern technologies to stay ahead of the competition. ERP solutions offer businesses a comprehensive and unified approach to managing their operations, allowing them to make informed decisions, improve efficiency, and increase profitability. Whether it be in commerce, finance, human resources, or distribution, ERP solutions offer a wide range of benefits that can help businesses achieve their goals and reach new levels of success.
Hitesh Barot is a Technologist and blogger passionate about solving business and technological challenges in Wholesale Distribution, Retail, and Manufacturing Industries. He has more than 20 years of experience leading the IT department for the Distribution, Retail, and Manufacturing business. Learn more about him here and connect with him on LinkedIn.
---
Posted on