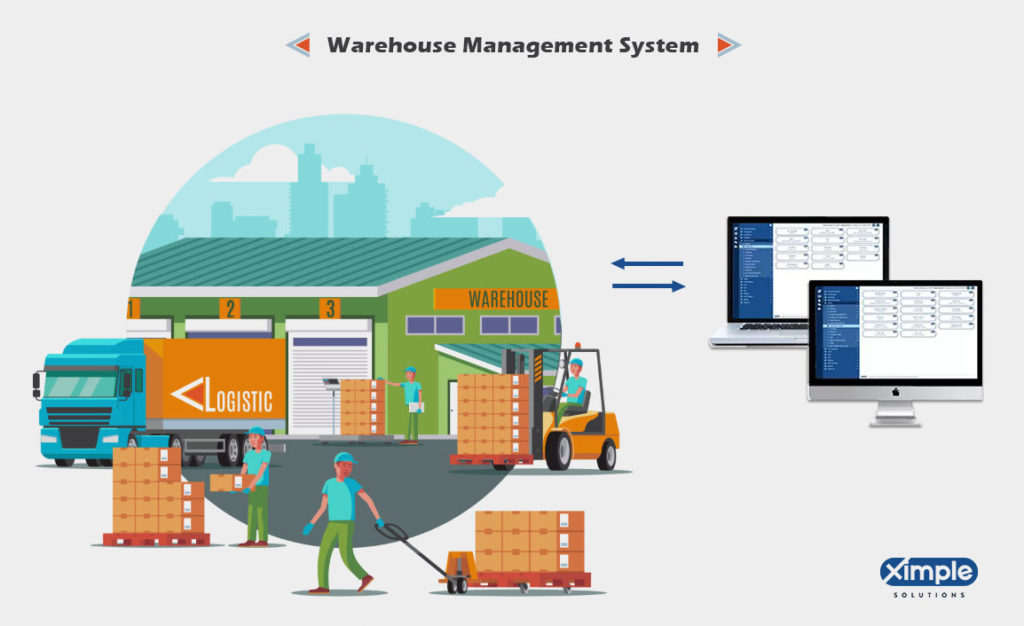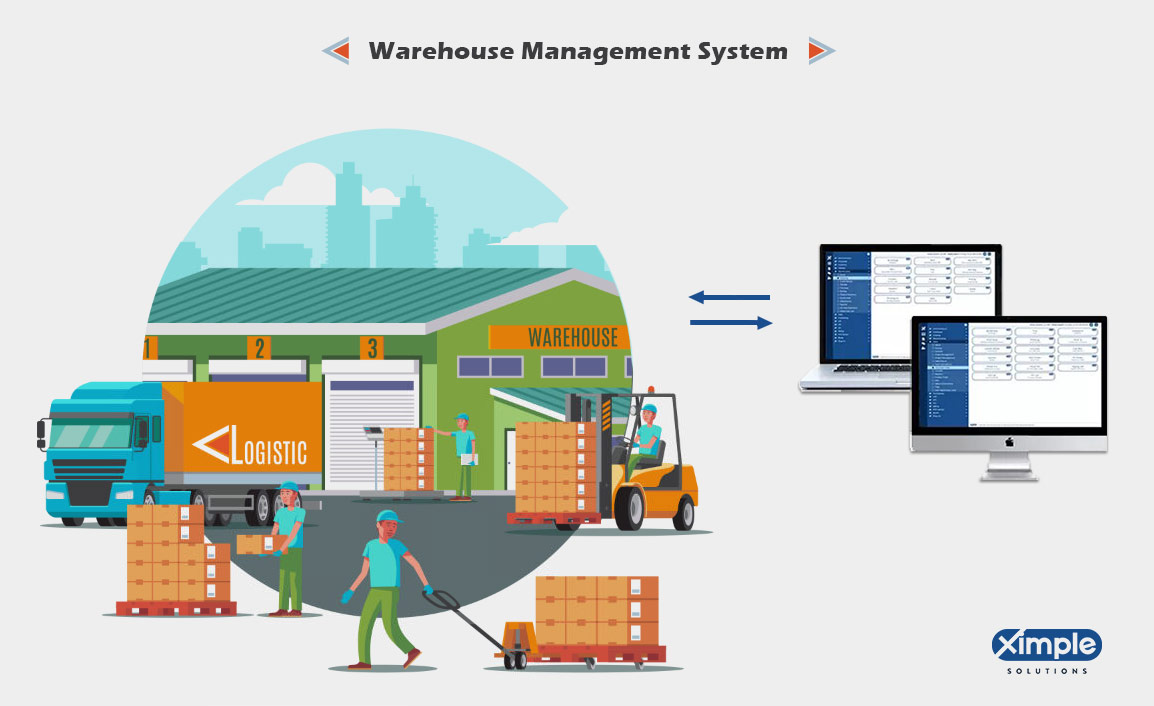 Warehouse Management system
There are different types of software for business management. One of the most popular software for suppliers is the warehouse management system or WMS. It is a tool that can help you manage and control everything that happens in your warehouse. From inventory management to order shipment, the warehouse management system is such a crucial tool. During WMS implementation, you can buy it as a standalone system or have it as a module in your ERP (Enterprise Resource Planning) software.
The original WMSs were simple automated tools with essential functions like order picking, packing, and shipment. In contrast, modern platforms are more advanced and can handle more complex interactions with other devices. With these, human errors are rare. Also, vendors can locate ordered items in their warehouses so quickly. Hence, it would be best to adopt WMS warehouse management system software to stop laborious paperwork and embrace automation.
Table of Contents
WMS ERP difference
Now you know the answer to this question: what is a warehouse management system? Now the next thing you want to know is whether there are differences between WMS and ERP systems. The truth is that the two are distinct in some ways. Some enterprise resource planning systems have a warehouse management system module, but the module is not similar to dedicated warehouse management software. Regardless, both ERP and WMS are essential systems for those who do a wholesale and distribution business.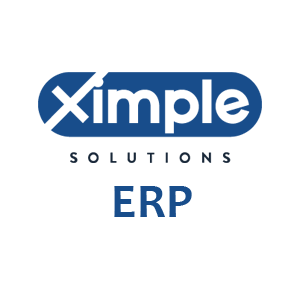 See How We Can Help to Reduce Your Operational Costs for Your Wholesale Distribution Business.
Ximple ERP automation improves workflows & processes across the distribution departments which help to reduce operational cost and productivity.
If you want our wholsale distribution business experts at Ximple Solution to help you digitalize your distribution business or upgrade your legacy ERP, just book a call
So when contrasting WMS vs. ERP, the main similarity between them is that they are both suitable for the distribution business. The first WMS ERP difference is the primary functions of each. A WMS system reveals the flow and storage of stock in a warehouse in real-time. Through it, a distributor can study the behavior of every stock item and take action to avoid problems. It can track the movement of a product from the shelf to the shopping cart to the specific shipping location.
Then again, ERP provides a live picture of what is transpiring in each business department. It has a module for every vital business function, including Accounting/finance, sales and order processing, inventory management, customer relationships management, human capital management, project management, purchase management, warehouse management, and so on. Depending on the ERP product you own, it may be unnecessary to purchase a separate WMS application.
For instance, if your ERP already consists of inventory and warehouse management modules, it may seem needless to purchase a separate WMS. This is because your system can still show you each inventory item as it gets received, picked, packed, and dispatched. It can also control bin and shelf locations.
All the same, purchase complete WMS only if you need more warehouse management features and a robust tool that can handle the complex needs of the large-scale distribution business. However, running a complete WMS will be more expensive than having a module within your ERP.
Essential features of WMS
Warehouse management system functions are many. They become possible because of various features of the WMS. Briefly, these include the following:
Warehouse design – The software can dictate bin slots based on inventory items and optimize inventory allocation. It can also account for inconsistencies in seasonal inventory.
Inventory tracking – The software uses AIDC (automatic identification and data capture) tools like barcode scanners to track the movements of various inventory items.
Picking and packing tasks – This is one of the best WMS components. It enables batch, zone, and wave picking.
Receiving and putaway – Via pick-to-voice and pick-to-light technologies, this feature helps workers receive and retrieve items with ease.
Shipping – This feature facilitates sending of the bills of landing document before the shipment arrives. It can also generate packing lights and invoices for a shipment. Moreover, it can send advance shipment alerts to concerned recipients.
Yard and dock management – This function helps truck drivers locate ideal loading docks before arriving at a warehouse location. It can enable cross-docking too when logistics become too complex.
Labor management – This feature entails KPIs or metrics that show workers who outdoor others or those who perform so poorly. Reporting – This feature helps managers evaluate warehouse operations to pinpoint weak areas that call for improvement.
Benefits of WMS
No matter how you deploy a WMS warehouse system, it will offer certain advantages. These include the following:
Saves time
Accurate inventory control and management
Better customer care service
Excellent space utilization at the warehouse
More productivity from workers
Lower labor costs because software eliminates human errors.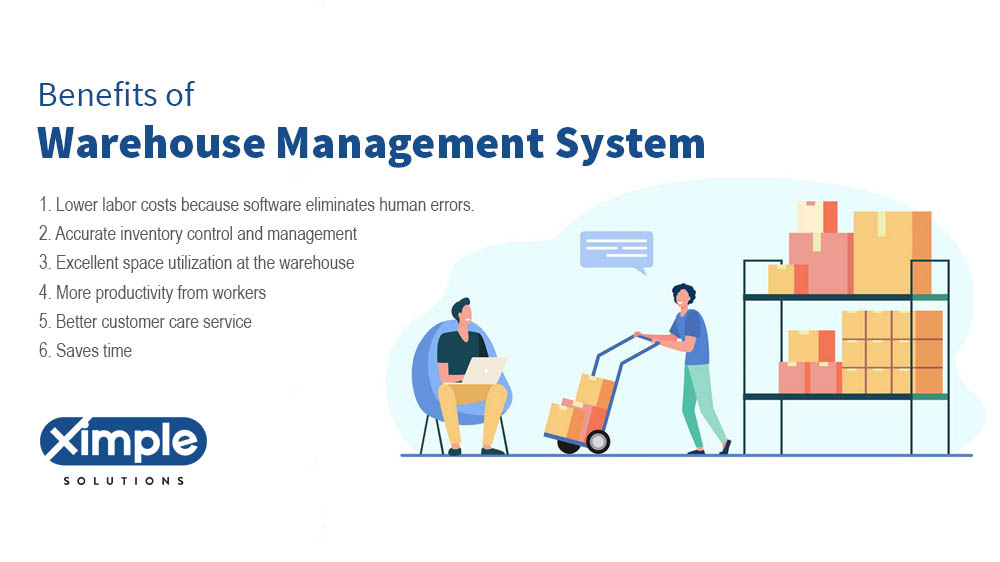 Types of WMS – Cloud WMS and On-PremiseWMS
Without a doubt, the uses of WMS are many and essential. Nonetheless, you need the best type of software to benefit from all these uses. There are two types of warehouse management systems, and they include:
Standalone or on-premise WMS – Deployment for an on-premise WMS occurs on your office hardware and network. So, a standalone package requires integration with existing business management tools. More commonly, people attach it to ERP.
Cloud WMS – A cloud-based option is a sound warehouse management system because of using advanced technology. Internet-based software as a service (SaaS) model, cloud WMS is more flexible, scalable, secure, and modern. This cloud computing model ensures free automatic software updates, and workers can use it from anywhere.
Open-source WMS
Usually, open-source software is free to use. Any person can access it without having to pay for any section of it. As a small business with less complicated supply chain management operations, you can opt for open source WMS. It will be cheaper to run and less complex because it has basic features and functions.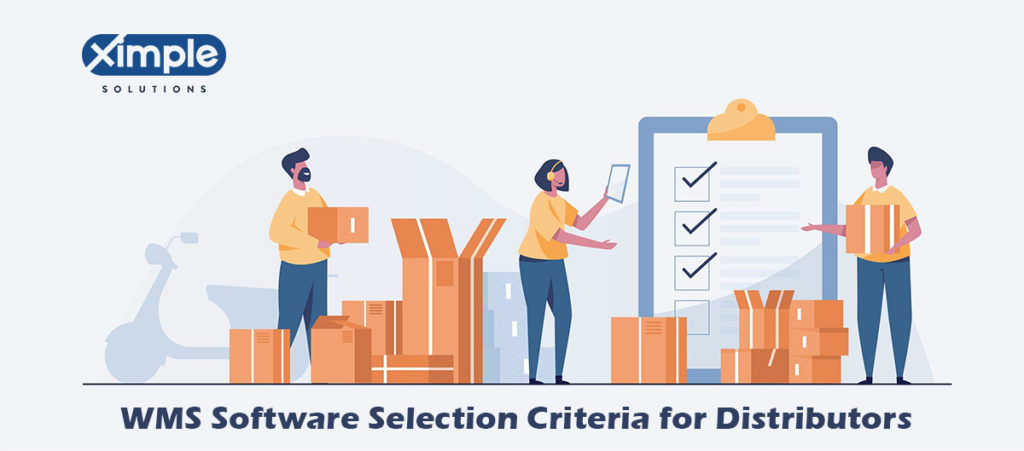 WMS Software Selection Criteria for distributors
When it comes to selecting the best warehouse storage management system, consider some factors. Here is an outline:
How well particular software can fit your needs and function flawlessly
What is the nature of the purchase agreement? Will you get permanent licensing, or will you have to subscribe for licensing every month?
Cost of implementation and training
Is the software customizable?
Will you need to pay for software updates?
Backup and redundancy just in case the unthinkable technical hitches occur
The entire cost of ownership and if you can afford it
Does the software match your internal protocol and philosophy?
Implementation of the WHM system
The implementation phase of an enterprise warehouse management tool can be long and difficult. You, therefore, should prepare to do it well while involving every relevant party. It is necessary to know what company directors, logistics managers, operations managers, and warehouse managers think. Their views and expectations should be clear before the implementation process begins.
Another essential thing to consider is risk reduction. The implementers have to have the wisdom and expertise to assess the risks and take precautions to prevent or mitigate them. To understand these risks and weak points, the executors might have to review the entire warehouse operations.
It is also necessary to create an implementation schedule while considering all the possible risks and unforeseen obstacles. Again, team building is a must between your WMS software installers and the crew from the software seller.
Training is necessary when choosing the right WMS design and customization needs. Training sessions can help intended users to transition easily from what they are using now. Besides, they need to know how to customize the system should it fail to meet some of their operations in the future.
Data transfer from an older system to a new system is tricky but mandatory. This part of the implementation process is critical, and any missing or erroneous data can be costly to repair in the future. There will also be the testing and deployment phases that will require a lot of caution and expertise.
WMS integration with Erp
Sometimes ERP WMS systems are better than dedicated WMS systems. If you want to adopt an ERP system, you can ensure it has a WMS module. Alternatively, if you have an existing ERP, you can connect it to a suitable WMS tool. The integration procedure can be complicated and so requires professional intervention. Similar to the implementation of the logistics warehouse management software, integration of WMS with ERP involves planning. A lot of expertise is vital to avoid duplicate data and other costly mistakes.
Best WMS Systems for Distributors
When choosing the best WMS system for your distribution business, there are many choices. The generalized options include Netsuite, Odoo, Manhattan Associates, Softeon, Fishbowl Inventory, HighJump, Skuvault, and Mobe3 WMS. If you are looking for ERP specially designed for the Wholesale Distribution business, then Ximple Solution is the ideal ERP Software. It's next-generation ERP Software designed for Distribution Verticals. It's a scalable, Cost-effective Cloud WMS helping Distributors to improve Customer Service, and reduce inventory, and employee productivity.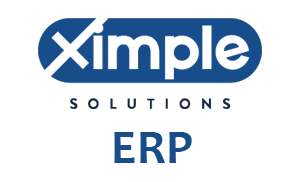 Hope you are enjoying reading this post.
If you belong to a medium or large-size distribution business, Ximple ERP is just for you.
Ximple ERP offers independence and flexibility to your B2B customer to grow their business. Our solution has D2C features they expect from you. Our ERP has an inbuild ERP offering.
You are one click away from transforming your wholesale distribution businesses, book a call now for the free demo
Conclusion:
So far, you know that a typical WMS tool will track picking, packing, and shipment. It will reveal the movement of stock items and help warehouse workers get more productive and thorough. Regarding the right software to choose between a WMS tool and an ERP WMS module, we would ask you to evaluate your business needs and risks. If your operations are more complex, you might need one of the best-dedicated inventory warehouse management systems. Otherwise, the WMS module in most ERPs works just fine. After telling you all there is to say about WMS, it is your turn to choose the best. We believe Ximple WMS is a great foundation for the Wholesale Distribution business. Its comprehensive scalable cloud-based ERP software for Distribution.
Hitesh Barot is a Technologist and blogger passionate about solving business and technological challenges in Wholesale Distribution, Retail, and Manufacturing Industries. He has more than 20 years of experience leading the IT department for the Distribution, Retail, and Manufacturing business. Learn more about him here and connect with him on LinkedIn.
---
Posted on