ERP Accounting System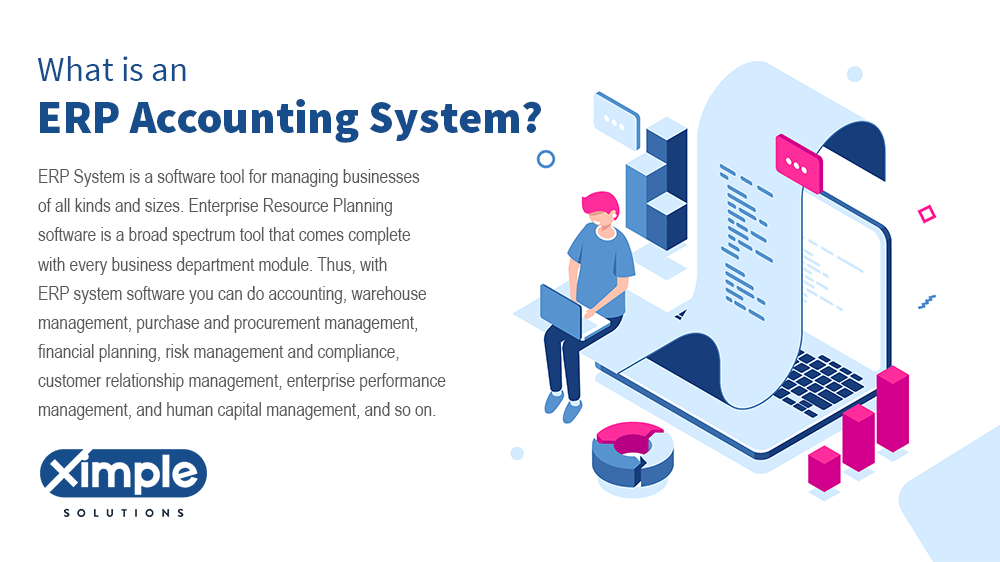 ERP Meaning
ERP System is a software tool for managing businesses of all kinds and sizes. Enterprise Resource Planning software is a broad spectrum tool that comes complete with every business department module. Thus, with ERP system software you can do accounting, warehouse management, purchase and procurement management, financial planning, risk management and compliance, customer relationship management, enterprise performance management, and human capital management, and so on. An ERP platform is an all-inclusive system that can gather data from different transactions and scrutinize it thoroughly to remove duplication and other errors.
Accounting Software definition
Every business needs accounting software; wholesale distributors are no exception. It is designed to simplify bookkeeping and accounting tasks. This computer software helps an accountant record and report the financial transactions of the business. Examples of this software are Ximple ERP Accounting system for wholesale distributors niche, FreshBooks, Xero, NetSuite ERP, QuickBooks Online, Tradogram, Sage Business Cloud Accounting, etc. A simple accounting software platform will feature the Expense Principle, Objectivity Principle, Matching Principle, Cost Principle, and Revenue Principle.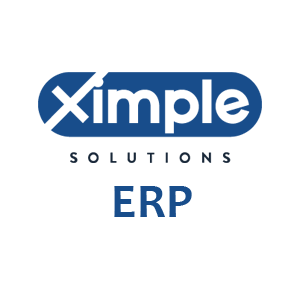 See How We Can Help to Reduce Your Operational Costs for Your Wholesale Distribution Business.
Ximple ERP automation improves workflows & processes across the distribution departments which help to reduce operational cost and productivity.
If you want our wholsale distribution business experts at Ximple Solution to help you digitalize your distribution business or upgrade your legacy ERP, just book a call
ERP accounting system definition
ERP accounting system has a more prominent role to play as compared to an accounting software tool. The latter is a standalone software program that can carry out all business accounting and financial activities. On the other hand, ERP accounting solutions are just a module within a software product that can manage all companies as a single platform. Instead of having one platform that does only accounting and bookkeeping, you can implement an ERP package with this function and more.
Key Feature of ERP accounting system
ERP and accounting software should have several features to be considered helpful. These are:
Internet function – This is to ensure electronic transfer of documents and help control fund transfers
Encryption – Security of sensitive business data is vital, and a good ERP accounting tool should provide it.
Automation – Ability to get rid of manual data entry and replace it with automatic data entry that reduces human labor and errors
Updates – Constant automatic updates feature a must-have. It is a handy tool to inform the user when their tax reporting or other financial practices are due.
Scalable – It should be an enterprise ERP with an accounting option that should be easily upgraded to include a newer version, new users, new business data or transactions, and more.
Mobile compatible – In this era of technology, accountants and finance professionals need a software program they can monitor from anywhere anytime they want
Bespoke – A dependable ERP accounting system should be easy to customize to meet your organization's needs. If you want to add more capabilities, the tool should support that.
Integration – It should be a single platform capable of sourcing transactional data from different business processes and storing it in a central location.
Benefits of ERP Accounting System
There are pronounced differences between a business with standalone accounting software and another with an ERP accounting software The latter stands a chance to perform more productively and profitably than the former. When a business runs an enterprise resource planning program with an accounting module, it can expect the following benefits:
Easier decision-making based on accounting and financial needs An integrated software provides access to accurate and relevant business data. In line with this data, accountants and finance experts can make better budgets and allocate costs appropriately.
No more duplicate data entry errors Consistency of data coming from various sources can be achieved through software. What's more, identical mistakes in the data entry process can be avoided.
Automation of workflows ERP ensures that the entire business processes are done automatically rather than mechanically. By eliminating much human labor, the software
Create accurate and reliable financial statements Financial reporting is essential and mandatory for companies. When using ERP with an accounting and financial module, you can track financial data from across the organization and use it to generate accurate financial statements.
Generates real-time updates As an accountant, you can benefit a lot from a software program that constantly updates you on every economic activity that happens. ERP plus an accounting package tool provides real-time updates to help you monitor, measure, and manage various things, including revenues and expenditures.
Adequate data security. ERP in accounting information systems can ensure top data security. Suppose it is a system from a trustworthy manufacturer. In that case, it will contain a multi-layer security feature that will help you store data and require users to access it only if they are authorized. It keeps the system secure.
To understand how to use ERP accounting software, you should first know its key modules. These include the following:
General ledger – Any accounting solution should have a general ledger. An enterprise planning program with an accounting option has it too. It is for managing all financial operations.
Account Receivable – This has the power to show you every payment that has been made and all pending payments to simplify invoice generation.
Account Payable – This sub-ledger shows all the monies that you are sending outside your organization. It allows you to monitor all invoices and to pay instantly for new purchases. Account Payable can stop the business from making the mistake of paying for things twice or skipping a payment date.
Asset management – This feature is necessary when a business is big and has a lot of tangible assets and commodities. Each asset's life cycle is easy to follow when you have an ERP accounting module with an asset management capability.
Payroll – This one can help an accountant do computations for employees' salaries, taxes, leave payments, travel costs, and other staff expenditures.
Audit – Auditing is an irreplaceable and crucial accounting procedure. Thus, it would be best to have an ERP accounting module with an analytics and audit feature.
ERP Finance System
ERP finance system definition This is a module in the all-purpose Enterprise Resource Planning Software. It allows you to generate accurate financial reports and future projections for the shareholders. In most cases, it forms part of the accounting system. Thus, you will find ERP for finance and accounting on the market.
Key Features of ERP finance system
When you go window shopping for ERP solutions make sure you select one with a finance management module. Whether combined with accounting or not, the finance application should consist of the following features:
A profit tracker – This feature is crucial as it will reveal overall business performance in terms of profits. It will indicate precisely where most profits are arising.
General ledger management – A financier will need it to track assets, liabilities, income and expenditures, capital expenditures, inventory management, and so on. All these in one location can simplify the detection of errors and fraudulent activities.
Fixed asset management – This is necessary to help you control your tangible assets, calculate depreciation of assets, compute and pay taxes for existing assets, and meet your compliance requirements.
Risk management – This tool is necessary as business operations are susceptible to all manner of risks. With this function, you can project risks and develop survival techniques to deal with actual threats.
Reporting and analytics – This tool will provide real-time data graphs to help you make better decisions about your business money.
Multiple currencies management – This tool will be helpful if your organization deals with worldwide operations. It will do currency conversions to help speed up various transactions in different currencies.
Tax management – This particular tool should support tax reporting and tax auditing functions.
Benefits of ERP finance Software
Why would you need an ERP finance module?
It can help you generate accurate and transparent financial data for the stakeholders
It can improve productivity by eliminating human errors that can take ages to correct
You can enhance budgeting and forecasting through the analytics and reporting tool.
Enjoy continuous financial monitoring as monetary transactions happen
Minimal data entry errors can save much time, a resource you need in other areas of your business
Enjoy continuous financial monitoring as monetary transactions happen
You can avoid missing payments through the accounts payable tool
You can avoid losing money via the accounts receivable tool
You can track what's happening in every business section as financial accounting ERP is an integrated system. Just check the General Ledger
How to select the right Accounting & Finance Software?
The right software for accounting and finance can be easy to select if you know the factors to consider. It would be best if you focused on the following:
Come up with a list of the features you require in your accounting and finance software program.
Consult your accountants and finance experts to know the features they would recommend.
Select important add-on features. Read software descriptions to know the additional features it has. You don't need all of these. So select wisely.
Compare your budget vs. the actual cost of software online. Select an ERP product that suits your budget and contains the essential features.
How to implement an Accounting system?
Now you have bought a software system for your business. Next, you will carry out the onboarding process, which is all about implementation. Do the following:
Select a suitable implementation team and have a team leader
Get support from everyone in the organization by informing them about implementing the new software and why and seeking their feedback.
Test the architecture of the software before rolling it out.
Roll out the software in a controlled way. For instance, you can release it to one department first and monitor its performance. If it's good, release it to the following department. In Short, roll it out in separate phases.
Offer your employees enough training and tutorials so they can learn how the new system works.
Has the system customized based on your vendors' remarks while ensuring it still meets overall business needs
Key Difference between accounting and finance software.
The ERP accounting module will help an accountant capture daily transactional data and save it in various ledgers for easier bookkeeping and periodical release of financial statements like balance sheets and profit/loss accounts. The finance module of Erp will help the financial analyst plan, direct, monitor, organize and control the monetary resources. They will specifically use past and current financial data to project future cash flows.
Why distributors are migrating to a Cloud-based ERP accounting system.
Cloud computing makes data and software accessible on the internet. Distributors can access it anytime they want using any internet-enabled device. As the books of accounting are maintained online, they can be accessed via a web browser or a mobile app. Distributors are ever on the move and can benefit a lot from using an ERP accounting information system that can be accessed from any place anytime. Besides, every authorized user in a distribution chain can access the accounts online.
ERP Vs Accounting Software – Major Differences
Is there a difference between accounting software and ERP? Are you better off using both separately or just the ERP? In ERP vs. accounting, ERP is helpful because it represents everything that happens everywhere in an organization. Accountants need this data to do bookkeeping and create periodic financial statements that financial analysts need during budgeting and forecasting. When using a standalone accounting system, they need to get the data personally from each department. On the other hand, if their software is a module in the ERP, they don't have to get in touch with other department leaders to ask for data. It will be accessible to them and anyone who is authorized to use the ERP.
How does ERP help in accounting?
An ERP application is vital in accounting. It can help accountants in multiple ways, including managing payments, allocating costs to different production activities, budgeting, and estimating capital requirements and management. It eliminates manual handling of data, which reduces human errors that can be costly to remove. They can use it for tracking profits and losses as well as support invoicing and cost analysis.
Conclusion. If you are in the wholesale distribution business, you have a wide range of options to select the ideal technological platform for your ERP accounting and finance system. Most modern ERP such as Ximple ERP for Wholesale Distribution offers On-Premise and cloud-based Financial and accounting software (SaaS).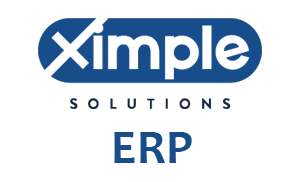 Hope you are enjoying reading this post.
If you belong to a medium or large-size distribution business, Ximple ERP is just for you.
Ximple ERP offers independence and flexibility to your B2B customer to grow their business. Our solution has D2C features they expect from you. Our ERP has an inbuild ERP offering.
You are one click away from transforming your wholesale distribution businesses, book a call now for the free demo
In an On-Premise Accounting and Finance system, the Customer manages both Software and the technology infrastructure (Hardware). This level of control enables the Customer to customize the software to suit their unique accounting processes. This flexibility comes at the cost of managing the unfamiliar terrain of managing the IT infrastructure.
In a Cloud-based Accounting and Financial system, the software vendor manages, both software and hardware. The Customer can configure the Accounting and Finance Software to meet their wholesale distribution business requirements. There is limited flexibility in customizing the application to meet the unique business processes. In some cases, the Customer will need to modify their business processes to suit the operations supported by the Software vendor.
The main benefits of Cloud-based SaaS Accounting and Finance Software are reduction in cost and complexity of managing the IT Infrastructure. Irrespective of Cloud or On-premise platform, the key is to understand the critical business requirements and ensure that the Accounting and Finance system that you choose can quickly meet those requirements.
Hitesh Barot is a Technologist and blogger passionate about solving business and technological challenges in Wholesale Distribution, Retail, and Manufacturing Industries. He has more than 20 years of experience leading the IT department for the Distribution, Retail, and Manufacturing business. Learn more about him here and connect with him on LinkedIn.
---
Posted on