According to Wholesale Global Market Report 2022 – Research and Markets, the global wholesale market is expected to grow at a compound annual growth rate (CAGR) of 9.1%.to $65,613.18 billion by 2026. The wholesale Industry is challenging and distribution businesses lag behind many other industries in adopting new technology. The wholesale distribution industry needs to adopt modern digital marketing strategies aligned with business plans to stay ahead of the competition.
Compelling Marketing Ideas for Wholesale Distributors
To improve sales revenue, customer outreach, and brand dominance, marketing strategies are essential for wholesale distribution. Your distribution business can achieve these targets by scaling appropriate marketing approaches. It helps Distributors enhance their online presence while gaining more potential customers. The following are critical marketing ideas that you'd need to consider.
1. Build and Maintain a Strong Wholesale Distribution Brand. Why branding is essential for Distributors. Steps to establish brand
Branding is more significant than Wholesale Distributors' owners might think. Your business brand could appear to be made up of only a few basic features, including a color scheme and logo. Still, it encompasses the entirety of your company's image. Your identity is directly linked to your brand.
Here's why you need a brand restructuring:
Branding improves the credibility of your business
Branding attracts your target market
Branding increasing customer loyalty
Branding makes you competitive
If your business needs these advantages, you should follow these steps to create a competitive brand:
Do some research on both your ideal customers and your existing competition: Understand the present market, including who your potential consumers and current rivals are
Determine your area of interest and personality: It is essential to zero in on your target audience and allow that decision to guide the development of the rest of your branding as you go.
Determine the name of your business: your name will determine whether it will be etched in customers' memories.
Write a slogan: A memorable slogan is a valuable asset that can be used in various contexts. Slogans can propel your customer outreach
Pick the colors and the font to represent your image: After the business name, the next step is to consider the overall brand design, such as the typography and colors.
Create a logo: a brand logo is the last element that should create. A logo, just like the name, reminds customers about your business.
2. Develop an Outstanding Website Design for a Wholesale Distributor
How a website looks significantly affects how a visitor perceives your brand. Customers' decisions on whether to continue browsing your site or navigate away to a competitor's hinge on the initial impression you paint.
You need a well-designed website to keep potential customers interested in your distribution business. Make sure you build a website with expansion in mind. It implies the website's homepage needs to be polished, quick, adaptable, and laser-focused. The website layout sampled below is a prime instance of this style.
3. Start optimizing your site for local search results
After you have created a user-friendly layout for your website, it is time to promote your distribution company online. This implies that customers looking for distribution services or products on your website will see relevant results as soon as they begin typing relevant keywords into a search engine.
Here is where local search engine optimization (SEO) plays a significant part in helping your distribution contractor's website get a higher local Google search engine results page (SERP) ranking (SERPs).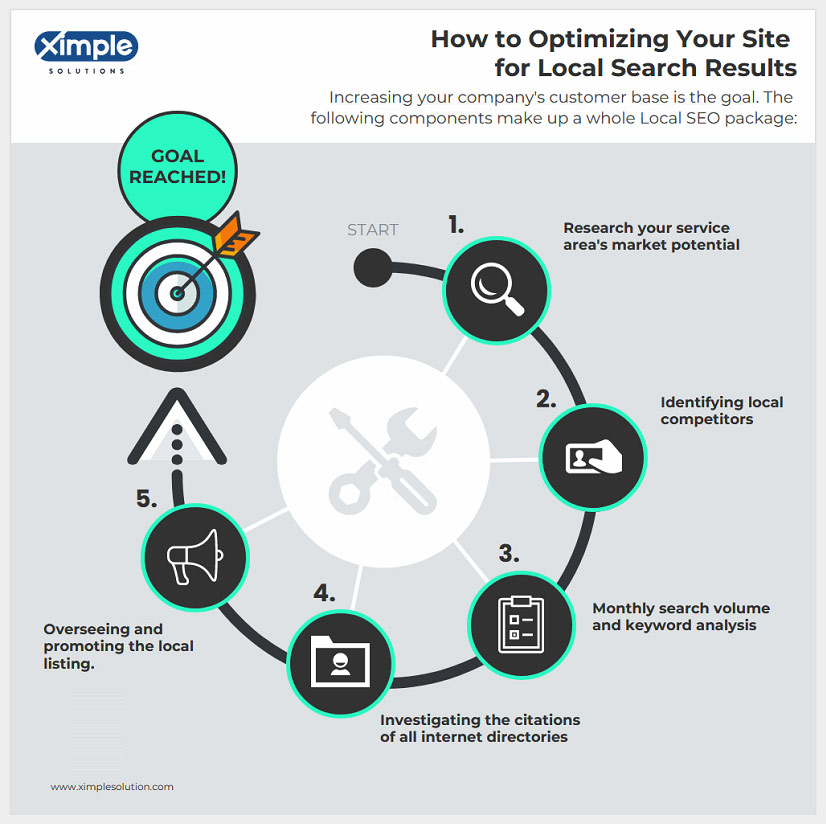 Cost-effective marketing and local SEO for distributors involves much more than merely climbing the search engine rankings. Increasing your company's customer base is the goal. The following components make up a whole Local SEO package:-
Research your service area's market potential
Identifying local competitors
Monthly search volume and keyword analysis
Investigating the citations of all internet directories
Overseeing and promoting the local listing.
Local search engine optimization services also include many more tasks. You should consult an experienced SEO transition team should be consulted for specifics. SEO is just one method of generating qualified leads and customers.
4. Marketing using a pay-per-click (PPC) model
Advertisers using the pay-per-click (PPC) model of online marketing pay publishers each time their ads are "clicked on." PPC can also be referred to as the CPC model. Search engines (like Google) and social media sites are the primary providers of the pay-per-click business. The three most widely used PPC networks are Google Ads, Facebook Ads, and Twitter Ads.
Paid search advertising is ideal for your distribution company strategy if you have a sizable marketing budget and want to quickly attract a highly focused audience to your website. It's a type of marketing in which a business pays to have its ads seen by potential customers online. Pay-per-click advertising is a great way to increase revenue and medical lead generation.
Here, you'll need to place a bid so that your ads will show up in the promoted search results whenever a search that includes one of your target keywords is used. You will only pay for the advertisements that receive clicks from users.
5. Lead Generation through Google Local Services Ads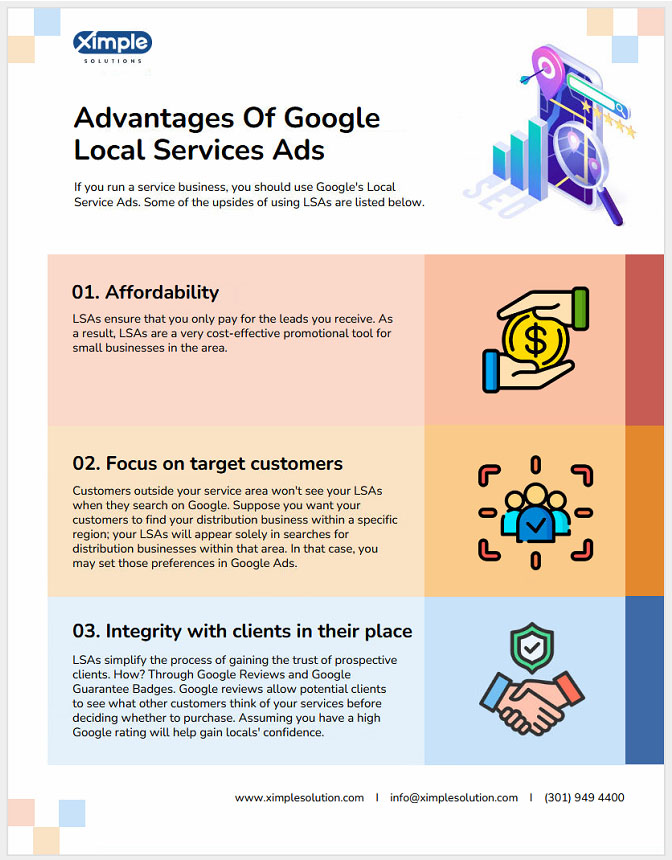 If you run a service business, you should use Google's Local Service Ads. Some of the upsides of using LSAs are listed below.
Affordability: LSAs ensure that you only pay for the leads you receive. As a result, LSAs are a very cost-effective promotional tool for small businesses in the area.
Focus on target customers: Customers outside your service area won't see your LSAs when they search on Google. Suppose you want your customers to find your distribution business within a specific region; your LSAs will appear solely in searches for distribution businesses within that area. In that case, you may set those preferences in Google Ads.
Integrity with clients already in place: LSAs simplify the process of gaining the trust of prospective clients. How? Through Google Reviews and Google Guarantee Badges. Google reviews allow potential clients to see what other customers think of your services before deciding whether to purchase. Assuming you have a high Google rating will help gain locals' confidence. Meanwhile, Google Guarantee Badges are displayed in LSAs. Customers will feel more confident in your company, knowing it has passed Google's rigorous screening process.
6. Include Blogging in Your Wholesale Distribution Marketing Plan
By integrating the operations of advertising, revenue, and digital commerce teams, wholesale distributors may reach more clients and expand rapidly in this competitive digital world
Define Your Niche: You should determine your blog's target audience before considering a topic. Who are you trying to reach—existing clients, your ideal lead, or the average consumer? Focusing on your intended readers is essential when creating content for a blog. Creating audience personas can help you better understand your target demographic. Create a fictional profile of your perfect client using information from surveys and surveys of your current clientele to create a persona. This will help you create content that is more likely to resonate with your target audience by making sure it is specific to them.
Make a realistic and consistent plan for blog posts: While it's recommended that businesses write blog posts at least twice weekly, doing so can require a significant time investment upfront. If you want to blog often but not overwhelm yourself, updating once a week or a fortnight is a decent starting point. After using a routine for a month or two, you should assess its efficacy.
Generate Ideas: It's good to sit down and brainstorm several potential blog subjects that might be of value to your readers before you dive in and start writing your first post. Regarding blogs, you'll never be at a loss for material if you keep a stockpile of potential topics. Selecting a broad topic and dividing it into a series is an excellent strategy for retaining your readers' interest over time.
Choose just one or two channels to focus on: Choosing the appropriate social media platforms for your business is integral to developing a social media strategy.
Paid promotion methods: While using social media is free, many platforms provide sponsored advertising that can significantly boost your reach and activity.
You should add buttons to your website: Your site would benefit from including buttons for each social media profile. Visitors to your site can connect with you across many social media platforms easily.
8. Wholesale Distributors Retargeting strategy
Ads presented to users who have previously visited your website are retargeting ads.
Pixel-based retargeting: with pixel-based retargeting, you may show your content again to every visitor to your website, no matter who they are. Whenever a user visits your website, their browser will become marked through cookies. When a user leaves your website and continues browsing the web, the cookie communicates with retargeting sites so that they can display adverts tailored to the content the user viewed while they were on your site.
List-based retargeting: If you already have a customer's information on file, you can use list-based retargeting to reach out to them again. Some retargeting campaigns even allow you to use contact lists from your existing clientele. You can upload a list of email addresses to a retargeting campaign, and the platform will then seek people on that platform who also share those addresses to offer targeted retargeting adverts to them.
9. Add Customer Service to Your Wholesale Distribution Marketing Strategy
Educate your staff to prioritize providing excellent customer service: A higher rate of client retention can be achieved through exceptional service. It's difficult and costly to attract new clients. Yet preventing lost customers is more cost-effective and productive.
Training customer care team: Training your staff ensures that they discuss to serve clients best. Your support staff should swiftly contact your ICT team for assistance if a client has an IT-related issue.
Get to Know Your Clientele and Set Up Proactive Help Services: Your familiarity with your clientele should be well-established. Then you can foresee any problems consumers may have with your items and fix them before they even arise. The next step is to set up a system of proactive customer care. Don't sit around and hope that clients will find you. They'll have given up on your service by then. The ability to foresee problems is a strong indicator of customer focus. If your clients are happy, they will continue doing business with you.
Provide your clients with technical know-how and documentation for educating them about the services: Remember that your buyers probably don't know everything there is to know about your product. As we talked about distributors, the folks buying and using your goods differ.
Make sure you offer a satisfying return and refund policy for your products: Consumers shun any danger in their purchasing decisions. Before reaching a final purchasing decision, they must navigate through several decision-making levels. Clients will be more likely to purchase from your company if they are assured of a hassle-free return policy and a high-quality product guarantee. Your brand will be seen as more reliable if you offer a comprehensive product guarantee and refund policy. However, there should not be a maze of red tape for customers to jump through before they may return an item. The procedure of returning an item should be easy.
10. Email Marketing for Distributors. Top Email Marketing Providers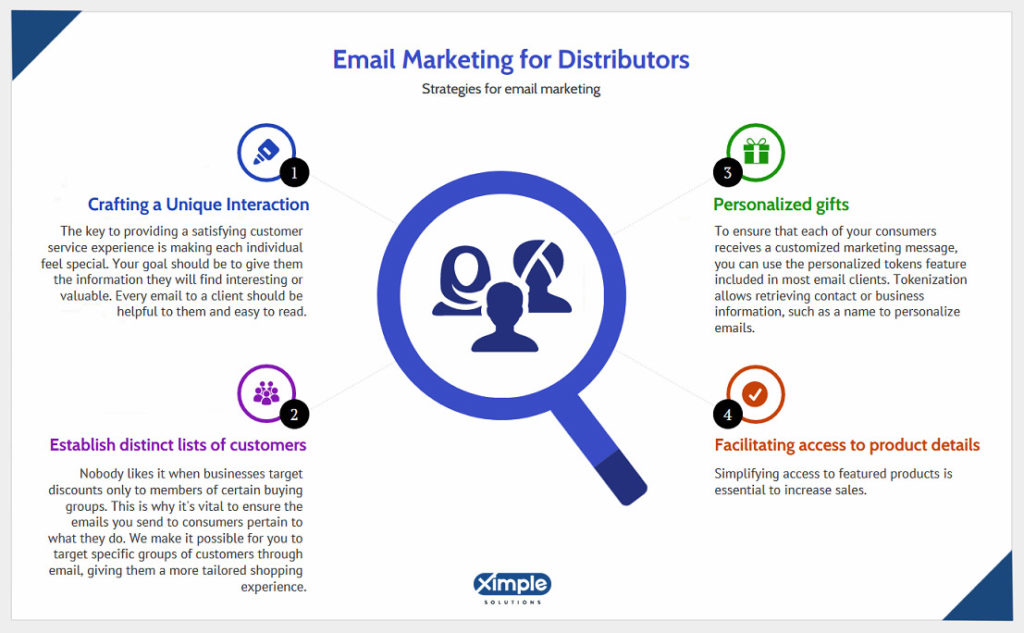 Crafting a Unique Interaction: The key to providing a satisfying customer service experience is making each individual feel special. Your goal should be to give them the information they will find interesting or valuable. Every email to a client should be helpful to them and easy to read.
Establish distinct lists of customers: Nobody likes it when businesses target discounts only to members of certain buying groups. This is why it's vital to ensure the emails you send to consumers pertain to what they do. We make it possible for you to target specific groups of customers through email, giving them a more tailored shopping experience.
Personalized gifts: To ensure that each of your consumers receives a customized marketing message, you can use the personalized tokens feature included in most email clients. Tokenization allows retrieving contact or business information, such as a name to personalize emails.
Facilitating access to product details: Simplifying access to featured products is essential to increase sales.
Read also: See how ERP software can help to increase productivity and profitability for your distribution business.
---
Posted on