What is Cloud ERP and how does it work?
A Cloud ERP is a software with similar or better capabilities than legacy ERP. It runs on the internet. Offered as Software-as-a-Service, the cloud based software runs from the vendor's web-based platform. Hence, customers do not own it.
They instead choose a subscription for which they pay monthly or annually. For that reason, users of ERP in the cloud do not incur any costs for maintaining or upgrading the software or hardware.
How does it work?
Cloud ERP have a mixture of technologies that connect to speedy internet networks. These solutions stay online throughout, and the vendor updates their security. Customers using sap cloud ERP or any other should only login in and use the data stored in their software. The ERP cost of ownership is small for the customer. Cloud Enterprise Resource Planning software is accessible on desktop PCs and mobile devices. This characteristic makes them more dependable than on premise ERP software because it is only accessible on the company's in-house servers. Cloud-based ERP solutions entail various functions, including sales histories, customer relations, supply chain, human capital, etc. They are scalable, versatile, profitable, and cost-friendly.
What is the difference between ERP and Cloud ERP?
Cloud ERP and ERP provide the same functions. However, the ERP software came ahead of its cloud counterpart and only runs on servers within a business premise. The in-house IT staff manages the on-premise ERP system while the company meets all upfront costs of the software, including licensing fees, maintenance costs, software upgrades, customizations, etc. It is up to the team to secure the software with the antivirus and other security applications and backup server data.
In contrast, the best cloud based enterprise software belongs to a vendor with a cloud computing platform. The vendor runs the software and incurs the maintenance and upgrading costs and the underlying costs of running a land-based data center.
In all, we can say that the difference between ERP and cloud-based ERP is the location of the software and the entity that manages it.
Cloud ERP concepts
Understanding the basic cloud ERP concepts is essential. These concepts are the key terminologies you will encounter when researching enterprise resource planning software. They include the following:
Cloud-based ERP is software that lives in the vendor's internet-based servers.
On-premise ERP – It refers to an on-premise software system accessible on a desktop computer.
Deployment strategy – A deployment strategy describes the server location and the ERP implementation process. It can either be on-premise or cloud-hosted servers.
Hosted ERP is a hosted deployment model for when a company decides to outsource IT services. Hence, a hosted ERP system is not an actual SaaS model.
End-to-end security is the robust encrypted network between the ERP vendor and the users.
Subscription licensing – This refers to the fixed fee companies pay to access the ERP on the cloud. They can pay a monthly fee or an annual fee. A vendor can charge a subscription licensing fee to an individual user or a company.
Types of Cloud ERP software
Whether you want to buy the Ximple cloud ERP for Distributors or others, you must select one type. Cloud systems are not equal. That is why you need to be aware of what you choose eventually. The types include: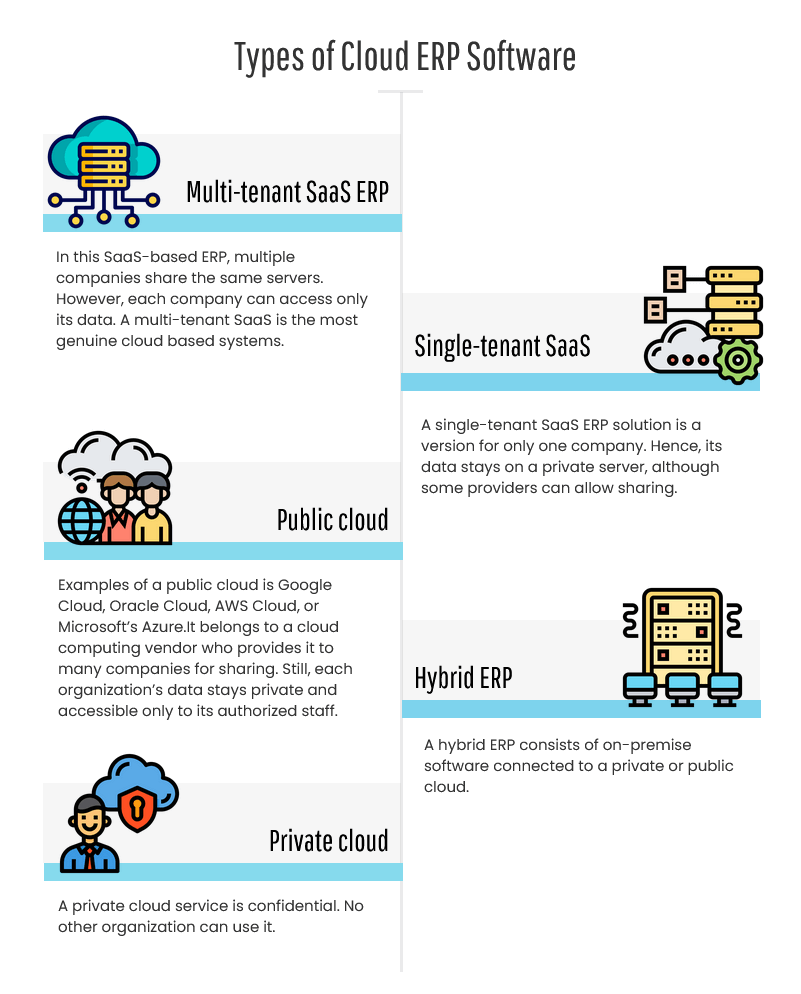 Multi-tenant SaaS ERP – In this SaaS-based ERP, multiple companies share the same servers. However, each company can access only its data. A multi-tenant SaaS is the most genuine cloud based systems.
Single-tenant SaaS – A single-tenant SaaS ERP solution is a version for only one company. Hence, its data stays on a private server, although some providers can allow sharing.
Public cloud – Examples of a public cloud is Google Cloud, Oracle Cloud, AWS Cloud, or Microsoft's Azure.It belongs to a cloud computing vendor who provides it to many companies for sharing. Still, each organization's data stays private and accessible only to its authorized staff.
Hybrid ERP – A hybrid ERP consists of on-premise software connected to a private or public cloud.
Private cloud – A private cloud service is confidential. No other organization can use it.
Read full article: Types of Cloud ERP
Benefits of Cloud Based Software
Cloud ERP benefits are the reason many small and medium-sized businesses want to acquire it. They include the following:
Cloud Enterprise Resource Planning software is agile: It is ideal for industry-specific companies that want to expand. The best cloud-based manufacturing ERP can help them grab new growth opportunities while overcoming threats.
Cloud-based ERPs improve cash flow visibility: Businesses of all sizes must regularly monitor their cash flows to stay afloat. Cash flow management is easier with an internet-based ERP software system as it provides real-time data for increased visibility.
Easy to add bolt-on software solutions: Cloud solutions are agile, scalable, and easy to integrate with other vital applications.
Easy to upgrade: Since ERP vendors manage all system upgrades, customers do not have to worry about changing business needs and evolving technologies. Software updates are easy and quick to install, and customers can process them even during non-business hours. They can happen without disrupting business processes.
Cloud Based Software Challenges
Is a cloud-based ERP system free from challenges? No, like legacy ERP, the cloud system has its challenges. These challenges entail the following:
Shifting from an on-premise ERP system to a cloud one is laborious and costly for large-scale businesses with a lot of data.
Stakeholders of a large-scale business using a legacy ERP may not support the idea of shifting to the cloud. The IT workers may fear losing power over different processes because the online ERP vendor manages and maintains the software.
Some organizations must abide by stern cyber security measures, government regulations, HIPAA, and other policies. Therefore, these companies may not receive all the advantages of cloud-based ERP.
Successful steps to migrate to Cloud ERP
Planning – This step has many activities, including identifying the reasons for the shift. It would help if you also chose the correct
ERP assessment approach.
Comprehend the migration process – Review the applications you want to keep in the cloud, the cost of ownership, select the cloud ERP services provider, and so on.
Data migration –Your team will use tools like Azure, Google Cloud, or AWS to transfer data without interrupting processes relying on it.
Data optimization – The team must enhance data security and integrity for easier retrieval.