Financing Your ERP and Accounting Software Initiatives In Ontario And Canada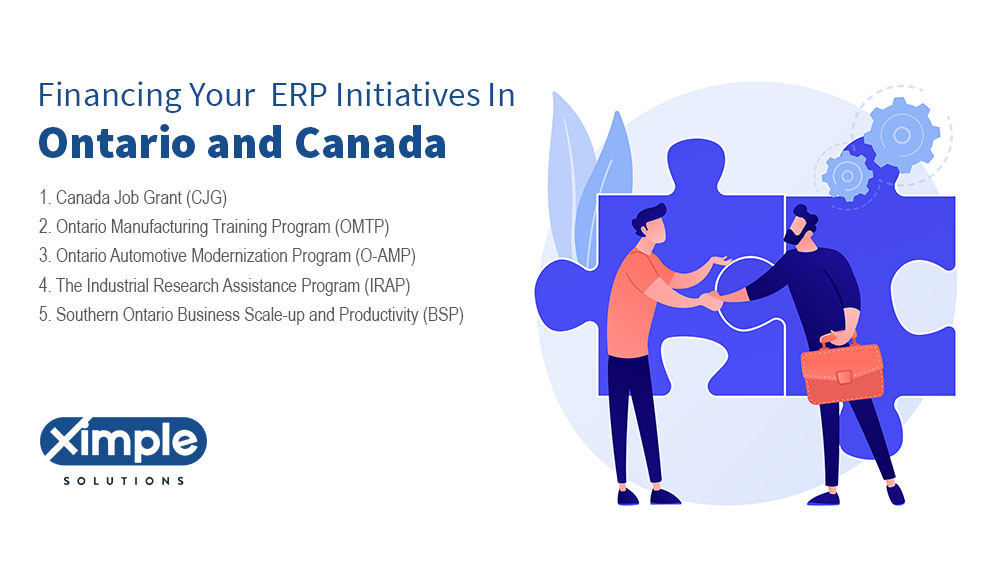 No matter the industry, an ERP project can account for a significant portion of your technological investment. These projects are often resource-intensive and demand substantial effort to ensure success, but once implemented and operational, they can revolutionize your small or medium-sized business.
Despite the costs, investing in ERP is necessary to unleash its potential. Fortunately, businesses in Ontario and Canada have access to various funding options to facilitate the implementation of top-tier ERP solutions like Ximple ERP.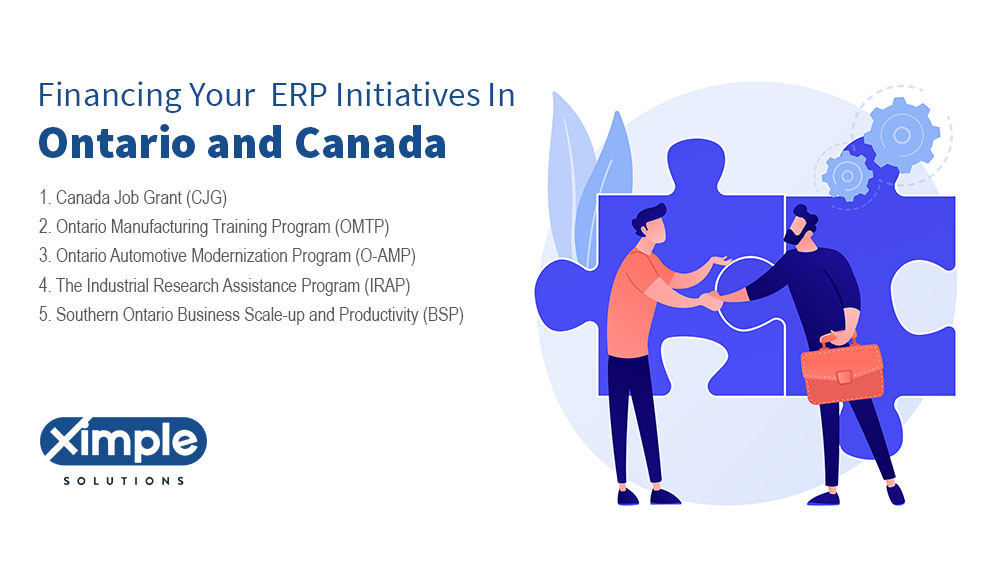 Here are excellent funding sources for your ERP implementation project:
Canada Job Grant (CJG): Part of Canada's Economic Action Plan, the CJG offers a grant covering 50-83% of training expenses, capped at $6,000 – $10,000 per trainee. The objective is to provide trainees with workforce training and skills development, allowing them to contribute productively to the economy.
Ontario Manufacturing Training Program (OMTP): This grant serves a similar purpose but is restricted to 25-50% of costs, with a maximum of $100,000. The focus is on providing trainees with hands-on training and exposure to innovative software, equipment, and processes that will benefit your organization in the long run.
Ontario Automotive Modernization Program (O-AMP) aims to help small and medium-sized automotive parts suppliers modernize their supply chains and enhance their competitiveness. O-AMP offers up to $150,000 to Ontario-based SMBs, covering up to 50% of eligible project expenses. Eligible projects include (but are not limited to) Enterprise Resource Planning (ERP) software, production tracking systems, and lean manufacturing best practice consulting.
The Industrial Research Assistance Program (IRAP) provides various sub-programs to assist small and medium-sized enterprises (SMEs) address internal innovation challenges. The Digital Technology Adoption Program offers financial support to cover labor and subcontractor expenses related to technical and business innovation projects, such as ERP software implementation. Funding available: Grants cover 80% of direct labor costs and 75% of subcontractor fees, up to a maximum of $100,000.
Southern Ontario Business Scale-up and Productivity (BSP) The FedDev Business Scale-up and Productivity program supports businesses in southern Ontario adopting new technologies that enhance productivity and promote exports to global markets. Funding available: Interest-free repayable contributions covering up to 35% of eligible project expenses, ranging from $500,000 to $10 million per project.
Programs are designed to decrease training expenses for Ontario and Canadian businesses, encouraging more young people to work in key innovation areas. Utilize these resources to recruit fast learners who can be trained in ERP software, CRM, and other essential functions, including soft skills training, technical skills training, and business development.
Each program has unique requirements, but some standard features include:
• Coverage of costs related to training, such as learning materials, software, textbooks, etc.
• The option to train as many individuals as desired, provided they meet the eligibility criteria.
• The recoverable portion of training expenses may vary depending on your needs and business size.
Investing in human potential helps offset the expenses of implementing and managing critical software projects, enabling you to enhance adoption throughout your organization, reduce project risk, and increase the Return on Investment (ROI) for your ERP project.
*Many programs change regularly, so we advise users to visit Govt Website to check eligibility.
---
Posted on