ERP Price in 2023 | ERP Pricing Models & Structure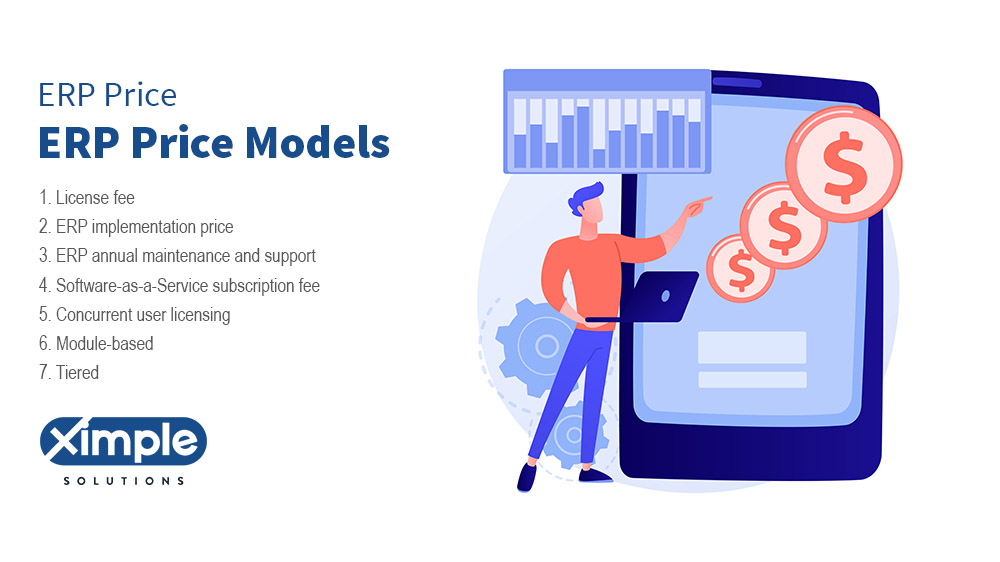 When investing in an ERP system, most people focus on the price model and structure. Although considering this factor is necessary, you should pay more attention to the Total Cost of Ownership (TCO). The TCO provides more cost data, letting you determine if an ERP investment is worthwhile. Read on to understand more about ERP pricing and TCO.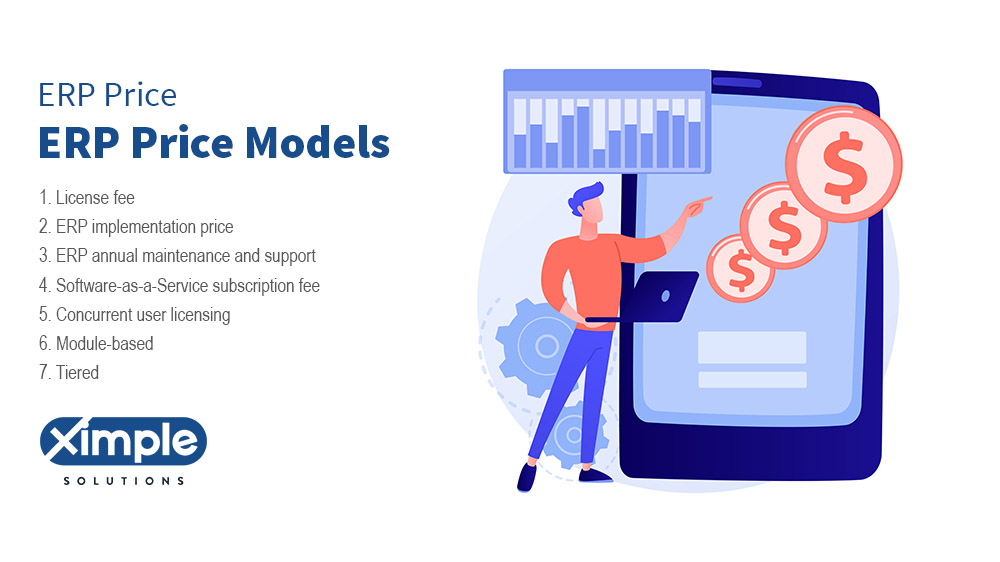 ERP Price Models
ERP pricing can differ according to your needs. It could be that your ERP implementation process will take several months. Perhaps you need ERP software for many users and departments. Your favorite ERP provider might be more expensive than other providers. All these factors directly affect an ERP pricing model. Generally, there are seven different ERP pricing models:
License fee – A license fee is the amount you pay upfront when you obtain the software. Some vendors charge the licensing fee just once, while others make it recurring based on the number of modules and users they have. 
ERP implementation price: The cost of making the ERP software usable. The cost of ERP deployment and configuration will vary based on company size, software needs, customization levels, etc. 
ERP annual maintenance and support – Most ERP vendors will maintain and update the software on your behalf. They will also respond fast when you have a problem. Unfortunately, they will ask for a fee in exchange for ongoing support and maintenance services. 
Software-as-a-Service subscription fee – The vendor will give you a subscription-based pricing plan if you buy a cloud-based ERP system. Hence, you will pay a monthly or annual charge for every user or ERP module. 
Concurrent user licensing –Some ERP service providers charge you based on the number of software users within the company. The price might increase if you add more users. 
Module-based – This pricing model works around your preferred modules. The more modules you choose, the more money you will spend.
Tiered – An ERP provider can base their pricing on the size of your company or its revenue levels. This is called tiered pricing, featuring plans like basic, standard, premium, etc. 
ERP Pricing Structure
Now that you understand different ERP pricing models, you should know how vendors structure their prices. It entails the amounts you pay the professionals who implement your ERP and the additional costs of running and sustaining your software. Here are the most common pricing structures:
Perpetual license – Your organization can opt for a perpetual license by paying a one-time fee. If you get this license type, you will use it forever but incur other annual costs. For instance, your vendor might charge you annual maintenance, updates, and support fees.
SaaS – This pricing structure works best for smaller organizations without adequate money to pay an upfront licensing fee. It enables your company to meet an affordable monthly or annual fee. The fee structure includes licensing, maintenance, hosting, and support costs.
User-based – ERP vendors sometimes structure their ERP pricing according to user accounts. The more accounts you have, the more money you spend. Also, the pricing per user account might vary based on permitted access levels to different ERP functions.
Module-based – A vendor might structure their ERP pricing based on the number of modules they need. Modules here include marketing, human capital management, customer relationships management, inventory management, sales management, procurement, etc. The more complicated your modules are, the more money you will pay.
Custom-based – If you have specific requirements not addressed by other pricing models, your vendor might suggest a custom structure. They will tailor the price to the scope of your project and unique needs.
Tiered – The tiered price structure is ideal for large-scale organizations with many users or user accounts and varying sales and revenue levels. You can choose unique tiered plans for different users.
ERP Total cost of ownership (TCO) 
ERP TCO is the aggregate cost for implementing, running, and maintaining the ERP software system during its lifecycle. TCO entails all direct and indirect costs. Before you invest in an ERP system, ensure you understand all TCO components. Here they are:
The initial cost of buying your ERP software can be an upfront license fee or a SaaS-based subscription cost. 
The cost you incur when implementing your ERP system entails the initial deployment cost plus customization and integration expenditures.
The cost of obtaining and maintaining ERP infrastructure and hardware: You must buy and maintain ERP servers, networking equipment, data storage tools, etc. 
ERP maintenance and support fees: Software tools like ERP require constant updates to fix bugs and short-term technical errors. Many ERP vendors are willing to do the job for you in exchange for an annual fee. 
Training expenses: The next thing after ERP deployment is teaching your employees how to use it. Again, you will pay the ERP vendor some money to train users. 
Customization and development expenses: Perhaps your organizational structure requires a more specific ERP plan. Most vendors will let you customize and configure their software systems according to your needs. 
Data integration costs: Perhaps your employees use other apps and software tools to ensure more productivity. Your ERP vendor allows you to integrate these apps with your system at a given cost.
Downtime and disruption costs – When implementing or running software, you might encounter issues that disrupt normal business functioning. For instance, the ERP servers might have an outage which can lead to business losses. 
License renewal fees: At the end of the year, your organization will have to pay support and maintenance fees. If you opt for SaaS-based subscriptions, you might need to renew your licenses at the end of the year. 
System upgrades: ERP requires upgrading when new versions crop up. Hence, your TCO entails system upgrade costs. 
Continuing IT costs – If you have an in-house ERP system, your IT staff will upgrade and maintain it. The cost of hiring, training, and retaining your IT employees is part of TCO. 
Training and documentation costs: Consider employees' training plus the cost of obtaining any necessary documentation. 
Data security and legal compliance issues: Business data within your ERP system is an asset to hackers. Hence, you will incur some costs to protect it.Additionally, TCO entails legal compliance expenditures.
Vendor management expenditures- Your organization should allocate resources like time and money to the vendor management role. This ensures you create a good relationship with your ERP vendor for a long time. 
ERP price vs.  Total  Cost of Ownership (TCO)
Definition: The ERP Price is the fee you pay directly to obtain the software license from the seller. In contrast, TCO entails the initial licensing fees and the additional charges you pay to implement, run, and maintain the software.
Type of cost: ERP price is a direct cost. You will buy the license directly as a one-time fee or meet recurring monthly or annual charges. On the other hand, TCO entails direct and indirect costs. These costs occur during the implementation and deployment phase, customization and data integration phase, and ongoing operational and maintenance phases.
Comprehensiveness: The Total Cost of Ownership creates a clearer image of the ERP investment procedure. It produces cost estimates for every development phase. On the other hand, the pricing model shows the structure you should use to pay for the software.
Potential savings: ERP pricing does not show how much money you could save or the efficiencies you could gain throughout the ERP lifecycle. In contrast, the TCO shows the amount you could gain from using the ERP software.
Conclusion
When assessing long-term ERP ROI (Return on Investment), focus on the total cost of ownership rather than the pricing model. The TCO features the ERP pricing and all other direct and indirect costs you would incur when investing in ERP. Therefore, it allows you to compare the total funds you need to implement, run, upgrade, and maintain your ERP system with the benefits of the system. Due to its comprehensiveness, the TCO ensures proper project planning and funds management for maximum benefits from ERP.
---
Posted on