How to ensure a successful ERP Migration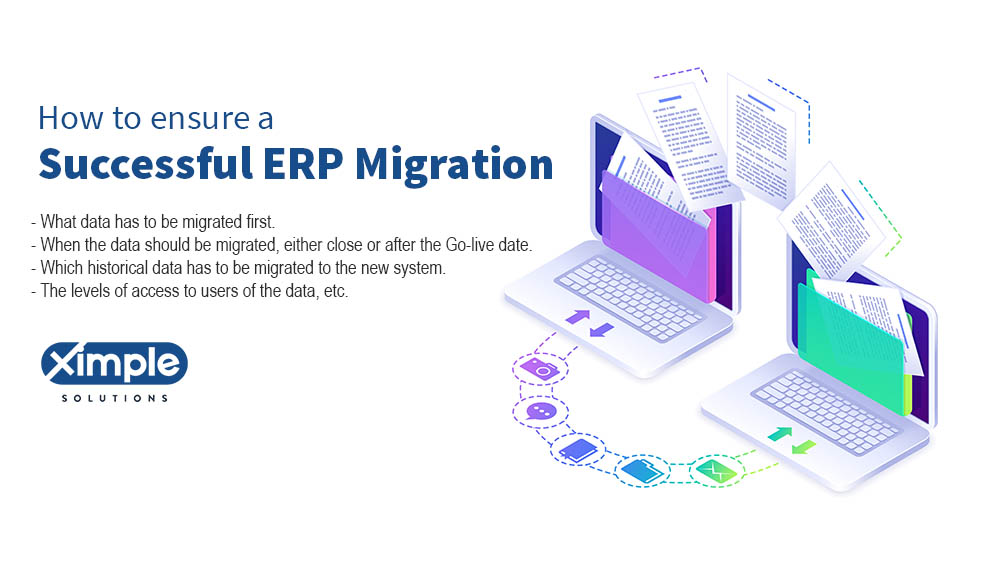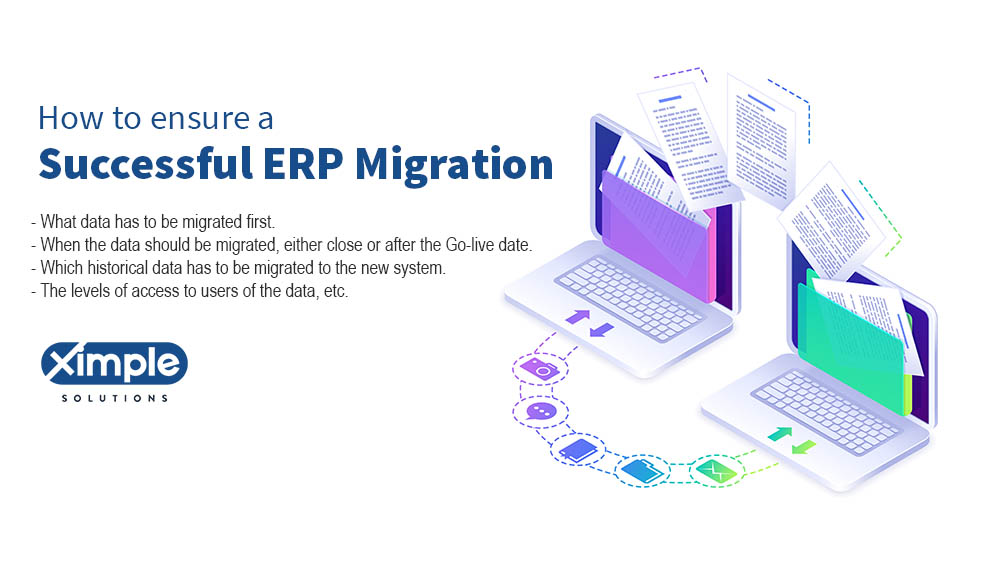 Let's Find out how to execute successful ERP Migration
An Approach to an ERP Migration
ERP implementation is a multi-layered, complicated endeavor that needs to be carefully planned and managed. One of the important layers is the part of migrating your data to the new ERP system.
Many companies make the mistake of assigning very little importance to this essential task. As a result, they either end up scrambling at the last minute to resolve data display issues or end up with a frustrating mess of an implementation altogether.
There are, however, steps you can take that will help you make sure the ERP data migration process proceeds without glitches and in as short a time frame as possible.
ERP migration phases are the process of organizing, restructuring, copying, and migrating data from your old ERP systems to your new solution
Table of Contents
1. ANALYZE THE ERP MIGRATION PROJECT
Analyzing your data way ahead of the actual ERP migration is a crucial step. You know that your business deals with different kinds of data.
Master data – the core data that is essential for the operation of your business processes. It is a consistent set of attributes and identifiers that describes the different entities of your company, e.g. customers, products, suppliers, chart of accounts, etc.
Historical data – collected data that is over two years old.
Live/current data – all of your recent transactional data
So before you let your vendor embark on ERP data migration, you first need to make some decisions about these types of data.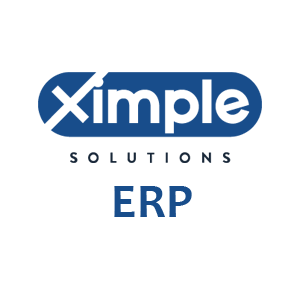 See How We Can Help to Reduce Your Operational Costs for Your Wholesale Distribution Business.
Ximple ERP automation improves workflows & processes across the distribution departments which help to reduce operational cost and productivity.
If you want our wholsale distribution business experts at Ximple Solution to help you digitalize your distribution business or upgrade your legacy ERP, just book a call
This can be a tricky and complicated process. If your employees had been inputting data into your legacy system using standardized processes all along, then that's great news. If, however, at some point or another they had created their own ways of data entry, it may open the door to a whole new set of complications.
You have to define things like,
What data has to be migrated first.
When the data should be migrated, either close to or after the Go-live date.
Which historical data has to be migrated to the new system.
The levels of access to users of the data, etc.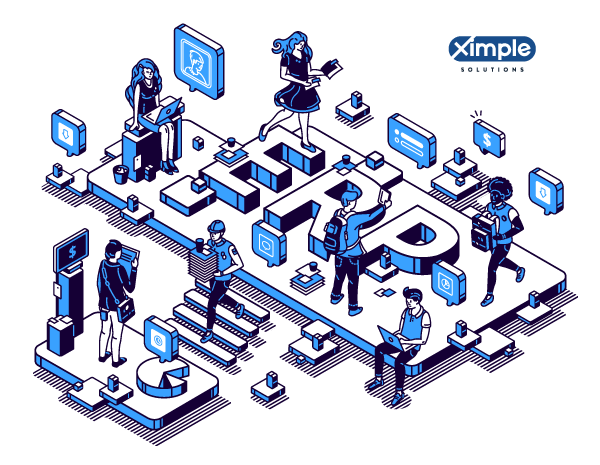 Hence it is very important to overlook the planning and strategizing portion of the ERP migration phases if you don't want to be hit with unpleasant and frustrating complications.
2. REVIEW YOUR DATA AND PROCESSES BEFORE MIGRATING TO ERP SYSTEM
You have to assess whether you actually need all the data in the new system or not. Before migrating your data from your Legacy system to a new ERP system. you have to do some spring cleaning.
Review your data and decide on its quality. This is the perfect opportunity to rethink or reassess the ways to record data.
You may also want to consider changing your processes and ask your new ERP vendor for recommendations on the structure of the data which is stored.
You have to assess whether you actually need all that data in the new system. This is the time to clean up irrelevant information, inaccurate data, and duplication.
In the end, you should have organized, consistent data categories ready to be migrated to the new system.
3. ASSIGN THE RIGHT PEOPLE
Apart from making sure that your vendor is completely briefed with the information about your data before they begin the migration process, an essential success factor for this project is assigning an in-house team or employee that will superhead the process.
Ideally, these people should be long-term company employees who are well versed in the company background and its history with legacy systems.
These employees can surf your company to extract and organize that data into structured charts.
You, in turn, will rest assured that you have trusted people that will make sure to keep pushing the ERP system migration forward until everything is successfully entered into the new system.
4. REMEMBER THAT TIME IS OF THE ESSENCE
The way you map out your data migration processes is crucial. You should have a clearly defined timeline that reflects the types of data, the amount of data, the necessary changes to be made, etc.
Do make sure to also have contingency plans for delays – unforeseen issues are more likely to arise than not.
5. TEST AND FIX ISSUES IF NEEDED
In order to make sure that everything goes correctly and according to plan follow the following testing procedure :
First, take a small amount of test data.
Make sure that it loads correctly in your new ERP system.
Check how the new solution is handling the data, and take the feedback.
Your key users should then take the new system for a test drive. Simulating their daily business processes and running rigorous tests on the system. This is the key step in catching problems and tracking them early.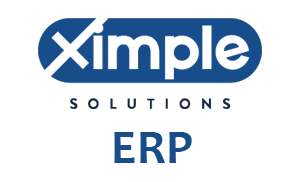 Hope you are enjoying reading this post.
If you belong to a medium or large-size distribution business, Ximple ERP is just for you.
Ximple ERP offers independence and flexibility to your B2B customer to grow their business. Our solution has D2C features they expect from you. Our ERP has an inbuild ERP offering.
You are one click away from transforming your wholesale distribution businesses, book a call now for the free demo
Conclusion
"Switching to a new ERP system is never easy, and ERP migration is one of the more complicated parts of the process. Planning ahead and defining a strategy for the process will save you a headache in the future."
Get in touch with us to see how Ximple Solutions can help your Distribution Business!
FAQ
Why is data migration so important to an ERP migration?
Data migration is a part of the ERP implementation process.ERP solutions depend on the integrity of data to produce credible results. Thus, data migration must lead to accurate, consistent, valid, and complete data.
What are the 4 major phases of ERP implementation?
ERP implementation requires a good deployment plan to succeed. Four major phases of the ERP implementation process include:
Discovery and planning entail creating a broad team of experts to oversee the ERP implantation process. The team should discover inefficiencies and possible interruptions before planning the implementation process.
Evaluation and selection – The team must select the best platform for solving existing inefficiencies and problems.
Design and development – The ERP team must determine if the selected platform can work with existing workflows. If not, it should identify the workflows requiring change. After this, it must start the development process to help meet the needs they have defined above. It is where the data migration process should occur. The team will also determine how to train users and choose the training materials.
Testing and Deployment – Testing allows the team to assess the platform before it goes live. If the platform is fine, the team will start deploying it. In this step, training is necessary to help reduce resistance to change. After deployment, the team must support the users to ensure they do not miss anything.
What are the three major plans for ERP implementation?
To ensure a successful ERP implementation procedure, carry out three activities. These include:
Project management
Process improvement
Change management.
Hitesh Barot is a Technologist and blogger passionate about solving business and technological challenges in Wholesale Distribution, Retail, and Manufacturing Industries. He has more than 20 years of experience leading the IT department for the Distribution, Retail, and Manufacturing business. Learn more about him here and connect with him on LinkedIn.
---
Posted on