ERP Implementation Phases and Guide for Distributors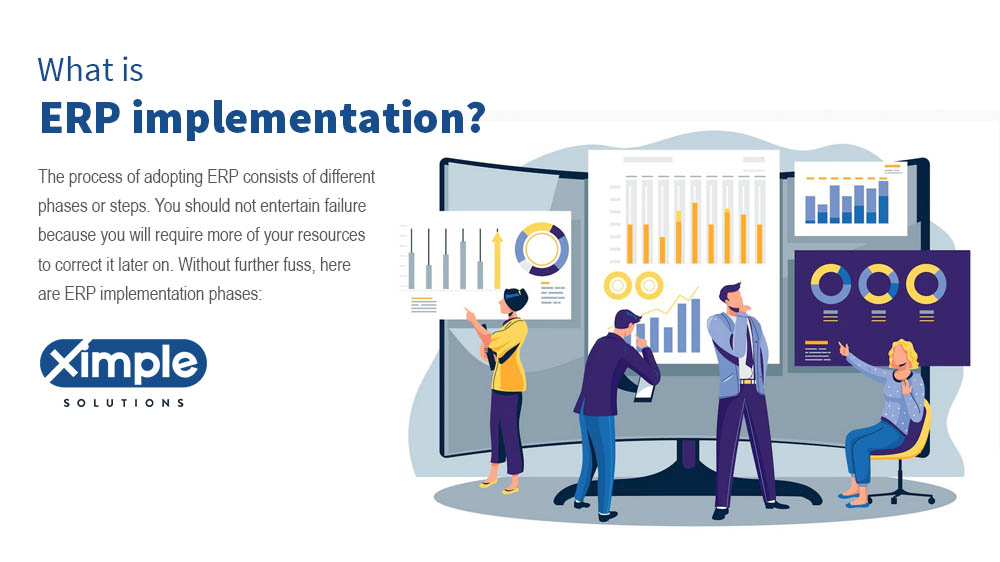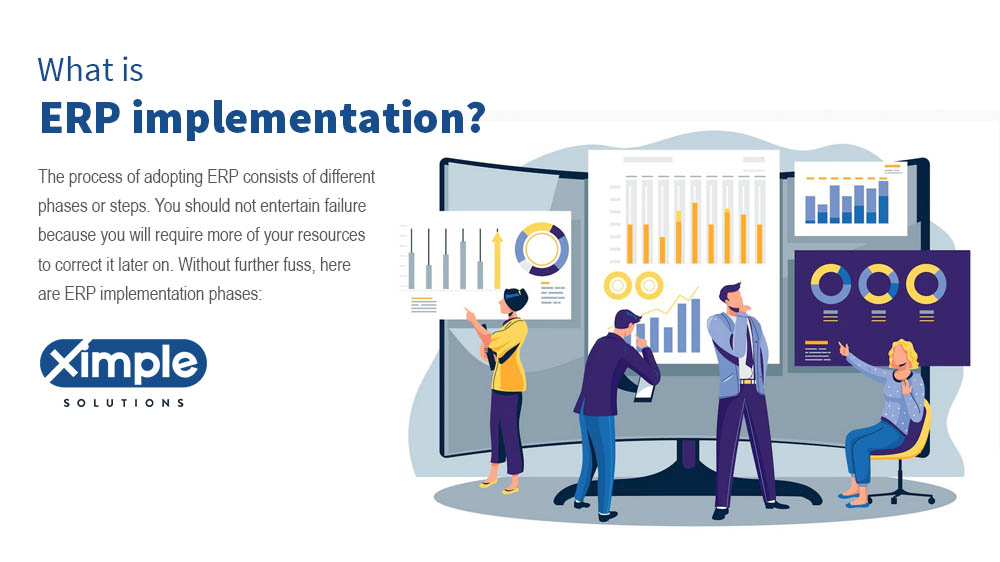 Its Important to know ERP Implementation Phases because now a days COVID pandemic has accelerated Digitization, Digitalization, and Digital Transformation plans for many Wholesale Distributors. Wholesale Distributors have suddenly understood that Technology can improve efficiencies, reduce inventory and profitability. Technology no longer looks esoteric.
The last ten years have seen many technologies and ideas mature from the Proof of Concept (POC) phase to become 'Industry Ready.' Technologies like Artificial Intelligence, Remote Collaboration, Machine Learning, Robotics Process Automation, Industrial IoT, and Blockchain have demonstrated their value to the early adopters who made these technologies a part of their day-to-day activities. The information and intelligence provided by these technologies have added value to the adopters.
As Wholesale Distributors gets ready to implement Industry 4.0 technologies, it's essential to upgrade or migrate their Legacy ERP to Cloud-based ERP. Next-Generation Cloud ERP offers distributors many challenges and opportunities. It important technological decision markers understand ERP implementation processes. Here, we take the opportunity to clarify all concepts related to "ERP Implementation."
What is ERP Implementation Phases?
First, ERP refers to Enterprise Resource Planning. It is business software for automating various business departments. There are industry-specific ERP software versions. Once you decide to obtain this software, go for an Industry-specific ERP tool. For instance, choose distributor ERP software if you do distribution business. After locating the best software provider, the next big step is implementation. It is the process of installing software, configuring options and settings,
and migrating data from your old software systems to the newly-launched ERP. ERP Implementation phases fulfilled with specific methodologies.
ERP Software Implementation Phases
The process of adopting ERP consists of different phases or steps. You should not entertain failure because you will require more of your resources to correct it later on. Without further fuss, here are ERP implementation phases:

Phase 1: Project authorization
At this point, a decision to buy ERP has been made, and it's pending approval by the senior management. Once the CEO approves the project idea, they will ask the Chief financial officer to sign the contract. Their signature will authorize the purchase and implementation of a new software tool.
Phase 2: Official launching of the project
In this ERP Implementation Phases, the project begins officially. The company chooses the in-house team and external professionals that should oversee and carry out the entire process.
Phase 3: An analysis of actual requirements from the ERP
In this step, the team responsible for the entire term the process would take identifies the things the software should help the business do.
At the end of this phase, the team should already have an official report or document that requires approval and signed by top management.
Phase 4: The new software design is agreed upon
After gathering all the requirements, the next thing is to customize the software to ensure it meets every need. Sloppiness in this step is one reason why ERP implementations fail. This role is played by the expert developer you chose in Phase 2. They must choose the most suitable type of programming to do to meet the requested needs. The in-house team leader will then alert the top management about the developer's decision for their approval.
Phase 5: The new software is configured
This refers to the actual installation and configuration of the software. This step requires software engineers to slot in the software every requested need. The developers should create some of the most crucial documents for your company, including a purchase order form.
Phase 6: Testing the software after setting it up
User acceptance testing (UAT) is a very critical stage of a successful ERP implementation process. The software has been designed, installed, and configured to suit organizational needs. The UAT phase is imperative because it entails test-running the software. Testers should be selected carefully, and some of them should be IT professionals. Please don't make the mistake of choosing novices as they will miss some essential software errors or viruses. This will cost you a lot of time and money to repair later on.
Phase 7: Training your employees
After the testing phase is over and everything looks great, the next thing to do is train your employees. They will be using the software, and it makes sense to orientate them at this point. Staff that plays a role in distributing goods should be trained to use the new software tool.
Phase 8: Software integration and migration
If you have other software tools on your premises, they should be able to work harmoniously with your newly installed ERP. This step may also be done in phase 3. It is all about pinpointing software tools that can be migrated to the ERP system. Data migration will entail shifting the organization's data from the old system to the new ERP software. Data can be shipping orders, customer forms, accounting data, sales reports, and so on.
Phase 9: Launch your New ERP system
Everything has been done by now, including project management. The software is ready to go live. This phase is super important as it marks the beginning of the better performance and higher efficiency in every department. The software implementation team should hang around for a while to help employees get used to using the new software.
ERP Implementation Methodology
If your ERP execution process fails the first time you try it, many resources will be wasted. It will take your business a lot of time to recover the lost capital. To prevent this, choose the best ERP implementation approaches. The main ones are 3:
Phased methodology
In this one, a developer focuses on executing software in phases. They choose one phase or department and shift all their attention to it. Once they finish with that one, they select the following department. This approach can make the implementation procedure longer than necessary but pose fewer risks and enable quick correction of errors. It also provides the team experience it would need in the subsequent phases.
Parallel methodology
In this one, developers implement the new ERP software while letting the older ones run. This parallel approach reduces implementation risks as a critical issue arises, and the business can continue running its older software system. A similar approach is associated with technical complexities and high costs.
Big Bang methodology
Developers deploy software for the whole organization at once. Unlike the other two methodologies, the big bang ERP implementation approach allows developers to deploy the tool across business departments or functions. This is the most complicated methodology and requires adequate planning and expert guidance to avoid costly mistakes. It is, however, the best when you need to save deployment time and overall cost.
ERP Implementation Benefits
There are several advantages you can get from implementing ERP software. They are briefly outlined next:
Once installed and configured, ERP will get rid of repetitive procedures and boost efficiency.
ERP can make every department more productive by automating tasks that need a lot of human time and labor.
ERP software is customizable. It can be altered to suit specific business needs.
The tool can remove administration and operation costs.
It is scalable.
Enables collaboration between departments
Company data is kept in a single centralized database.
ERP implementation Cost
here is no standard ERP system implementation cost for every business. This is because every business is unique and has its own needs. To discover these needs and budget for them, come up with a plan. There are two pricing models too, and each can influence the overall cost. These are:
On-premise system or perpetual licensing model
our business will host the new ERP tool on its servers. If yours is a large business, the on-premise system is the best pick as you already have servers and other essential infrastructures. With this, the license is yours totally and forever. The initial setup cost will be hefty, though.
The Saas (Cloud ERP) subscription model
Also called a cloud-based system, this model is the best for small and medium-sized businesses. The software will be paid for in small installments every month and will never indeed be yours. However, you can use it flawlessly and safely as it is cloud-based. It is the cheapest to implement of the two.
The first thing that the wholesale distributor ERP software could do to your business is to keep it ahead of the competition. Once you automate your distribution function, it will become more efficient and reliable. Goods will arrive at the desired destinations quickly, satisfying all customers. Distribution software encompasses all areas of your business, allowing you to have a single platform that meets everyone's needs. When it comes to choosing ERP implementation types, you should be guided by your operations' size and the amount of capital you have. If you are already a large business and can take a considerable risk, choose the big bang deployment method. Otherwise, the most advisable approach is the phased methodology.
Considerations for small and medium distributors implementing a New ERP software
As a small and medium business, your new ERP should help streamline and improve your operations. As your budget is tight, you can make mistakes when selecting and implementing your ERP tool. Your employees are few and might not have adequate IT expertise to supervise an ERP implementation process flow. So you need to outsource the role to a third-party expert to help you come up with a good implementation plan and team.
How to Avoid failures in ERP implementation Phases
Next, find out how to avoid failure while implementing new ERP software:
Get top management's approval and consistent support to avoid wasting business resources.
There are three principal ERP execution methodologies. Select one based on your preparedness for taking risks to resist the failure of the whole process.
Waiting to test-run a finished process and correcting errors when they are too costly to get rid of should be avoided. Correct in the course of the lengthy process.
Plan for long-term needs as ERP implementation is an expensive procedure to repeat all over again.
Successful ERP implementation
If you want to do a successful process, follow the simple steps listed next:
Define the scope, needs, and vision of ERP software. Use a team of experts.
Choose a complete application developer for the installation phase
Select your application analysts very carefully as they are the ones responsible for successful data migration.
Use a quality assurance testing engineer for the User Acceptance Testing phase.
Initiate change management so carefully to help the employees accept change. It would be best if you used training tools that work.
Select a methodology that suits your business type, size, and financial stability.
Offer ongoing support to ensure the implementation process ends well.
Conclusion
During the implementation of an ERP software program, wholesale distributors should aim for excellence. Errors should be avoided entirely as they are expensive and time-consuming to correct after the software goes live. If necessary, outsource the task to the right team of experts if you are a small company with less experienced and few IT experts to keep problems in implementing ERP systems away.
---
Posted on