Switching ERP systems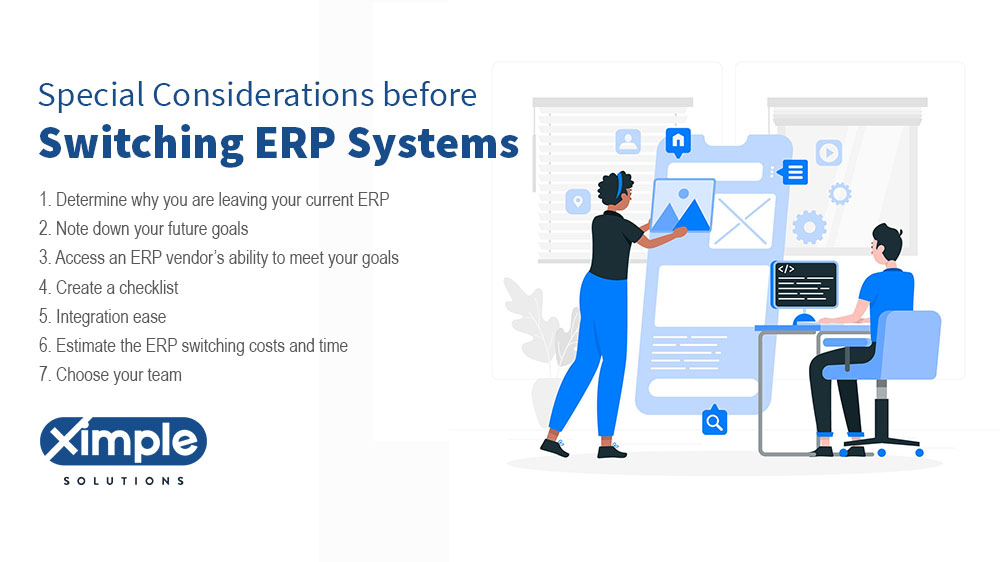 This article is intended for anyone considering switching their enterprise resource planning (ERP) software. It provides an in-depth discussion of the special considerations before switching, challenges that may arise, and the benefits of switching to cloud-based ERP systems. The article also includes an ERP selection process and implementation tips.
Are you thinking of changing your current enterprise resource planning software? Switching ERP software is a must if your current system has become inefficient. There is no reason to keep using an outdated legacy ERP system when you can opt for advanced cloud-based solutions. Cloud-based ERP allows remote or mobile-based access and has low maintenance costs. Switching ERP Systems is brilliant, but you should work out the cost vs. benefits vs. resource requirement to accomplish changing ERP objectives. We will discuss this topic in-depth to assist you in making the correct strategic business decision.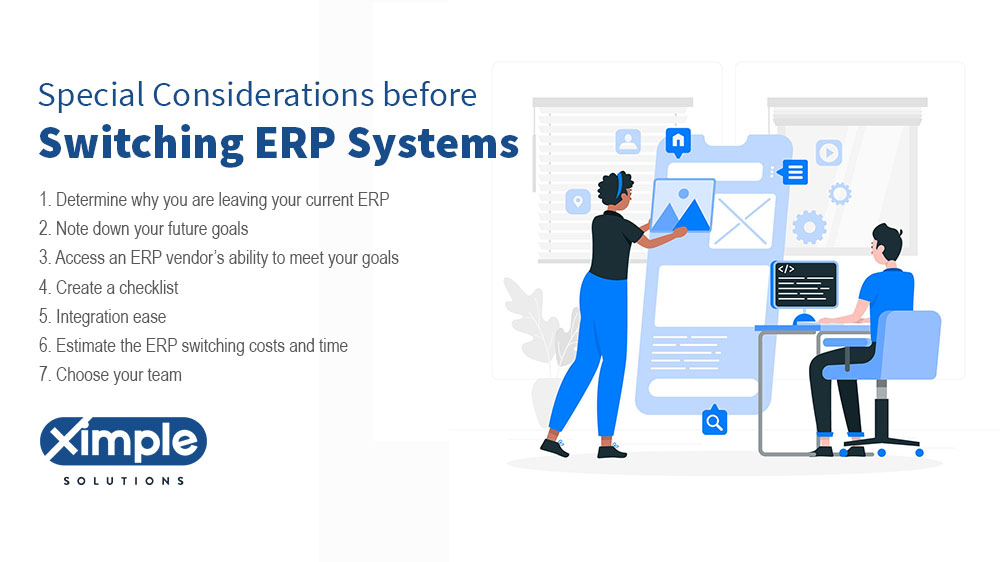 Special Considerations before Switching ERP systems
Now that you are determined to get another ERP product or migrate to an updated version of current ERP software, you follow the proper steps and processes for a successful project. Adequate preparation will help you choose the most appropriate software for your needs. General considerations when switching ERPs include the following:
1. Determine why you are leaving your current ERP
What ERP issues are you facing with your current package? These are the very reasons you want to quit using it. That being the case, your next system should exclude all these problems.
2. Note down your future goals
The new ERP software solution will be the future of your business. To select it wisely, you need to be sure of what you want to achieve in the future. Where do you see your company in the next five to ten years?
3. Access an ERP vendor's ability to meet your goals
So far, you know your current ERP challenges and your future business expansion goals. Next, access a vendor's ability to meet your short-term and long-term goals and needs. Do they have a robust financial foundation and reputation? Can they provide leadership and training during and after the software implementation process? Also, find out if they have the ERP type you need. If they do, how successful has it been since they founded it? You can ask for relevant case studies, testimonials, and reviews from genuine customers with contact details.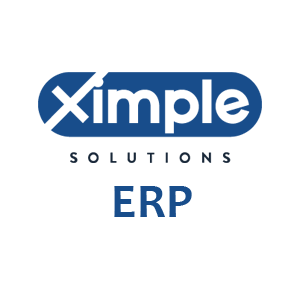 See How We Can Help to Reduce Your Operational Costs for Your Wholesale Distribution Business.
Ximple ERP automation improves workflows & processes across the distribution departments which help to reduce operational cost and productivity.
If you want our wholsale distribution business experts at Ximple Solution to help you digitalize your distribution business or upgrade your legacy ERP, just book a call
4. Create a checklist
An ERP switch exercise should be thorough and accurate. So, study various areas of your business to determine the ERP modules that could bring changes. Make sure you involve workers, as they will be the primary users of the new ERP. A checklist will help you switch to a system with better capabilities than your current software. Depending on your industry, you might not need a long ERP requirements checklist. Basic modules such as accounting/finance, manufacturing, inventory management, customer relationships management, human capital management, and sales and marketing may be enough.
5. Integration ease
Customizable cloud-based ERPs are a perfect consideration. They simplify the process of adding or removing things. You can connect them to any other web applications you use. No legacy ERP system supports customizations and integrations the way cloud systems do. You can have your IT staff create a demo showing how you envision the software. Then show it to the software provider for assessment. They will then tell you if it meets your goals. If so, then the IT team can offer an execution plan and timeline.
6. Estimate the ERP switching costs and time
If you have an on-premise ERP and need cloud software, estimate the upgrading cost. Can your budget allow switching to your favorite cloud version? Some vendors are always ready to negotiate the price based on your specific needs.
All in all, switching to cloud software will reduce your operating costs in the long run. You will host your business data on a private server that the vendor oversees.
Concerning the ERP System switching time, it will depend on the complexity of the system you need. Also, moving data from your old system to the new system should take considerable time because you want to avoid errors.
7. Choose your team
Selecting a team that will oversee the whole bilingual code-switching ERP Systems process is a must. So, choose the most experts you have at the workplace. The team should have a leader or manager who will spearhead the process. Include experts from the vendor's side because they will handle training and address challenges.
What are the Challenges of Switching ERP systems?
Modern ERP solutions are superior to on-premise systems. If you select and implement them well, you will reap many benefits. Unfortunately, some challenges could hinder switching to different ERP systems. Some of these challenges include the following:
Operational disruption – Changing the foundation of your current business processes and activities is intricate. It could lead to a disruption of operations consistently. As a result, you risk losing customers who cannot understand why there are service delays. Operational delays can increase the switching costs associated with ERP. Everyone involved should know when system disruptions will happen to avoid inconveniencing them.
Employees who cannot use the new system – Change is difficult. Most people do their best to resist it. It should involve all stakeholders if a company wants to switch to ERP for the first time or move from an older ERP version. Workers' opinion matters because the ERP is theirs anyway. If the management selects and implements the software without involving workers, they might as well continue using older applications.
Money and time wastage – ERP implementation process can take months. But before it goes live, it requires thorough testing and assessment. Skipping the testing phase is wrong because you could release a system that non-technical staff cannot use. Testing allows you to offer training to all types of users before the system goes live. Providing this training after launching your new ERP can waste your time and money.
Data loss – Whether implementing ERP for the first time or switching ERP, the data migration phase is unavoidable. If you are not careful, your team might lose some data as they migrate from the older ERP to the new system. Without backup, you can lose information that could take years to collect. Errors can also happen during data transfer, and correcting them can be costly. Besides, poor tracking of data can make it prone to people with ill motives. Thus, your ERP implementation team should include competent and thorough professionals.
Benefits of Switching ERP systems
Switching to cloud ERP Software has some benefits. These include the following:
Lower switching and maintenance costs –Cloud ERP is SaaS-based, so you pay only for the items your business needs. Besides, the ERP provider owns the data center, servers, and software. They will pay the cost of hosting your business data on their servers.
Centralization of data – ERP stores real-time business reports in a central database where all authorized people can access them. As all departments have a single reference point, they can avoid delays and errors.
Increased supply chain visibility – Managing a single supply chain can be challenging. With a cloud-based solution, anyone can view what is happening to every stage of the supply chain from a remote place.
Better financial decisions – ERP automates data management, eliminating reliance on time-consuming strategies like spreadsheets. Switching ERP systems could improve the reporting capability, eradicate duplication errors, and boost data management.
Mobile access – The Covid-19 situation caused various companies to keep remote workers. Mobile-based ERPs are some tools that can make remote work systems successful.
ERP Selection
Doing ERP switch should be a cautious exercise. You must select a right ERP software since your company has outgrown the current ERP or legacy system. Locating who to switch to can be confusing and complicated. So, in your selection phase, do not rush. Instead, do the following:
Determine your budget – If you have decided to upgrade to a different ERP solution, organize money issues first. Create a budget showing the estimated software and installation costs. Assuming you are moving to the cloud, you do not have to factor in the maintenance and upgrading costs.
Set the best time to run the ERP switching process – An ERP implementation project entails various phases, depending on its complexity. So, focus on the time you need to train staff, transfer data, perform test runs, customize, etc.
Search for the best ERP vendors – As you now have an ERP checklist, use it to find a suitable ERP provider. If you need an industry-specific system, look for vendors who serve your sector. Read reviews and testimonials to ensure a good selection.
Have your selected providers perform a demonstration – After a thorough investigation, gather two to three providers. Then arrange a separate time for each of them to come and show how their ERP system works.
Select the best vendor – After finishing the demonstrations phase, select the most appropriate vendor. Make sure their product can merge easily with existing applications and those you plan to adopt.
Implementation of ERP System
Proper implementation is necessary to ensure success. Here is what to focus on:
Assign roles and resources – Already, you have the best team to oversee the implementation work, together with their leaders. Ensure your Project Lead can assign roles to the team and cooperate with the senior management to ensure proper allocation of resources.
Decide how to handle data – You have different data types, and you may not need all of them. Thus, the ERP implementers should carry out a data cleansing exercise to help separate valuable data from unnecessary data.
User testing – Running test runs before launching the new ERP is vital. Use a contingency plan showing why the system cannot go live now. Inform all users about the scheduled test runs so they can prepare adequately.
Go alive – ERP implementation process is broad and entails a lot of activities. As soon as your testing process succeeds, launch the new software.
FAQ
Why do companies switch ERP?
Companies change their ERP systems for unique reasons. Some of these include:
Inefficient processes due to outdated software systems
Business growth beyond the capabilities of the current ERP system
Complaints about poor delivery of billing, shipping, and inventory data
Changing work dynamics, including remote working, that the old ERP system cannot meet
Poor visibility due to lack of real-time data capturing
The regulations from the government are changing fast, but the ERP system cannot keep up.
The total Cost of Ownership has increased too much that keeping the old ERP is no longer worthwhile.
How do I change ERP?
You need to start the process. That means creating an ERP selection team to assist with the choice of a new ERP platform. Once you complete the selection work, you must perform all the ERP implementation phases. If you are using an on-premise ERP, you can shift to a cloud ERP this time. Those already using the cloud ERP can select another one with scalability and other features.
What are the risks of changing the current ERP?
Below are the four possible risks of switching your current ERP system:
Users might fail to accept the new ERP system
The implementation process may slow business operations
Inadequate training or lack of any can drain organizational resources
You might lose vital data.
When should I switch to ERP?
Shift to ERP software if you want:
All your workflows and data appear in one place.
The cost of operating your business is rising every day.
Advanced reporting and analytics tools to help workers track KPIs better.
A technologically advanced ERP generates extensive insights for the business leaders to make better decisions.
The business to abide by the current data security regulations by the government and industry.
To enhance risk management as ERP has the right technology to reduce fraud.
To increase scalability and limit your odds of getting a new ERP system too soon.
What are ERP transformations?
Enterprise Resource Planning implementation transforms a business in many ways. It disrupts processes to cause long-term changes. An ERP does more than automate the workflows. It boosts visibility across departments, which is rare with standalone business software tools. A thorough ERP selection and implementation can transform the business now and in the future.
Conclusion
Switching to a new ERP system can bring significant benefits to your business, including lower costs, increased supply chain visibility, and better financial decision-making. However, it is crucial to consider the challenges that come with switching, such as operational disruption, employee resistance, and data loss. To ensure a successful ERP switch, it is essential to prepare adequately, choose the right ERP vendor, and implement the new system correctly. By doing so, you can transform your business processes and position yourself for future growth and success.
Hitesh Barot is a Technologist and blogger passionate about solving business and technological challenges in Wholesale Distribution, Retail, and Manufacturing Industries. He has more than 20 years of experience leading the IT department for the Distribution, Retail, and Manufacturing business. Learn more about him here and connect with him on LinkedIn.
---
Posted on