This article is relevant for businesses that are facing issues with productivity, high operation costs, poor scheduling and planning, and lack of growth. It provides information on how to select the right ERP system for their organization, including types of ERP systems, an ERP requirement list, and selection criteria for the right ERP system. The article also outlines the steps to follow for a successful ERP system selection and implementation and answers frequently asked questions about ERP selection.
Business issues such as low productivity, high operation costs, and poor scheduling and planning can stunt its growth and expansion. Lack of growth limits the company's ability to grab new opportunities, cope with competition, and unlock its full potential. SMEs that have been facing these problems are now choosing ERP. Large companies that could afford legacy ERP systems are now transitioning to cloud computing. No business wants to miss an all-encompassing business software solution like ERP. We will tell you how to select the right ERP system for your organization.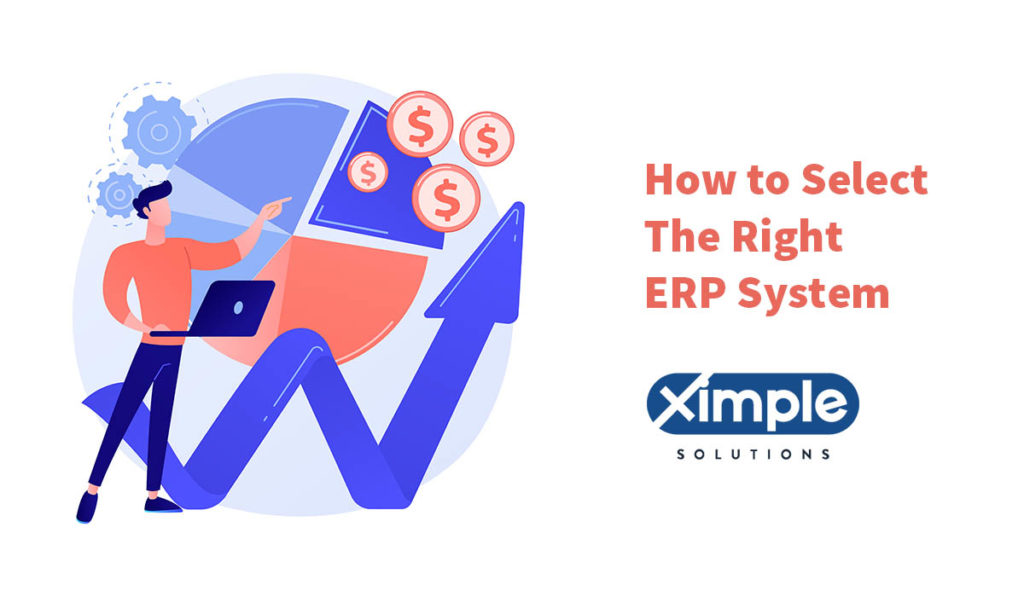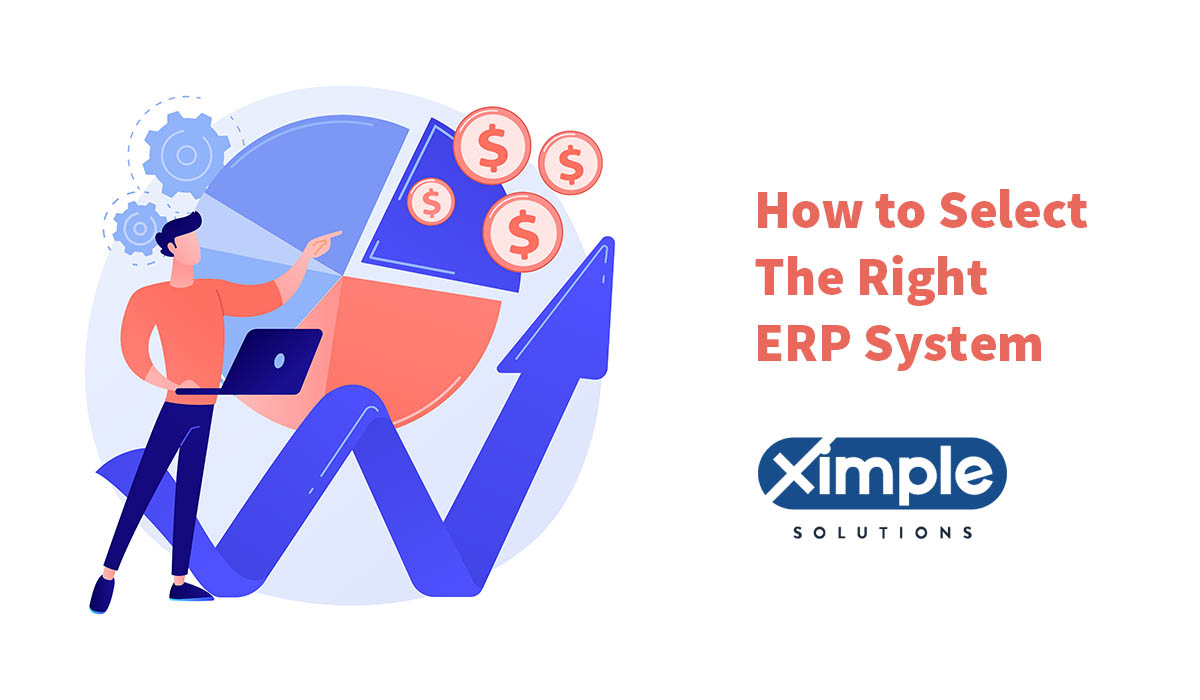 ERP system software
Enterprise Resource Planning (ERP) is a business management software solution. It connects the main business functions such as accounting and finance, marketing, inventory management, warehouse management, human capital management, manufacturing resource planning, and customer relationship management.
Installing a new ERP system is to centralize all business departments and automate their activities and processes. ERP systems improve not only automation and real-time visibility. They also facilitate the collection and storage of different pieces of data in a central database.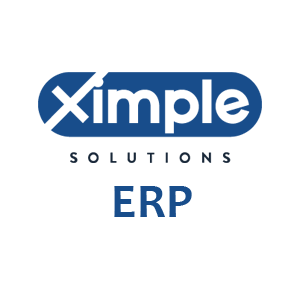 See How We Can Help to Reduce Your Operational Costs for Your Wholesale Distribution Business.
Ximple ERP automation improves workflows & processes across the distribution departments which help to reduce operational cost and productivity.
If you want our wholsale distribution business experts at Ximple Solution to help you digitalize your distribution business or upgrade your legacy ERP, just book a call
By consulting this data, managers can diagnose issues in each department and solve them before they worsen. Implementing ERP can help prevent legal compliance issues, automate financial reporting, and establish flawless workflow planning.
Types of ERP systems
Different types of ERP systems exist now. Nevertheless, we have 3 ERP systems from which all kinds stem. These include:
Legacy ERP software – Also called on-premise ERP, a legacy system that stays in the physical office and servers. Thus, the company is the sole owner and manager of an on-premise enterprise resource planning tool.
Cloud-based ERP – It is the most advanced version available today. No wonder it is referred to as SaaS(Software as a Service) solution. A company must purchase an ERP plan to store data and run its daily activities via a hosted server. As a result, users do not update or maintain servers. The subscription vendor manages all the affairs of their data center, including computing equipment and servers.
Hybrid ERP – As the word hybrid suggests, this solution is a merger between legacy and cloud-based ERPs. They allow users to transition from one option to the other. Also, they let customers meet their ERP goals and add features they still do not have.
ERP requirement list
Here is a software selection template that any company can use. Since companies operate in different industries, some organizations might not use all the requirements on this list:
Manufacturing Resource Planning
Human Resource Management
Sales and Marketing
Customer Relationships management
Data Management
Integration Capabilities
Business Intelligence
Enterprise reporting
Automation.
The selection process for the right ERP
When we are going to select the right ERP System, selection can be tricky. So, follow these steps to make it easier.
Establish your current business needs based on the issues you are facing.
Create a team to help the company select the right ERP System.
Make a requirement checklist that addresses the needs of everyone
Assess vendors to see how each can meet the requirements on your list. Assign scores to each vendor.
Based on vendor scores, choose if switching ERP systems is better than improving your current one.
Gather demos from different vendors and any information that can prove the effectiveness of their ERP software. For instance, you can read case studies and customer testimonials.
Assess how each vendor meets your ERP requirements list and produce a rank of at least three vendors.
Read each vendor's contract to identify grounds for negotiations. You can even give the contract to an attorney who understands business law.
Sign the ideal ERP contract to trigger the implementation process.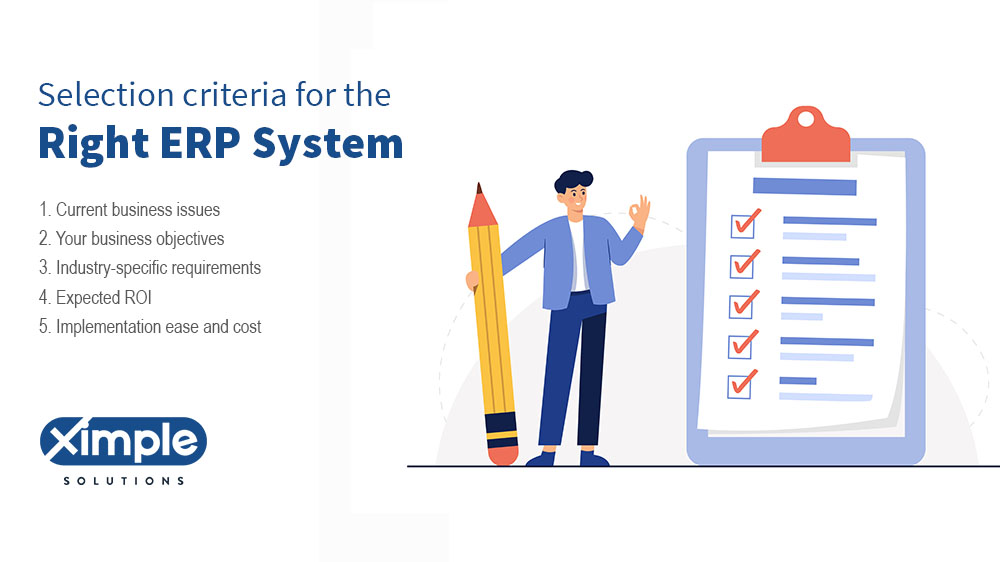 Selection criteria for the right ERP system
How can you select the best ERP tool in this digital era? Technological changes are happening daily. What was trendy yesterday might be outdated tomorrow. Hence, this is your only chance to make your e-selection criteria for ERP work.
So what ERP vendor selection criteria should you use? No selection template suits every company. So, make yours based on these parameters:
Current business issues – Perhaps your competitors are moving ahead of you fast. Maybe your company has outgrown its existing software, or you are using traditional inventory management solutions.
Your business objectives – A sound ERP system should help the company achieve its short-term and long-term goals. As you search for it, consider management support, user support, budget size, technology growth, future scalability, integrations and add-ons, and customizations.
Industry-specific requirements – You want to know if there is one software tool that works for companies in your industry. Also, does that software have room for changes in technology?
Expected ROI – You probably dislike your company's profitability level at this point. So, what ROI growth do you expect after installing a new ERP?
Implementation ease and cost – Installing a technology-apt ERP software tool is not effortless but should be manageable. The vendor should support the process via training and guidance regarding their software product. They should state their product's advanced technologies, THE number of modules, compatible industries, customizability, and customer support.
ERP checklist
In your thorough ERP evaluation process, come up with a logical checklist. A good ERP selection checklist consists of the features you want your ERP to automate:
Accounting and finance
Inventory management
Warehouse management
BI
Project management
Customer data management
Supply chain management
Sales and order management
Purchase order management
Shipping details
CRM
3PL
Price and product updates
Human resources
The best approach to successfully selecting and implementing an ERP system
Companies need to know how to choose the right ERP for their needs. That calls for caution when determining their ERP requirements. The first step is to assess the necessary features and tools based on your business needs. Next, focus on the vendor's ability to deliver ERP based on your needs and goals. To assess your ERP requirements and do a successful implementation task, answer these questions.
1. What business practices are you likely to adopt in the future?
As ERP represents a massive investment, it must support your future goals. A scalable solution should efficiently address your future growth and expansion plans.
2. Will my ERP vendor still be in business in the future?
As an ERP software provider has business plans, you may not know their future objectives. Even so, understand that your business's success depends on its ability to sustain its operations.
Studying past business strategies and practices is easy to gauge where a vendor might be a few years from now. If they are a well-established company, it is unlikely that it could run out of capital in the future.
3. What are your workers' views on buying a new ERP system?
Employees will use the new software daily to increase their productivity and save time. It is vital to conduct a survey involving them to gather their thoughts. Additionally, you can assess their workflows and see how the new software solution can boost or hinder them.
4. What are the most crucial requirements to address with ERP?
Identifying the most vital business requirements before purchasing an ERP product is a must. If your company falls under SMEs, it might have some capital limitations. Thus, it may only afford essential ERP software with a few modules. If that is the case, you would rather spend on a solution that can address your most crucial business problems.
5. In which industry do you operate, and can a vendor understand your needs?
Your business is a unique entity even within its industry. Thus, it would help if you had a well-versed ERP vendor who could evaluate and meet your needs. If you are in a wholesale and distribution business, you can find an industry-specific ERP like Ximple. After that, you will have a scalable cloud-based solution requiring no customizations.
6. Can my vendor support me during ERP implementation and afterward?
As you are new to the enterprise resource planning tool, you require a vendor who can follow up with you after implementing your software. They should train your in-house team to ensure it understands how the system works. Additionally, the vendor should be patient enough to teach people based on their ability to adapt to change.
7. What is the best way to deploy an ERP software system?
We have discussed three types of ERPs. As you compile your ERP requirements, remember to select the best option. Since cloud computing is the future of businesses, choosing a cloud-based ERP tool would be safe. Besides the ease of remote access, a cloud-based solution offers multi-factor authentication and sophisticated data encryption. Above all, you will never have to worry about server issues or upgrading costs.
8. What solution can I afford with my current budget?
Setting up your budget is very necessary. If you know that you can spend up to $100,000, it will be easier to choose a suitable vendor based on that budget. Be aware of hidden costs that you might get to know about later on.
ERP Selection FAQ
What is ERP Selection?
ERP is an integrated software suite offering different business management modules. ERP must conform to your organization's standards and structure by providing reliable data. Thus, ERP selection entails choosing the most appropriate software option for your organization.
The comprehensive selection process must align with your organizational goals and values. The professionals responsible for the ERP selection process must be good strategists with prior experience. The ERP selection process is comprehensive; it can end in around fourteen to twenty-four weeks.
How will you select an ERP model?
ERP selection has many steps. Here are the five main steps:
Deciding the reasons for getting an ERP system -Perhaps you run a legacy ERP and want to update it to a cloud ERP. Maybe your business has grown so much that it needs a scalable ERP tool. It could be possible that your customers have many complaints about the way you serve them. There could be other reasons for getting an ERP platform. So, you need to identify them in this step. It would be best if you defined your company's strategic goals before anything else. Usually, you should align each company goal with the functions of an ERP system and build a business case. Building a business case requires answering a couple of questions. For instance, will the new software boost customer service, employee productivity, operational efficiency, and decision-making based on real-time data?
Create an IT strategy – The team must create a deployment strategy that aligns with its IT capabilities, government regulations, depth of functionality, employee skill, and more. The best IT strategy will also include the correct ERP type to choose. At this point, the team can develop questions to ask ERP vendors.
Come up with an ERP selection team – The work of an ERP selection team is to assist the project overseers in choosing the best software requirements. This team must view vendor demos to establish if the software can fulfill all business needs. Team members should be excellent workers from each business department, and one member should become the leader. All ERP users should get a chance to voice their opinion.
Identify business requirements – The newly selected team will now hold workshops to help determine the business requirements. The project manager should prepare the ERP selection team well before assigning it various responsibilities. It is just one way to help the team stay organized and focused.
Enhance business processes – Another major step in the ERP selection procedure is enhancing business processes. It entails documentation of issues with each business process and suggesting ways to solve them. It is the right time to remove redundant business processes and follow the best business practices.
Other ERP selection steps include the following:
Identifying the best data management strategy
Building a list of potential ERP systems to select
Choosing a small list of the best ERP systems
Booking appointments with ERP vendors for Demos
Carrying out a Business Readiness Assessment
Bargaining costs with selected ERP vendors.
Why is the ERP selection process necessary?
It is essential to do the ERP selection process to avoid buying a system that does not align with your business goals. The entire process of selecting, buying, and implementing ERP is expensive and time-consuming. Choosing the wrong ERP software can lead to a waste of time and money.
Conclusion
Implementing an ERP system can help businesses overcome various challenges and drive growth. To select the right ERP system, businesses must understand their current needs and create a requirement checklist that addresses their specific goals. The selection process can be tricky, but following a structured approach and evaluating potential vendors based on specific selection criteria can help. Choosing the right ERP system is critical for a successful implementation, and businesses must also consider factors such as future scalability, industry-specific requirements, expected ROI, and ease and cost of implementation. With a comprehensive understanding of the ERP selection process and careful consideration of all relevant factors, businesses can choose the ideal ERP system that can effectively address their current and future need.
Hitesh Barot is a Technologist and blogger passionate about solving business and technological challenges in Wholesale Distribution, Retail, and Manufacturing Industries. He has more than 20 years of experience leading the IT department for the Distribution, Retail, and Manufacturing business. Learn more about him here and connect with him on LinkedIn.
---
Posted on