Ximple Solutions: An ERP Software Selection Consultant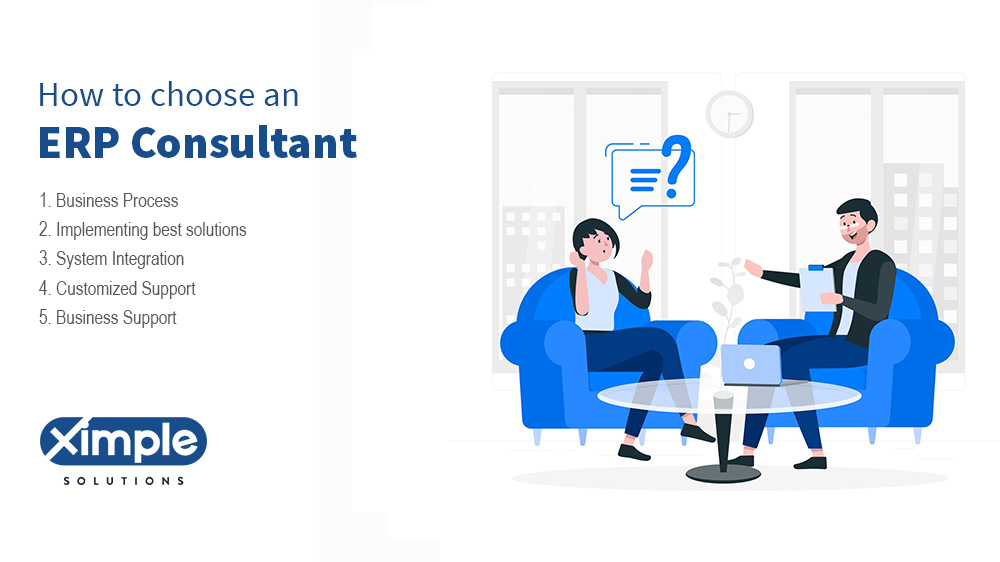 What does ERP Software Solution Consultants do?
ERP software solution consultants are responsible for understanding the needs of their clients and then selling them a product that can satisfy those needs. The primary responsibility of an ERP Software Solution Consultant is to recommend software solutions that are customized to their clients' needs. They also provide deep-dive analysis and recommendations to optimize these solutions and implement the necessary changes. ERP Software Solution Consultants offer answers to the complex ERP and business needs of people, businesses, and organizations. ERP software solution consultants are the professionals who provide solutions to the complex needs of ERP and business. They provide databases, ETL, data warehouses, data analytics, data warehousing, etc. These consultants also focus on improving system efficiency by designing highly efficient business process models.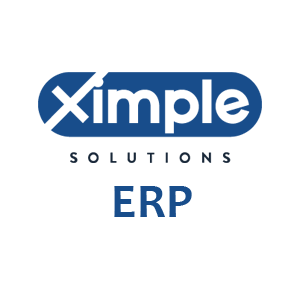 See How We Can Help to Reduce Your Operational Costs for Your Wholesale Distribution Business.
Ximple ERP automation improves workflows & processes across the distribution departments which help to reduce operational cost and productivity.
If you want our wholsale distribution business experts at Ximple Solution to help you digitalize your distribution business or upgrade your legacy ERP, just book a call
Some essential points of ERP consultants' work are as follows:
They help companies to improve their efficiency and reduce costs by using technology.
They maintain clients' business data and work with them to develop new strategies for better performance.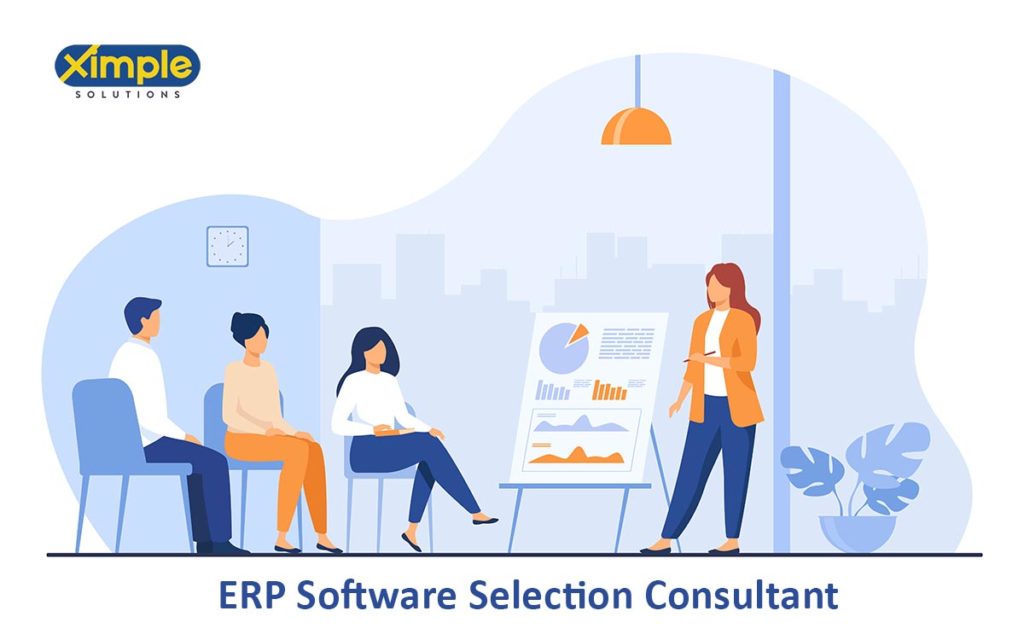 What does Enterprise Resource Planning mean?
Enterprise Resource Planning (ERP) is a strategic business process that integrates and coordinates different business functions such as accounting, supply chain, human resources, and other core functions of a company.
ERP systems can be prepared to improve efficiency and effectiveness by optimizing the flow of information between people and departments. They are typically used in manufacturing, retailing, health care, government, and other industries to share data electronically and integrate work processes across departments. Enterprise Resource Planning provides the company with an integrated platform for all its operations. It helps by eliminating redundant procedures and manual work. ERP is used for different tasks like product planning, customer order management, inventory management, and much more. It has many advantages like it can help manage costs more effectively and helps in decision making.
ERP allows the user to streamline customer service, automate inventory management, and improve business processes. It helps manage workflow, track inventory levels, analyze metrics, and coordinate supply chain activities among various organization departments.
ERP Selection Process:
Establishment– doing self-examination to know why your organization needs new ERP
Collaboration-delegate the responsibility to other business partners, business holders, and department leaders to search for a new ERP for the business
Defining-defining the needs and characteristics of an ERP which will be beneficial for your business
Distribution-distributing the responsibility of finding the best software vendors to meet the business needs to the partners, stakeholders, and department leaders
Justification-evaluating all the things shortlisted in the distribution process to find if they are suitable for the business or not
Proving– in this step, the shortlisted vendors are asked to verify their suitability, value, and benefits for the business with the help of demos and use cases
Ranking-rank, the vendors according to their performance based on use cases and demos
Negotiation– select one or two potential programs for the business, then choose the top-ranked program and vendor. After that, prepare an agreement and contract with the vendor
Signing– after all the evaluation and formalities, the business signs the vendor
ERP Software Selection Criteria
Functions and customer familiar-ERP should be customer familiar and hold all the capacities that a business needed
Seller Viability-the sellers require to work effectively and successfully for the business growth
The technological chops-ERP system should have a great deal of technology and should be upgraded
Effective charge-the charge of the ERP system should be effective, and the return on investment has to be more
Support and training-ERP system includes training and support to its clients and must know the requirements of the end clients
Industry proficiency- dealers need to be experts in industrial workshops and have the capability to find results for business challenges
Perpetration- getting the new ERP system and start running your business with its help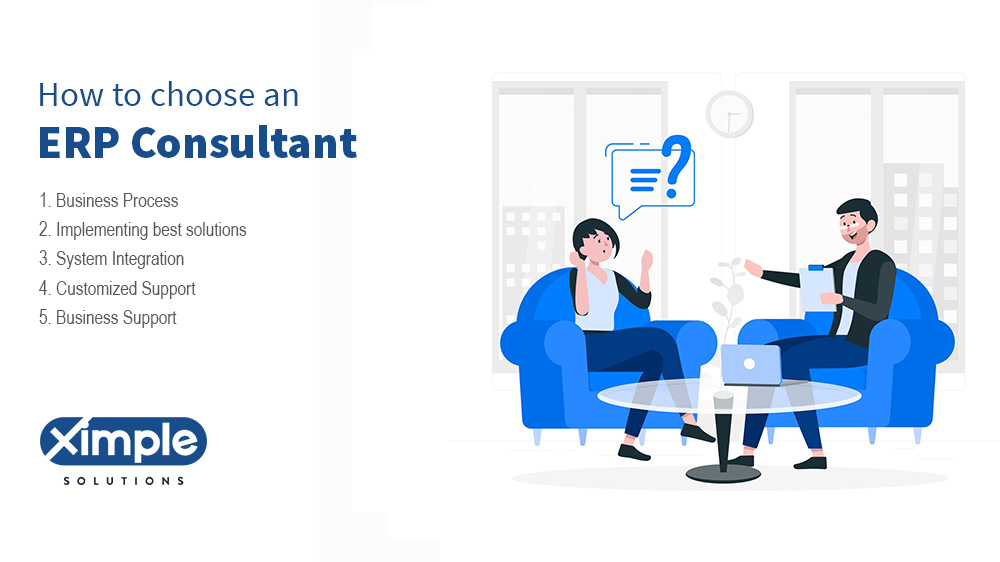 How to choose an ERP Software Selection Consultant
The Erp Software Consultant Should be an expert in the following business areas:
Business Process-Choose the consultant who understands our business processes and has a reputation of work within your business
Implementing best solutions-Choose that ERP software consultant who can adapt to your business's changing environment and implement the best solutions for the business problems
System Integration- Choose the ERP software selection consultant with expertise in Enterprise Resource Planning and maximize your business Return on Investment.
Customized Support-Select the ERP software selection consultant who can meet the customized requirements of the clients and support their needs
Business Support-Rely on the ERP software selection consultant who can comprehensively support your business in every step and process from starting to the end
Skills and experience required to lead successful Erp selection
Knowledge of technology-ERP consultant must know about technology and system migration.
Stability in Work History- If someone is applying for the role of ERP consultant, they must have a stable work history which means not switching jobs constantly
Certifications-The ERP consultant must have the experience and working certificates to prove their ability to perform the role of ERP
Brilliant Communication Skills-For an ERP consultant, good communication skills are the most vital factor to lead the business and communicating with the teammates
Managerial Skills- ERP consultants must have the ability to manage business projects and complete them with the help of the team
Team Building Ability- Team building ability is one of the essential skills required as the ERP consultant needs to lead a team and be responsible for team coordination and cooperation
Best Use of Resources-ERP consultant has to make the best use of available resources without wasting them
Needs & Advantages of ERP for a successful Business
Needs of ERP:
The ERP is used to observe and trace company data, like orders, suppliers, inventory, customer relationship management (CRM), human resources (HR), manufacturing execution system (MES), and supply chain.
The ERP is used to monitor the business's progress by providing real-time updates on the company's performance. It also makes sure that everything is running smoothly.
With an ERP system in place, it becomes easier for companies to achieve their goals because they will have access to the information they need in one place.
ERP provides the following advantages
Reduction of artificial data entry, which enhances productivity, decreases errors and ensures accuracy
improved reporting and analysis by integrating data from various sources
improved customer service by providing faster response to inquiries or orders
support for mobile access
Services Offered By Ximple Solutions
Accounting Software Service: With Ximple Solutions, you can simplify your business accounting operations easily. We can guide you, get organized, reduce your overhead, and increase your reach. Whether it's time to reevaluate your accounting strategy or if you need a complete overhaul, Ximple Solutions has the solution for you. Our team of experts is ready to guide you to take your business to the next level.
Sales Software Service: Ximple Solutions is a cloud-based relationship management software that helps manage your customer relationships from one centralized location. It integrates seamlessly with the ERP to provide a single source of truth for all customer data. With Ximple Solutions, you'll be able to deliver better customer service, increase sales, and revenue, and accelerate growth.
Best E-Commerce ERP Service: Ximple Solutions offers unparalleled e-commerce ERP integration services. We specialize in various shopping cart integrations, payment gateway integrations, and more. With our expertise in the industry, we have been able to create a seamless integration process that saves you time and money.
Warehouse and Inventory Software Service: A global player has a fully integrated warehouse management system. Ximple Solutions brings together inventory management and other inventory software modules in a single package. Ximple Solutions has been built from the ground up to take advantage of the latest technologies that guarantee seamless integration with other business systems.
Purchasing Software Service: Ximple Solutions is a customer-centric company that provides affordable and easy-to-use acquisition software that helps businesses of all sizes find new customers. Using this software eliminates the need for traditional, costly marketing strategies. Ximple Solutions purchasing software service will take your business to the next level by buying in bulk, being able to see your total inventory in real-time, and much more.
Operation Software Service: Ximple Solutions is an advanced operation software that caters to your company's needs. We plan, design, and implement the system according to your specifications and requirements with our team of specialists.
Employee Software Service: Get rid of your clunky, out-of-date employee management software and sign up for Ximple Solutions today. Ximple is a revolutionary product that makes it easy to prepare schedules, communicate with employees, and get insights into organization data.
Supply Chain Management Software: We go beyond the command to create better supply chain management systems so you can focus on your business. We're the best supply chain management software company as we offer to consult services to help you succeed.
Why is Ximple Solutions the Best ERP Software Selection Consultant?
Ximple solutions is a leading IT company specializing in designing, implementing, and strategic management of enterprise resource planning (ERP) systems. We are one of the best ERP consultants in the industry. Based on our experience and expertise, we provide our clients with a holistic IT solution to increase their productivity, improve efficiency, and strengthen their competitiveness. Ximple solutions is a great company that helps other companies with their ERP consulting. With ximple's help, you can make your company more profitable and efficient. Ximple Solutions is a specialist in designing, implementing, and integrating the right enterprise software solution that will ensure your company's success. It is the best ERP software selection consultant, and we pride ourselves on the best software and pricing solutions for small and medium-sized organizations.
Conclusion
Ximple Solution is a top provider of formal ERP Advisor Software. We've been in the software industry for over a decade and hold a squad of experts who direct you with your execution operation. We've been working out on ERP execution systems for small, midsize, and indeed big firms.
Our squad of experts at Ximple Solutions is engaged to direct our customers with the software choice procedure. We want to clarify that we lead you through all your choices and detect the proper fit for your association. You should be suitable to determine your requirements and deposit, and we'll guide you to prepare the exact conclusion. So choose Ximple Results to boost your business growth.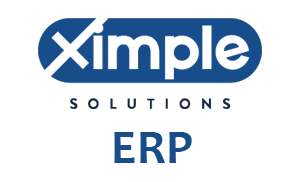 Hope you are enjoying reading this post.
If you belong to a medium or large-size distribution business, Ximple ERP is just for you.
Ximple ERP offers independence and flexibility to your B2B customer to grow their business. Our solution has D2C features they expect from you. Our ERP has an inbuild ERP offering.
You are one click away from transforming your wholesale distribution businesses, book a call now for the free demo
Ximple Solutions
ERP software is a difficult decision. Ximple Solutions is an ERP software selection consultant. Ximple Solutions consultants have expertise in all areas of business management; we will work with you to find the best solution for your needs. Ximple Solutions will show you which ERP is a good fit for your company and help you implement the system. We provide training, maintenance, consulting, and more.
Ximple Solutions help companies find the best cloud-based or on-premise CRM solution for their needs. This ERP Software Selection Consultant makes ERP selection less daunting with their selection consultants. We take the frustration out of it for you by providing you with an unbiased ERP software selection process, helpful insights about top-rated ERP software products, and quick access to expert advice.
Ximple Solutions help companies find the perfect solution for their needs, enabling them to focus on their core activities, grow faster, and boost their performance. It is a premier ERP selection consultant for businesses of all sizes. We will provide you with the most appropriate software solutions for your business.
Hitesh Barot is a Technologist and blogger passionate about solving business and technological challenges in Wholesale Distribution, Retail, and Manufacturing Industries. He has more than 20 years of experience leading the IT department for the Distribution, Retail, and Manufacturing business. Learn more about him here and connect with him on LinkedIn.
---
Posted on