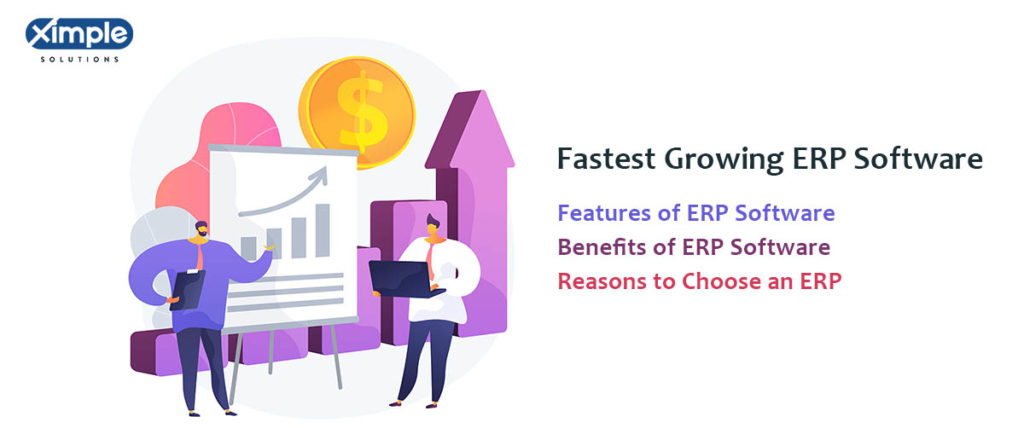 An enterprise resource planning (ERP) system is a computer software application that manages and integrates the data and activities of an organization across various departments, such as production, inventory, human resources, and finance. Enterprise resource planning systems are also called integrated business systems. An ERP system is software that has many features and benefits, depending on the industry and type of business it's in. An ERP system provides an organization with a single view of its operational data.
Enterprise resource planning software manages a company's complete economic cycle. It helps streamline buying raw materials from suppliers, producing the products internally or purchasing them from other companies, dealing with customer orders, and managing inventories. ERP software also manages financial aspects such as stock price variations, budgets, and earnings projections. An organization can use an enterprise resource planning system to manage its manufacturing, distribution, logistics, customer service, and support operations. Some industries that use ERP software are healthcare, retail, manufacturing, and education.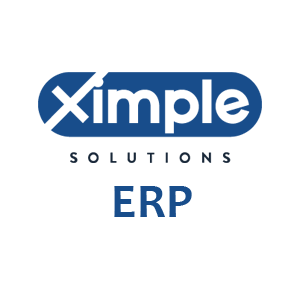 See How We Can Help to Reduce Your Operational Costs for Your Wholesale Distribution Business.
Ximple ERP automation improves workflows & processes across the distribution departments which help to reduce operational cost and productivity.
If you want our wholsale distribution business experts at Ximple Solution to help you digitalize your distribution business or upgrade your legacy ERP, just book a call
Ximple solutions is a leading ERP software provider, delivering the best solutions to its clients. With our modern and best ERP software, we can help businesses succeed in demanding environments. Ximple Solutions is one of the fastest-growing ERP Software and ERP Development Software companies. We offer complete ERP software solutions to a range of industries, including Manufacturing, Pharmaceuticals, Retail, Fast-moving Consumer Goods, Logistics and Distribution, Information Technology Services, and Construction.
If you're an SME (Small and Medium-sized Enterprise) or are about to start a new company, you need to choose the right ERP system for your business. You have no idea how to go about it. Ximple solutions are here for you!
What is ERP Software?
ERP software is a kind of enterprise resource planning (ERP) software used to manage business operations. ERP software is a computer-based application that automates and manages the tasks involved in running an organization. It can be described as "the hidden brain of your business." The ERP software consists of:
A database to maintain company data
A module for entering transactions, such as purchase orders or invoices
Modules for controlling the flow of materials, goods, and services
A module for managing human resources.
ERP Software is a set of business tools to assist business functioning for business growth. It helps in accounts management, stock and warehouse control, data management, parts management, and other miscellaneous functions. Some of the pros of ERP software involve better quality and execution, minimum time and quantity, lower cost for operations such as maintenance and data storage, and better customer service. ERP software is designed primarily to automate company functions and increase efficiency through optimization. ERP systems offer a wide variety of functionality in an integrated platform with no need for third-party software or costly customization.
Features of ERP Software
ERP Software is an enterprise resource planning system that provides control over various business processes and provides real-time business information to the users.
Some of the features are as follows:
Business Intelligence and Reporting Tools: The software can allow data analytics and provide instant updates to store managers, inventory clerks, production workers, sales representatives, etc.
Asset Management: Allows businesses to track their assets on a central platform.
Production Scheduling and Planning: Provides an easy way for production managers to plan their work accordingly.
Distribution Management: This makes it possible for supply chain teams and logistics coordinators to manage distribution efficiently.
Benefits of ERP Software
The benefits of ERP Software are as follows:
ERP software integrates the disparate systems within an organization, offering insights and enabling coordinated and rapid decision-making.
ERP Software Improved customer service
ERP software is a system that helps manage the information in an organization's various departments, such as finance, manufacturing, and human resources. These departments may be organized internally or may represent separate companies that have merged.
ERP Software increases the ability to track product lifecycle
ERP can improve organizational efficiency by automating redundant tasks or requiring fewer manual operations to perform tasks.
ERP Software helps in better inventory management
ERP software helps in data collection from all company areas for better business intelligence. It can help managers see how changes in one place affect other parts of the company.
ERP Software Reduced costs of the products or services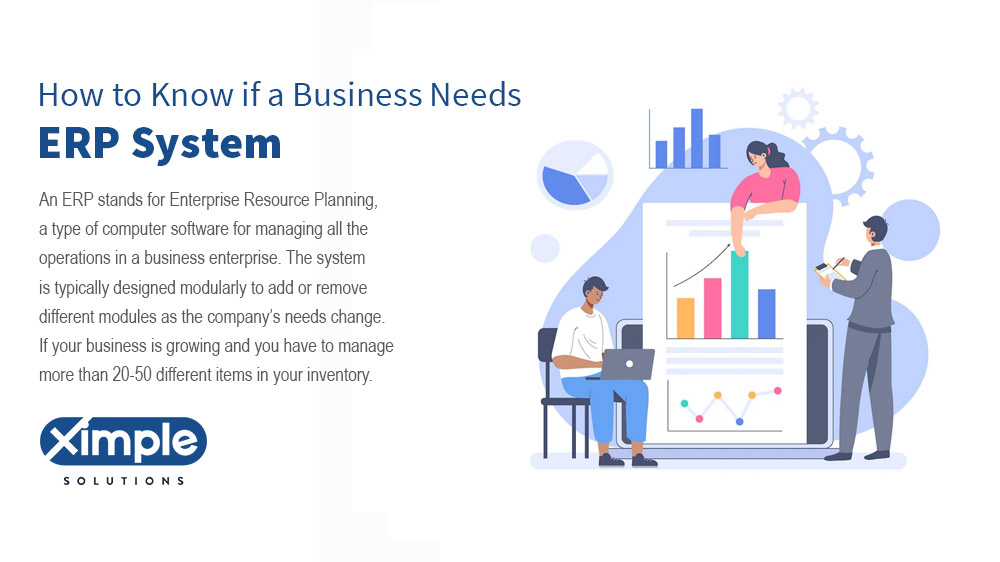 How to Know if a Business Needs an ERP System?
It is difficult to answer the questions like 'should I invest in ERP?' or "how to know if my business needs an ERP system ?". It is more important to know if your business needs an ERP system and what benefits it provides.
An ERP stands for Enterprise Resource Planning, a type of computer software for managing all the operations in a business enterprise. The system is typically designed modularly to add or remove different modules as the company's needs change.
If your business is growing and you have to manage more than 20-50 different items in your inventory, it is time to start looking for an ERP software system.
An ERP system is a way to automate and streamline all the processes for running a business. It helps with production planning, customer service, sales, human resources, inventory management, accounting management, reporting, budgeting, and investing in an ERP system, such as improved control over profitability and customer satisfaction.
Reasons Of Why You Should Choose an ERP System for Your Business
ERP is an abbreviation for enterprise resource planning. ERP software can run the business processes affecting an enterprise, saving time and reducing costs. Choosing an ERP system for your business requires a complete understanding of your current and future requirements. Understanding what your company does in a day, differentiating between operational needs and strategic needs, and identifying the requirements of each department can help you make a more informed decision. To ensure that everything is running smoothly, every business needs an ERP system. They are essential for any company, from inventory control and customer management to billing and paying.
The computer software market is a competitive arena. There are so many different ERP platforms to choose from, and each one has its own set of advantages and disadvantages. ERP systems simplify managing your business by providing a convenient platform where you can input all the information about your company, from staff to sales and finance. When you have to put in a purchase order, for example, it's much easier if you can view all of the relevant information with just one glance rather than having to go through line after line on a spreadsheet. There are so many different things in a business that needs to be taken care of. In addition, an ERP system can offer you greater control over your data security because it operates solely in the cloud. An ERP system gives your business more flexibility as well.
Ximple Solutions is the fastest growing ERP Software
Ximple Solutions is a leading and fastest-growing ERP Software solution for enterprises. We are redefining the ERP experience by being the most straightforward, fastest, and most affordable solution. With Ximple Solutions, you get a fully integrated ERP platform that is easy to use and requires no IT skills while also delivering real value in your company's operations.
Ximple is an Erp Software with a focus on simplicity. We help companies outsource their data & save time, money, and stress by digitizing their business. Imagine a world where you can manage your projects, employees, and inventory in one place. Ximple Solutions' ERP Software can take your business to the next level!
Ximple Solutions is an Erp software designed to offer a complete solution for any small business. Companies can easily manage their employees, inventory, orders, and customers with our user-friendly interface. With Ximple Solutions, we take care of all the tedious paperwork for your business. Our experts will ensure that everything is tracked, organized, and done efficiently. We also offer various services that you can use to grow your business, with no long-term contract or commitment.
What makes Ximple Solutions the fastest growing ERP Software?
Ximple is an enterprise resource planning system that provides an all-inclusive business management platform for small to medium-sized enterprises. It is a complete back-office package, which eliminates the need for separate financial, customer service, and inventory management software. It has a single database with an interface designed to be user-friendly and familiar.
Ximple offers essential features such as sales and purchase orders, accounting, inventory management, etc. Ximple is the ERP software for all-sized businesses. We're the fastest-growing ERP software because we're affordable, easy to use, & offer the features you need: invoicing inventory management, and project tracking. Our goal is to help you make more money with our free mobile app. Every solution has a story. Ximple Solutions is the easiest and fastest way to manage your business, with a customizable suite of features that will grow with you.
We offer ERP software and are committed to providing our clients complete satisfaction. Simplify your operations with Ximple Solutions to take your business to the next level. With our ERP software, you can get all the benefits of ERP without upgrading to a pricey on-premises solution. Ximple Solutions is the fastest-growing ERP software.
All the things mentioned earlier make Ximple Solutions the fastest-growing ERP software.
How do Ximple Solutions consultants help your business to grow?
You are in business with Ximple Solutions, which means that you know it is possible to grow your business with just a little help. You have to be innovative and understand what is needed for your business to grow. Ximple Solutions consultants will always be there for you when you need them, so don't be afraid. All you need to do is reach out, and we will get on the phone with you as soon as possible. Ximple Solutions consultants are industry-leading experts who help you find the most innovative, effective, and efficient software solutions for your company. They work closely with you to develop a strategy that maximizes the return on your technology investment.
We employ an extensive range of technologies, products, and services to provide our clients with options to meet their needs. We have been working in this field for over many years and have helped more than 100 clients grow.
Ximple Solutions consultants work with you, understand what challenges your business is facing, and then help you find the best possible software solution to solve it all.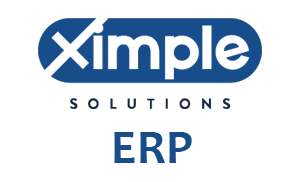 Hope you are enjoying reading this post.
If you belong to a medium or large-size distribution business, Ximple ERP is just for you.
Ximple ERP offers independence and flexibility to your B2B customer to grow their business. Our solution has D2C features they expect from you. Our ERP has an inbuild ERP offering.
You are one click away from transforming your wholesale distribution businesses, book a call now for the free demo
Conclusion
Ximple Solutions is the fastest-growing ERP software for the wholesale distribution business. Due to its versatile features and so many pros, it has grown exponentially within a few years. It provides a suite of solutions exclusively designed to work with small and medium-sized enterprises. It's excellent scalable software for companies that want to focus on what they do best. Ximple Solutions is one of the leading enterprise resource planning software designed by professionals who are constantly looking to provide better solutions to help small and medium businesses grow. It is a cloud-based ERP solution that provides an easy-to-use interface with various modules for managing a business such as inventory management,  distribution, supply chain,  b2b eCommerce, sales,  finance, accounting, warehousing, purchasing, and more. The company provides free trials so one could have enough time to explore all the features offered by ximple solutions and make an educated decision about buying it or not.
Hitesh Barot is a Technologist and blogger passionate about solving business and technological challenges in Wholesale Distribution, Retail, and Manufacturing Industries. He has more than 20 years of experience leading the IT department for the Distribution, Retail, and Manufacturing business. Learn more about him here and connect with him on LinkedIn.
---
Posted on