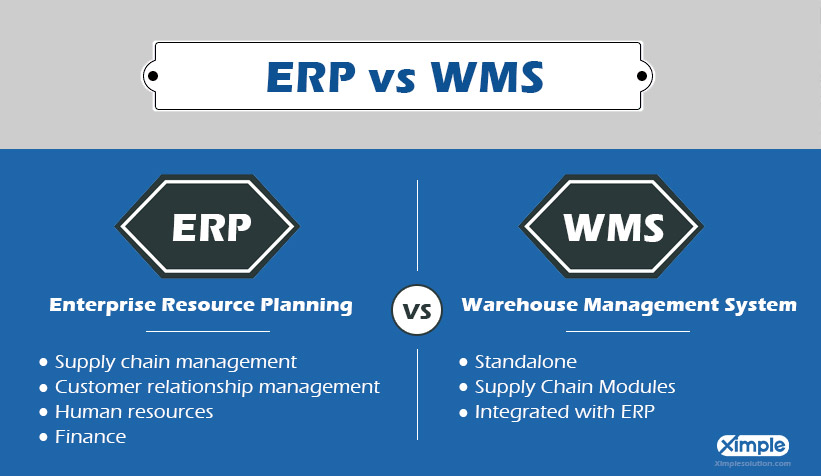 Table of Contents
What is WMS?
Warehouse staff will appreciate a Warehouse Management System. But what is WMS system software? It is an automated system that helps with organization, staffing, planning, transferring stock in and out of the warehouse, and covering storage.
What is ERP?
ERP is an integrated software application that standardizes and streamlines business processes to improve productivity and efficiency, improve internal and external communication, and offer easy access to information to make business decisions. It integrates business processes across all business functions, including accounting, finance, human resources, purchasing & procurement, distribution, manufacturing, warehousing, inventory management, sales, and other departments. Enterprise Resource Planning (ERP) systems operate on an integrated software platform using standard data definitions working on a single database.
Enterprise Resource Planning was designed and leveraged by manufacturing companies to drive operational efficiencies. All industries, including Wholesales and Distribution Industry, Retailers, B2B and B2C eCommerce, service industries, education, hospitality, health care, financial services, and government have adapted and leveraged ERP concepts to streamline and integrate business processes to stay competitive.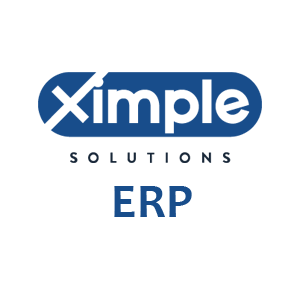 See How We Can Help to Reduce Your Operational Costs for Your Wholesale Distribution Business.
Ximple ERP automation improves workflows & processes across the distribution departments which help to reduce operational cost and productivity.
If you want our wholsale distribution business experts at Ximple Solution to help you digitalize your distribution business or upgrade your legacy ERP, just book a call
ERP vs WMS Software System
ERP WMS systems are necessary but have different functions. A warehouse management system primarily covers storing and movement of stock. It tracks all items until they leave the building. The difference becomes apparent when you realize that the WMS offers real-time information. It is a standalone system. ERP is very similar and provides the same options. It is vital to decide which one to use as there is no need to use both.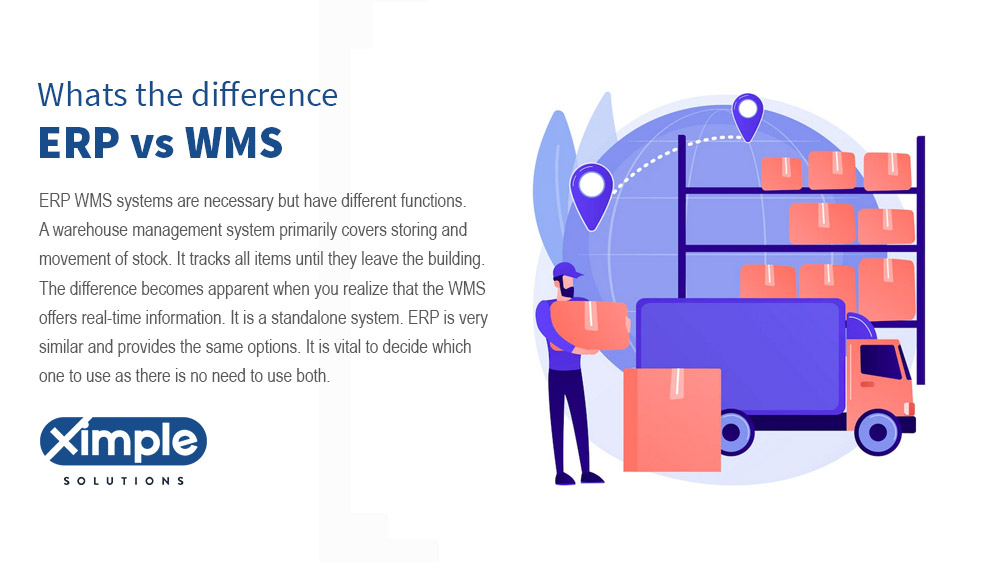 Types of WMS
There are three main types of WMS, and they are as follows:
Standalone
With this system, just the WMS activities run in conjunction with other systems. The essential functions it covers are warehouse operations and inventory management. The tasks of date tracking, slotting, picking, and shipping, among others, are not available. Is WMS worthy? It is the essential software that targets smaller businesses with low expenditure capabilities. If you run a large-scale company, standalone WMS may not help.
Supply Chain Modules
This type of WMS covers more of the work required for a smooth-running warehouse. It automates tasks such as product cycles and material sourcing. It requires a higher level of investment and shows many functions of supply chain modules. It ensures all parts of the coordinate business well, not just the warehouse.
Integrated with ERP
It's a type of ERP and WMS system covering most company functions, including supply chain, HR planning, accounting, and others. Warehouse functions are not the core features of this system. It is the most expensive and does not specialize.
WMS Features
The main features include the following:
Stock keeping units with details of weights, bar codes, etc. It holds some of the more essential items.
Storage locations include a specific number, type of use, size, and restriction.
Dock doors.
Expected work per person-hour.
There are also daily management functions such as planning the work for the day ahead and organizing how this will happen. This should happen in a way that presents last-minute concerns regarding fulfilling the orders. The staff to carry out the jobs will also be assigned through this. To fully mitigate this, there is a way that managers can control what is happening and alter procedures if required.
WMS Benefits
One benefit of WMS covers the initial layout, as this is done to ensure floor space optimization. It prevents wasting time and floor space, therefore, reducing costs. Rotation is maintained, and this covers First in First out, Last in First Out. It will maintain real-time inventory levels and prevent delayed orders. It is possible to see how well a product is performing and maximize profits.
The system can make sure the right person is doing the job on a day-to-day basis. Scanning can cut back on double-checking and costs. Inventory tracking can improve as software can match goods with receipts. It can enable streamlining of all functions. As it allows data sharing, it helps all areas of the business.
Pairing a mobile with the CRM WMS system eliminates paperwork, allowing speedy activity recording. AI helps via sensors, automated carousels, and automated conveyors. When you factor inefficient shipping, it is clear that there are significant benefits. You can pick orders in a way to avoid delays and keep customers up to date. Regular updates will lead to ongoing improvements, such as becoming cloud-based WMS inventory control software.
WMS Value
The primary value can be found in how it speeds up processes and eliminates mistakes that can lead to delays. The automation involved can also improve safety by creating safe routes for workers. Decisions throughout the company can happen due to the collected real-time data. There is no worry about ordering too much stock. Metrics covered are orders, shipment, and lead times. Knowing this allows better responses to customers' requests.
Types of ERP
Different types of ERP include:
Supply chain management – Knowing what is necessary and what to charge.
Product lifetime management – Allows efficient product designing and production.
Supplier relationship management – This allows the scheduling of all contacts with suppliers.
Customer relationship management – Keeps customers happy by staying connected.
Human resources – Keep all employee's details in one place
Finance – Collects all financial data, analyzes it, and produces reports
ERP Features
In ERP elaboration, finance is an essential feature, and it is the basis. It provides information for everyone who needs to know regardless of where. Sales are also vital and require fast action. It will link Sales and accounting and delivery in the WMS module. With inventory under control, the sale will run smoothly as it covers completed products and those in the production phase.
The purchase and supply chain must be up to date, and there is a function for this. It can order and pay for Goods. Business process controls allow a manager to know what they must do at any time. Also, they can allocate funds to each project and execute it.
ERP Benefits
Business reports will be clear and precise because of the ERP and inventory management system. This leads to better customer service through accurate order production. The company can reduce costs as it purchases only the required goods. Additionally, the company can save money and run its cash flows smoothly. Security can be a guarantee because of the cloud. Lastly, automation will cut out human error.
Future of ERP
There will be more and more enterprise resource planning inventory management systems in the future. AI will play a more significant role, including the personal assistant. Mobiles will be unavoidable when dealing with real-time changes. It will allow flexibility, which is always needed due to changing suppliers and customers. One database must link customers, suppliers, and internal departments.
Selecting the Ideal System
Remember that what you need should come above what you want. There is no need to buy the generic ERP tracking system as that may not suit you. Instead, you may only need functions that fit in with your business. Look to the future and expansion and ensure the system can address issues faced in the warehouse. The team involved should include warehouse staff as well as those from IT.
The system should pull up data quickly. It should produce data when required and in the correct format. If there is a problem, you need to know that the support is there, and the vendor will always be on hand to assist you.
Not all warehouse staff will be familiar with using IT initially, so the ERP WMS system must be user-friendly. There is no need to cut back on the features you need to train staff, but do not select an overly complicated system. The final consideration should be the location. Is it going to be a present system on-site that you want, or are you happier with the cloud?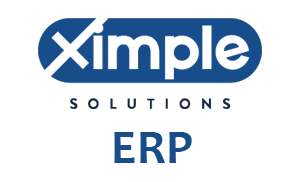 Hope you are enjoying reading this post.
If you belong to a medium or large-size distribution business, Ximple ERP is just for you.
Ximple ERP offers independence and flexibility to your B2B customer to grow their business. Our solution has D2C features they expect from you. Our ERP has an inbuild ERP offering.
You are one click away from transforming your wholesale distribution businesses, book a call now for the free demo
Conclusion
There is a lot to think about when considering ERP in the warehouse. Whatever size the company has, and whatever the field, there will be a suitable system. Consider all areas as there would be problems if there was insufficient capacity or staff could not understand what they needed to do.
When it comes down to ERP vs data warehouse, only the people involved can make that decision.
Hitesh Barot is a Technologist and blogger passionate about solving business and technological challenges in Wholesale Distribution, Retail, and Manufacturing Industries. He has more than 20 years of experience leading the IT department for the Distribution, Retail, and Manufacturing business. Learn more about him here and connect with him on LinkedIn.
---
Posted on