How can ERP technology help distributors become value-added partners?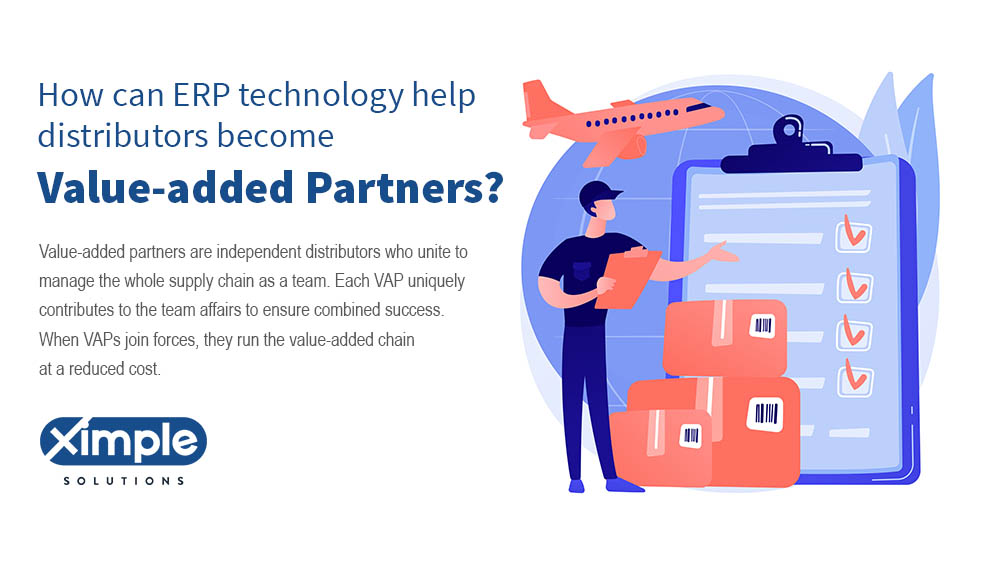 This article is relevant to wholesale distributors who want to become value-added partners in their industry. It explains how ERP technology can help distributors achieve their goals of improving sales, reducing costs, enhancing collaboration through data sharing, and building closer customer relationships. It emphasizes the importance of an open-architecture ERP system for distributors to manage disruptive forces and changes in the wholesale distribution industry.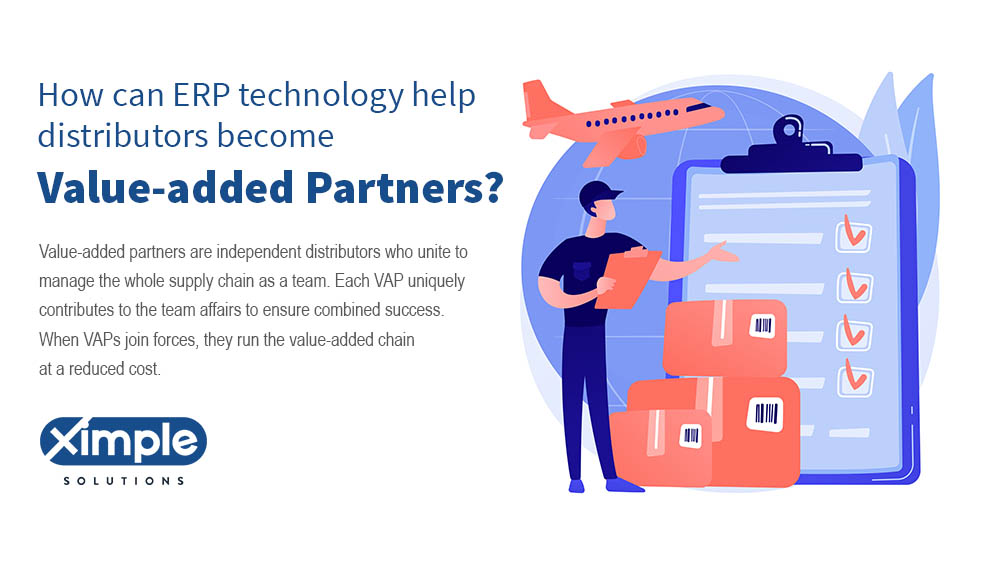 Wholesale distributors should understand their industry well to become value-added partners (VAPs). Value-added partners are independent distributors who unite to manage the whole supply chain as a team. Each VAP uniquely contributes to the team affairs to ensure combined success. When VAPs join forces, they run the value-added chain at a reduced cost. VAPs need to be financially strong business associates. One way to become a viable VAP is by implementing the best ERP software for distributors.
Table of Contents
What is Distributor ERP?
ERP is one of the modern software technologies that simplify and enhance communication between value-added partners. ERP for distributors is an industry-specific software system for addressing disruptive forces and inflection. Distributors must cope with new customer demands and expectations, increasing competition, expanding digitalization, new product innovations, and other challenges.
As the wholesale distribution field constantly shifts, value-added partners must still navigate it and stay stable. The industrial ERP software system is among the best tools for that purpose. But how can your company use ERP technology to become the best value-added partner? It has to attain the following goals via industrial distributor ERP.
Improve sales
Enhancing sales should be the aim of every business. Wholesale distributors should take this more seriously because they work in a competitive B2B market. Without the best ERP for distributors, they cannot capitalize on the rising customer demands to improve sales.
There is a direct connection between service levels and inventory levels. Traditionally, you must have higher stock levels to enhance your customer service. Things are different today because you can use ERP software to improve service levels without increasing your inventory levels. You need an ERP system with an open architecture for this process to work.
A traditional ERP system has a closed architecture with siloed, erroneous, and inconsistent data sources. ERP software for distributors is versatile, scalable, highly customizable, and extensible. Due to its open architecture, this ERP is simple to augment with the most reliable order and inventory management solution to avoid losing sales.
Advanced ERPs can unify different data sources to show the actual inventory levels available to customers. Wholesale distributors aiming to become the best value-added partners can use real-time inventory insights to provide adequate inventory levels for proper order fulfillment.
Moreover, proper inventory tracking and visibility can allow VAPs to improve customer experience when handling complex orders. They can provide accurate order delivery estimates to gain customers' trust and loyalty.
Reduce costs
Besides investing in the best cloud ERP for distributors, companies aiming to become the best value-added partners should embrace big data analytics and business intelligence. Dealing with massive data levels is unavoidable today.
With inefficient data capturing, analyzing, storing, and responding to methods, wholesale distributors can lose their competitive advantage.
Besides, the cost of managing excessive data levels with inefficient techniques is high. This is why companies can become better VAPs by finding innovative data management methods, including BI and big data analytics.
They can minimize human error through their automation capabilities.
With artificial intelligence, distributors can avoid depending on humans to choose the best ways to source and deliver orders. AI can assess different order fulfillment choices and select the most cost-effective option.
Advanced cloud ERP software for wholesale distributors can allow you to lower inventory management expenditures.
As ERP provides a real-time view of inventory units, distributors can identify redundant expenses and do away with them.
Distributors can avoid harsh penalties for unmet contractual demands by employing the modern data analytics systems mentioned above. These smart supply chain management tools can help distributors fulfill orders on a priority basis. Thus, they can first deliver the most urgent orders to evade penalties.
Enhance collaboration with data sharing
Organizations that do not work together do not need to share valuable data. After all, sharing data with a competitor is more like giving away your success secrets. In contrast, value-added partners should embrace data sharing to enhance their teamwork. If they trust each other, they should not fear sharing success tactics.
Data sharing among distributors who work as a team can provide real value to their association. Data sharing can offer these benefits to all stakeholders in your VAP team.
Efficient resource coordination – Data sharing allows distributors to channel resources where they can be financially beneficial.
Improve customer experience – Accurate data sharing across the supply chain improves visibility. Thus, it helps every participant play their role promptly so the team can deliver goods on time and in proper condition. In return, customers can feel satisfied and develop undying loyalty to the company.
Saves delivery cost and time – Data sharing can help united distributors deliver goods to the correct customer faster by tracking distance. They will identify who among them is closest to the customer and has what they require. If that person delivers the goods to the customer, the team can save time and money.
Improves supply chain visibility – Via distributor ERP software, every VAP can receive up-to-date data from different sources. They do not need to call or write an email to gather vital information. Real-time visibility of the value chain allows participants to be self-reliant and react swiftly to unanticipated events.
Increases profits – Better supply chain visibility via distributor ERP system elements promotes decision-making on sourcing. Distributors can act upon shifting customer demands, track orders and inventory levels, and raise their odds of making higher profits in peak times.
Closer customer relationships
You must mind how you relate with your customers, no matter what type of wholesale distribution business you do. Also, if you want to join forces with other distributors and become the best VAP, you must demonstrate your ability to serve customers right. An industrial distributor's eCommerce ERP system is one of the tools you require to serve customers well.
It automates different processes, enabling distributors to access a central database when they need to learn the truth. Investing in ERP software for food distributors or any other field can help meet your customers' expectations. Offering personalized eCommerce experiences is possible with distributor cloud ERP.
For instance, you can create pricing options and product catalogs to meet customers' expectations. Also, you can enhance customer relations by making the most straightforward online ordering process to encourage self-service. Customers cannot see the need to shift to the next vendor if they can understand the entire order placement process without making a call.
In short, customers can feel more confident and trust you to deliver their goods on time. Investing in distributor ERP, artificial intelligence, and other technologies that produce intelligent data insights can promote customer confidence and trust for your brand. If customers feel satisfied, they will buy repeatedly and boost your revenue.
ERP is one of the best value creation tools as it can manage customer relations. Value creation works only if customers and distributors unite and work harmoniously. Besides, distributors will only thrive if they can attract new customers and retain the existing ones. Distributors' software ERP can help you improve customer relations via the CRM module.
A Customers Relationships Management (CRM) module can help you review each customer relationship and categorize your target audiences based on their needs. If customers have complaints, your CRM will help you respond to them fast and efficiently.
Conclusion
Wholesale distributors can benefit from implementing ERP technology to become value-added partners. By improving sales, reducing costs, enhancing collaboration with data sharing, and building closer customer relationships, distributors can enhance their competitiveness in the market. An open-architecture ERP system is a valuable tool for distributors to manage their supply chain efficiently and navigate the challenges of the constantly shifting distribution landscape. While implementing an ERP system can be costly, the long-term benefits of increased efficiency and profitability make it a worthwhile investment for distributors looking to succeed in today's market.
Hitesh Barot is a Technologist and blogger passionate about solving business and technological challenges in Wholesale Distribution, Retail, and Manufacturing Industries. He has more than 20 years of experience leading the IT department for the Distribution, Retail, and Manufacturing business. Learn more about him here and connect with him on LinkedIn.
Related topics
---
Posted on