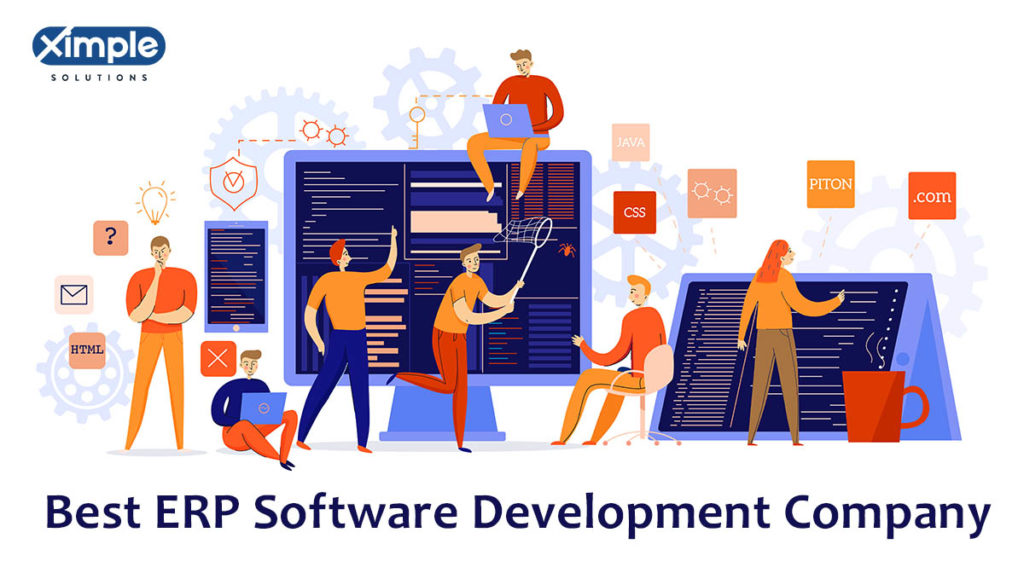 Ximple Solutions is a leading ERP software consulting and development firm with expertise in ERP & B2B eCommerce. We are committed to providing customized solutions and industry-leading service to clients worldwide. We specialize in helping wholesale distribution businesses and organizations by providing integrated solutions to automate and streamline their operations.
We are a leading ERP software development company. With a team of experienced and certified experts, Our services include ERP software development, consulting, migration, upgrade, training and integration.
As an ERP software provider and consultant, we have consulted for hundreds of clients in wholesale distribution industries ranging from manufacturing to wholesaling.
What do you mean by the term 'ERP'?
Enterprise resource planning (ERP) is how an organization oversees its resources and optimizes their use to achieve the desired goals. ERP also helps consolidate business processes and data, thus improving operational efficiency.
It includes features such as:
Project management
Customer Relationship Management or CRM
Inventory management
Production control
Enterprise reporting
The term ERP is applied to different software in different industries, but there are a few general principles common to the concept of Enterprise Resource Planning: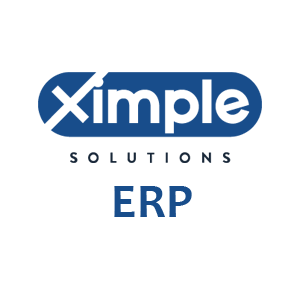 See How We Can Help to Reduce Your Operational Costs for Your Wholesale Distribution Business.
Ximple ERP automation improves workflows & processes across the distribution departments which help to reduce operational cost and productivity.
If you want our wholsale distribution business experts at Ximple Solution to help you digitalize your distribution business or upgrade your legacy ERP, just book a call
ERP systems integrate data from various enterprise applications, databases, and business processes into an overall "plan" that helps an organization manage its resources more efficiently.
ERPs are usually tailored to specific business needs and industry standards.
Therefore, it is crucial to understand the enterprise's time frames, customer base, and economic environment before selecting a specific system.
Why is ERP important for business growth?
Enterprise Resource Planning (ERP) is a type of business software widely used by all businesses. This helps firms streamline their operations by making sure they are following best practices, complying with regulations, and maximizing automation.
Everything is data-driven in the digital age, and every major business decision is based on analytics. Businesses need to know that their data to make decisions are trustworthy. They also need to seamlessly connect their systems without any downtime or operational failures to ensure that they remain productive.
Enterprise resource planning (ERP) manages data used in the business. ERP systems integrate the functional areas of the organization into a single system. An ERP system can help companies manage some or all of their functions, such as finance, human resources, and manufacturing. It can also provide decision-makers information when they need it and automate many tasks.
ERP systems integrate data from every department within an organization by consolidating it into one platform to make critical decisions. They do this by using APIs and connectors to get data from external sources such as vendors and customers.
ERP Software
An Enterprise resource planning software is a type of business suite or integrated software which ensures that the company's information is available to all employees. This type of software manages the company's workflow from requesting a project, managing budgets and resources, scheduling and assigning tasks to employees, recording progress, and documenting it.
Enterprise resource planning software is a computer application that automates various administrative tasks within an organization. It is also known as an enterprise management system (EMS). In most cases, it complements existing enterprise process management applications such as customer relationship management systems or field service management systems.
Needs for ERP software
Enterprise resource planning software is a collection of applications used to manage and automate the company's business operations. There is a lot of information that goes into it, and there are a lot of needs that they have
Analytics: This need is typically seen in an ERP as it involves gathering data from various sources and making sense of it. It helps measure how well the company is doing with its customer service, cost management, payroll management, etc.
Business intelligence: This is another need for Enterprise resource planning software as it provides insights about costs, profitability, and customer needs.
Scalability: One of the significant needs of ERP software is to provide scalability. Some ERP systems are not scalable, and as your business grows, they will struggle to provide the required services. This can lead to higher prices, lesser efficiency, and ineffectiveness in performance. In this case, it would be better for your company to upgrade from the current system or look for an alternative.
Configurability: ERP Software improves the business's configuration by increasing the ability to extend the company with new functions.
User-Friendliness: User – Friendliness is one of the essential needs that ERP software can fulfill. The main motive of any business is to attract more customers and make accessibility easy.
Importance of ERP Software for the business
Enterprise Resource Planning (ERP) is a system for managing a company's resources and processes. The importance of Enterprise Resource Planning Software is Stated Below:
An ERP system stores business information in one centralized location, making it easier for companies to make decisions and plan future strategies
Many managers would think that ERP software has nothing to do with the daily operations of their business. But in reality, it is the backbone of any workflow process you can think of.
A sound ERP system is an integrated software suite designed to automate day-to-day operations and provide decision support to management
ERP software makes it easy to look at a company as a whole rather than having separate systems for each department or location.
It saves time by eliminating redundant data entry tasks such as data reconciliation between different databases that may exist at different levels within the organization.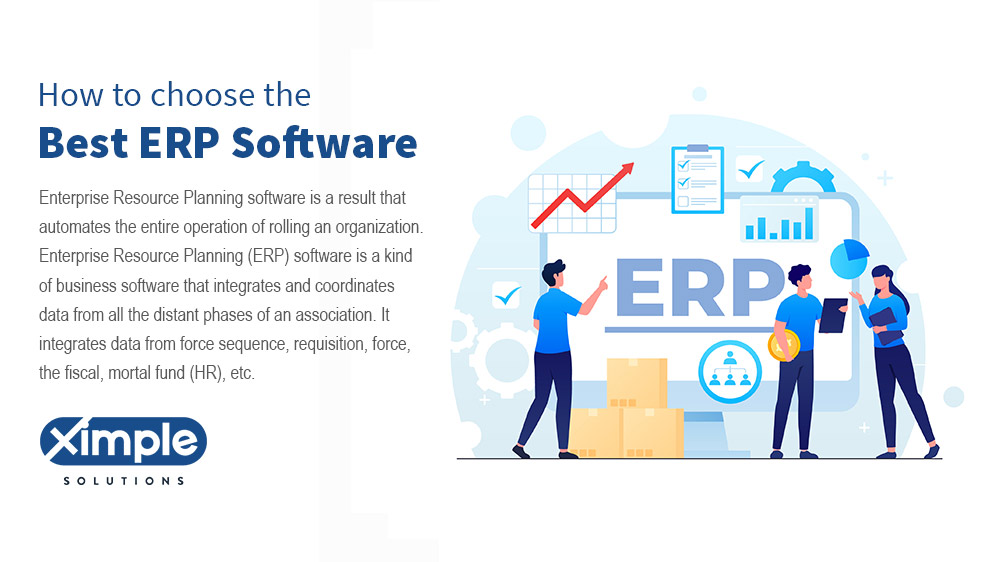 How to choose the best ERP Software?
Enterprise Resource Planning software is a result that automates the entire operation of rolling an organization. Enterprise Resource Planning (ERP) software is a kind of business software that integrates and coordinates data from all the distant phases of an association. It integrates data from force sequence, requisition, force, the fiscal, mortal fund (HR), etc. There are numerous ERP networks in the request, but not all are reasonable enough for a business. When opting for your ERP network, you should look at scalability and expense effectiveness. You should also find a dealer who provides you with reinforcement when you require it. Bestowed the vast composition of ERP software accessible, it can be delicate to adjudge which is formal. So, then are some simple ways to opt for the traditional ERP Software for your business.
The first thing that you should do is identify your needs. What are you exactly looking for? For example, if you want the software to manage your warehouse inventory, you need an ERP system with the inventory management module. If you are looking for a system that can help keep track of your sales tax payments, it's vital to select an ERP software with the reporting functionality and ability to integrate with systems. This is a straightforward and easy-to-do step, but it will help identify what kind of software you need.
After that, you need to speak with a few businesses in your industry that have already implemented enterprise resource planning systems and see the results.
In the third and final step, You need to choose the most helpful, practical, and suitable enterprise resource planning software or ERP Software for your business.
Ximple solutions as an ERP Software Development Company
Ximple Solutions is a guiding ERP software development company specializing in delivering formal type results in the area of ERP. We've skills in making up altitudinous-class results that outpace the requirements and requisitions of our clients. We assist sociable businesses and small enterprises in simplifying their missions and concentrating on what they do formally. We're an ERP software development company, and we deliver enterprises with scalable business resource planning software.
We work with our clients to provide the best possible solution for their needs, whether you're a startup or an established company. Our team is committed to providing you with a top-rated product. Ximple Solutions is an ERP Software Development Company that can build and deploy custom solutions for any business size in any industry. Our services include software development, consulting, implementation, and support to help you grow your business.
Wholesale Distributor ERP Softwares Developed by Ximple Solutions
Accounting Software: Accounting is a complex process. It requires the most precise calculations, calculating taxes, and identifying where to allocate the funds. Accounting ERP software provided by Ximple Solutions makes this process easier and more accurate for businesses.
Sales Software: Having a sales process is also essential. This involves using a CRM system to keep track of prospective buyers, their interests, and what they need to see in the product you are selling. Ximple Solutions' sales software helps generate leads, track sales and prospects, customer engagement and support through social media, manage marketing operations and customer data, etc.
Warehouse Software: In the modern competitive market, a company needs to track its inventory and keep better tabs on its stock. More than just a tool, warehouse software has become the backbone of many industries. Ximple Solutions provides the business with warehouse software to grow in the modern competitive market.
Inventory Software: It is important to note that every company needs a way to track their inventory to know how much they have and how much they need. Inventory software provided by Ximple Solutions can help retailers better manage their inventory and optimize their stock because it is more comprehensive and accurate than a paper-based system.
Purchasing Software: Ximple solutions is a company that provides purchasing software for digital products and services to the world. We are experts in digital marketing, and we are dedicated to providing every customer with exceptional customer service.
Operation Software: Ximple Solutions is a startup company in the operations software industry. Ximple Solutions has developed an enterprise-level automation and optimization platform which will revolutionize the way businesses operate. It is the most user-friendly operation software in the world. This software is a vast improvement on existing software with many new features, such as tracking all employees and their hours, exporting data to excel or word, and many more.
Employee Software: Ximple Solutions provides businesses with employee software that helps manage employees, which can be found in every facet of the company. They serve many purposes, such as payroll management, time tracking, and calendaring. Such programs are mainly used in the office environment, but they may also be used in educational settings or at home.
ERP Integration Software: Ximple solutions is a software company that focuses on integrating and automating Enterprise Resource Planning (ERP) systems for wholesale distribution industries. We have expertise in making ERP systems communicate with each other without any downtime or manual intervention.
Vendors Software: Vendors software provided by Ximple Solutions offer specialized software products and services. Vendors provide solutions for specific needs or problems in the current workplace. As technology advances, Vendors are becoming more specialized in their product offerings and services.
Supply Chain Software: Ximple solutions is a supply chain software and business analytics software that helps companies lower costs, improve performance, and increase margins. With ximple, you'll be able to find the best inventory sourcing strategy and route, maintain a lean inventory, and analyze data to make better purchasing decisions.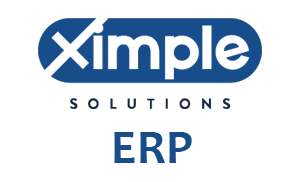 Hope you are enjoying reading this post.
If you belong to a medium or large-size distribution business, Ximple ERP is just for you.
Ximple ERP offers independence and flexibility to your B2B customer to grow their business. Our solution has D2C features they expect from you. Our ERP has an inbuild ERP offering.
You are one click away from transforming your wholesale distribution businesses, book a call now for the free demo
Conclusion
Ximple Solutions is one of the best Enterprise resource planning software development companies. We provide companies of all sizes with the latest technologies to upgrade them, which are required for their growth. So if you need the most effective Enterprise Resource Planning software or ERP Software, you can go with Ximple Solutions.
Hitesh Barot is a Technologist and blogger passionate about solving business and technological challenges in Wholesale Distribution, Retail, and Manufacturing Industries. He has more than 20 years of experience leading the IT department for the Distribution, Retail, and Manufacturing business. Learn more about him here and connect with him on LinkedIn.
---
Posted on