What is Future of Cloud ERP?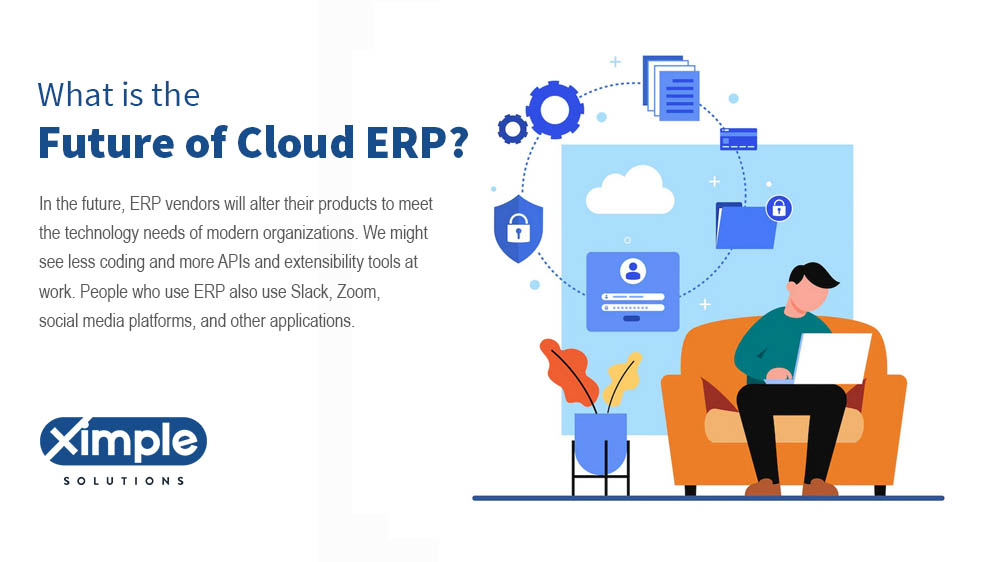 This article is relevant for anyone interested in learning about cloud ERP and its benefits, challenges, and future trends. It discusses the advantages of running ERP on the cloud, the different types of cloud-based ERPs, and the implementation process. The article also covers the challenges of cloud ERP adoption and how the ERP industry is evolving. The future of cloud ERP is explored, including the increasing use of advanced technologies like artificial intelligence and machine learning.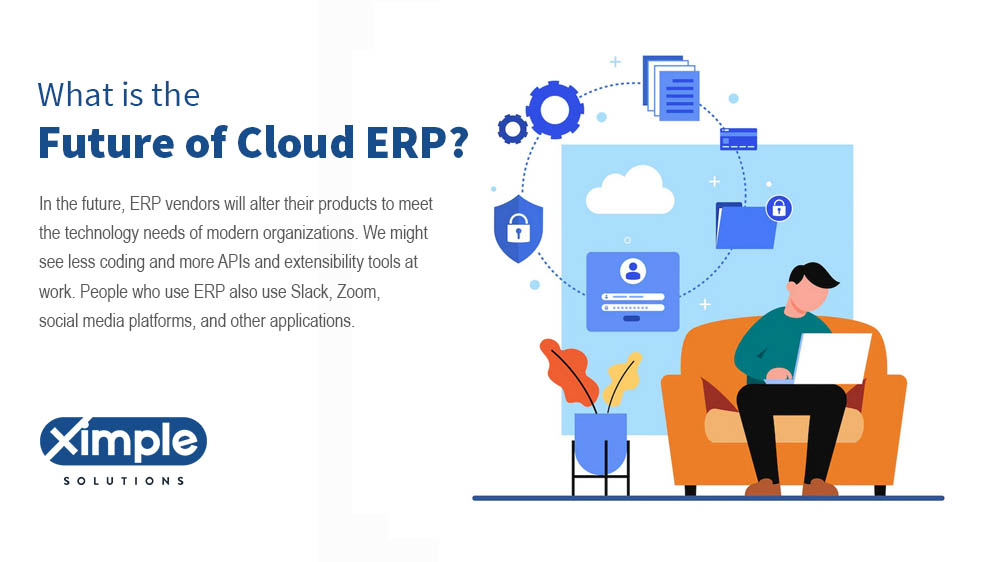 Enterprise Resource Planning (ERP) software has existed for a long time. Recently, companies started leveraging cloud-based ERP computing to drive up productivity. In the past, companies were using on-premise or legacy ERP systems. While these still worked, they had some shortfalls. For instance, an on-premise ERP can be rigid and costly to implement, maintain, and upgrade. Also, legacy systems do not support remote working because they live on local servers. In the 21st century, companies are slowly discovering the advantages and disadvantages of cloud computing for an enterprise.
The future of cloud ERP rests on Artificial Intelligence, Remote Collaboration, Machine Learning, Robotics Process Automation, Industrial IoT, and Blockchain has demonstrated their value to the early adopters who made these technologies a part of their day-to-day activities. The information and intelligence provided by these technologies have added value to the adopters. Modern ERP application development uses modern programming languages and architecture such as Angular, React, Restfull APIs, Microservices, and Java.
Table of Contents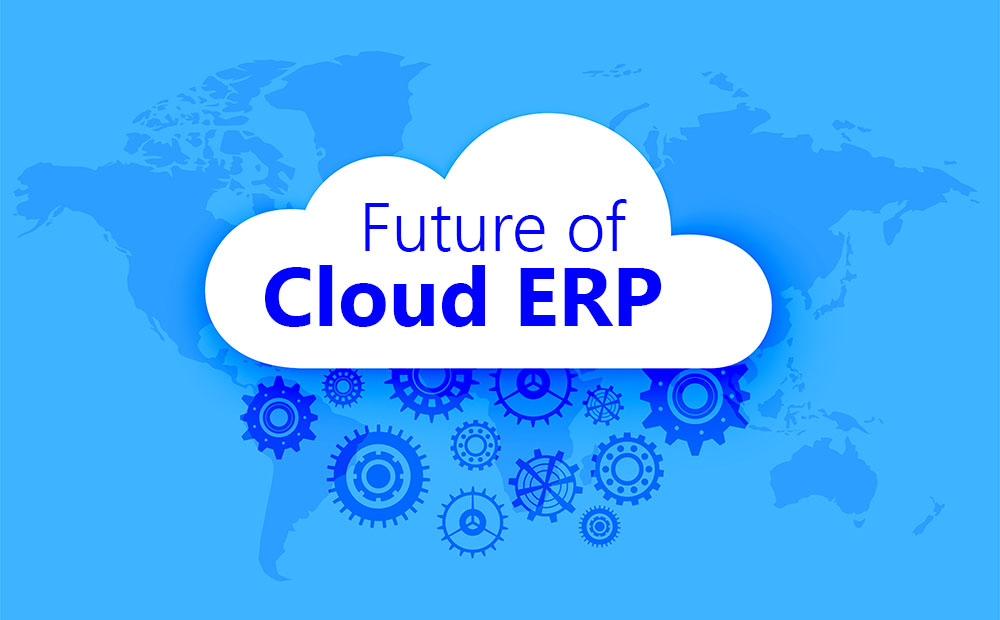 Cloud computing
Cloud computing entails transferring business services to the cloud to boost innovation, economies of scale, and flexibility. Services related to IT resources like software, databases, bandwidth, networking, servers, analytics, etc. Cloud represents the internet. Cloud computing has many benefits, including:
It eradicates the high cost of implementing and running a physical data center.
Cloud computing is faster and more flexible because there is no paperwork.
It eliminates laborious and costly procedures like software patching and hardware installation. Hence, the IT team can become more productive.
Cloud computing promotes proper planning and allocation of IT resources. This can encourage growth and expansion.
Reliable cloud computing services operate on a global network of safe datacenters. These undergo regular monitoring and upgrading, which does not often occur in small corporate-based data centers.
There is no reason to worry about disaster recovery, data backup, or business continuity when running your affairs on the cloud.
Cloud computing service providers use the latest data security methods to protect their customers' infrastructures from cyber threats.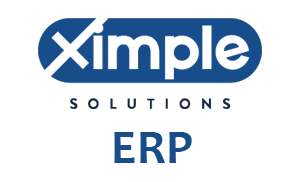 See How We Can Help to Reduce Your Operational Costs for Your Wholesale Distribution Business.
Ximple Cloud ERP automation improves workflows & processes across the distribution departments which help to reduce operational cost and productivity.
If you want our wholsale distribution business experts at Ximple Solution to help you digitalize your distribution business or upgrade your legacy ERP, just book a call
Types of ERP and reasons for moving to Cloud ERP
A cloud ERP analysis can reveal the benefits of abandoning your legacy system. Unlike your on-premise system, a cloud ERP system runs on an internet-based server. There are different types of cloud-based ERPs:
Multi-tenant SaaS – In this one, several companies share one version of ERP solution occupying the same server space. Nevertheless, no company can peek at their neighbor's data.
Single-tenant SaaS – Only one organization utilizes a given version of cloud-based ERP and associated servers and infrastructures. It is one of the most private cloud computing solutions.
Private cloud – Like single-tenant SaaS, a private cloud is a dedicated hosting service.
Microsoft Azure, Amazon Web Services, IBM Cloud, and Google Cloud are good examples of a public cloud. While they share the cloud, they cannot access each others' data and applications.
Hybrid cloud – This type of cloud combines the traditional legacy ERP system and private or public clouds.
But why should an organization move its IT resources to the cloud? Here are the reasons briefly:
Cloud ERP implementation is cheap because a company does not need to set up a physical data center with computers and other hardware equipment.
After deploying a cloud ERP, the costs of running it every month are significantly low. That is because cloud providers do maintenance and support tasks.
There is no need to hire more information technology workers because the cloud providers run the infrastructure. So they respond to any problems and upgrades without bothering clients.
Companies on the cloud do not have to buy emerging technologies because their vendors have them.
The former wins if we compare cloud ERP to the on-premise ERP based on security. Modern encryption methods and multi-factor authentication techniques promote the safety of cloud-based data storage.
Companies on the cloud receive real-time data from any place on earth. The centralized cloud location is easy to access remotely, unlike the legacy system that stays on the business premises.
A hosted ERP system is more scalable than a legacy system. The ERP can grow with your business because you can increase or decrease your resources depending on your current circumstances.
Benefits of Cloud ERP
Running a cloud-based ERP for Wholesale Distributors can be so beneficial. One of the main advantages is that the initial cost of implementing a cloud ERP is low since the vendor buys software and hardware.
Also, the ongoing costs of running the software are low because you do not need to handle maintenance, support, and upgrading costs.
There are no delays when you choose to get a cloud-based ERP. In about 100 days or less, you can have a properly functioning cloud solution. This can reduce downtime and ensure business continuity.
After installing a cloud system, your remote employees can access it from any region as long as they have a browser and Wi-Fi. Thus, it can help increase their productivity and help boost the profitability of your business.
Cloud solutions vendors have the finances to purchase the latest security technologies and implement them. Small-scale organizations running an on-premise ERP may not afford new ERP technologies.
Lastly, ERP online vendors have reliable disaster planning techniques they can use to recover data loss from software or hardware failure.
Ximple Cloud-based ERP offers a next-generation solution for Wholesale Distributors. Netsuite Cloud ERP provides similar advantages.
Challenges of Cloud ERP
Even if ERP cloud software is so beneficial, it has its challenges. Briefly, these include the following:
Even if shifting to the cloud is speedier, some cases are exceptions. For instance, a multi-national business using a legacy solution for years may have plenty of resources to shift to the cloud. Handling this calls for more time, expertise, and caution.
ERP technologies are not always a welcome idea in giant organizations with many IT workers. A decision to shift IT resources to the cloud may face strong resistance from those fearing to lose their jobs. Also, it is hard to explain to the stakeholders who feel that company data is unsafe on the cloud.
Cloud ERP Implementation
Have you decided to run ERP on a cloud? Congratulations on that. Before you start, however, take the time to understand what the implementation process entails. Make sure you have the recipe for success. It includes the following:
Set the purpose – Why do you want to shift your business resources to the cloud? What is your vision, and do other stakeholders understand it? Track the current issues your business is facing. These could be unnecessary delays, intense competition, inaccuracies in data processing, inadequate capital to run on-premise ERP, etc.
Write down the scope of your ERP project – Although a cloud ERM ERP takes less time to implement, it is good to arrange it in phases. So, establish a timeframe for the whole project before breaking it into small stages. Also, create short-term and long-term goals to help you achieve the project purpose.
Choose the project manager – Proper leadership is core for the success of your internet ERP project. Each business function needs a manager as the ERP software serves all departments. A manager will address barriers, create progress reports, track goal achievement, and maneuver the project until it ends. Having a project sponsor, including the company CEO, is vital because they will manage resistance to change and training needs.
Training – People resist change when they feel less confident about their abilities. The project sponsor might have to offer training. Team members should receive training to learn various terminologies and the expected level of participation. More focused training is necessary as the project gets more complicated to prevent stress and confusion among team members. Later on, users of AWS cloud ERP will need training to know how it works.
Total involvement of the project owner – Even if the project owner is not a technical geek, they must stick around. The external consultant will do the assigned work, but the project owner should be part of the journey. After all, the consultant will leave after finishing their work, and the owner will use their product.
Future Cloud ERP Trends: How ERP Industry is evolving?
In the past, companies only had access to on-premise ERP solutions. Now they can run their business processes on the cloud, thanks to cloud computing technology. This alone shows that the industry is changing fast. Current ERP systems support both back-end and front-end functions.
ERP is now easier to integrate with Internet of Things devices, Artificial Intelligence, and Machine Learning. Modern solutions include these capabilities to ensure the user does not incur the cost of adding them.
ERP platforms are now easier to customize to meet business needs as they do not use a lot of coding. We can now uncover what might happen to a business in the future with the predictive analysis trend.
Lastly, ERP providers are starting to offer mobile support via dedicated apps. We expect to see more apps as we trend into the future. This will support remote workers executing their jobs via their mobile gadgets.
In short, Top ERP software future Trends include cloud ERP, ERP Integration with Advanced Technologies, Industry-specific ERP solutions, ERP Software Trends Leading to Digital Transformation, Mobility, Voice, Bots, Collaboration, Plug and Play ERP Integration, and intelligent ERPs (iERP) that use AI and ML for advanced analytics
Future of Cloud ERP
In the future, ERP vendors will alter their products to meet the technology needs of modern organizations. We might see less coding and more APIs and extensibility tools at work. People who use ERP also use Slack, Zoom, social media platforms, and other applications.
Vendors will continue to make their solutions easier to integrate with other productivity tools. There is the likelihood that the best cloud ERP will skip UX and embrace a more idiot-proof, all-encompassing structure that everyone can understand. Lastly, vertical ERP solutions based on pre-configured templates might shape the future of the ERP industry.
FAQ about Cloud ERP Future
1. Is Cloud ERP the future?
The cloud enterprise resource planning platform (ERP) could be the future. About eighty percent of organizations owned on-premise (legacy) ERP systems in 2009. About two to four years later, most companies had lost interest in legacy systems and were considering cloud ERP adoption. This included at least twenty percent of the best-performing medium-sized companies.
According to the SMB Group's 2016 report named The Business Technology Performance Connection for SMBs, a shift to the cloud ERP began as early as 2010 for some top-performing SMEs. The Aberdeen Group has many resources suggesting that the cloud ERP has many benefits that make its future very bright.
Some reports show that SMBs already using cloud ERP saw a seventeen percent rise in profitability in the past twenty-four months. Companies still using legacy systems got a nine percent profit increase within two years. Cloud ERP improves the delivery of automated notifications and real-time alerts to the status of each process.
2. What is the future of the ERP industry?
We keep seeing new ERP trends, and these will shape its future. After the arrival of the Coronavirus pandemic, many organizations shifted their ERP and other software tools to the cloud. ERP shifts to the cloud among SMEs are of more interest now. Small and medium-sized enterprises are increasingly adopting cloud ERPs than larger organizations.
Additionally, there is a growing IoT(Internet of Things) trend adoption in every industry. That also includes the ERP industry. IoT refers to direct connectivity between computers and other technology gadgets.
Soon, customers will ask for ERP solutions that match their specific sectors to avoid customizations and improve compliances.We expect advanced technologies like Business Intelligence and various reporting tools to increase. These tools will help users navigate disruptive moments and inevitable changes.
Merged solutions or two-tier ERP platforms will soon form a significant part of the industry. These will help companies with many branches run their supply chains better. Other elements like mobile ERP rendering and digital marketing will also shape the ERP industry's future.
3. Are you ready for Cloud ERP?
You are ready for a cloud ERP transformation if you are dealing with the following business problems:
You lack a 360-degree view of your enterprise.
You have separate software tools for marketing, payroll management, accounting and finance, warehousing, inventory management, customer relationships management, etc.
Bookkeeping and accounting tasks are getting harder to do these days
Your customer satisfaction work is getting impossible by the day, and you have more complaints.
Your business has outgrown its legacy ERP system
Your pricing system has flaws.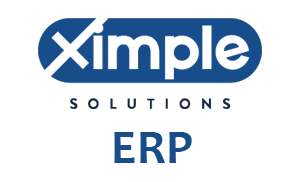 Hope you are enjoying reading this post.
If you belong to a medium or large-size distribution business, Ximple ERP is just for you.
Ximple Cloud ERP offers independence and flexibility to your B2B customer to grow their business. Our solution has D2C features they expect from you. Our ERP has an inbuild ERP offering.
You are one click away from transforming your wholesale distribution businesses, book a call now for the free demo
Conclusion
The future of cloud ERP is promising, with the industry evolving to meet the technology needs of modern organizations. This includes AI, machine learning, IoT, and blockchain. Cloud computing provides numerous benefits, including cost-effectiveness, scalability, and improved access to data. However, challenges exist, such as resistance to change and the need for proper implementation. ERP providers will continue to make their solutions easier to integrate with other productivity tools and offer more mobile support. The future of the ERP industry will likely see the rise of vertical ERP solutions based on pre-configured templates. The Ximple solution is a leading cloud-based ERP designed for the wholesale distribution industry, simplifying the Omni-channel experience for its users, improving inventory management, and speeding up the digitization journey cost-effectively.
Hitesh Barot is a Technologist and blogger passionate about solving business and technological challenges in Wholesale Distribution, Retail, and Manufacturing Industries. He has more than 20 years of experience leading the IT department for the Distribution, Retail, and Manufacturing business. Learn more about him here and connect with him on LinkedIn.
---
Posted on