EDI and ERP – What does this Mean? | EDI ERP Integration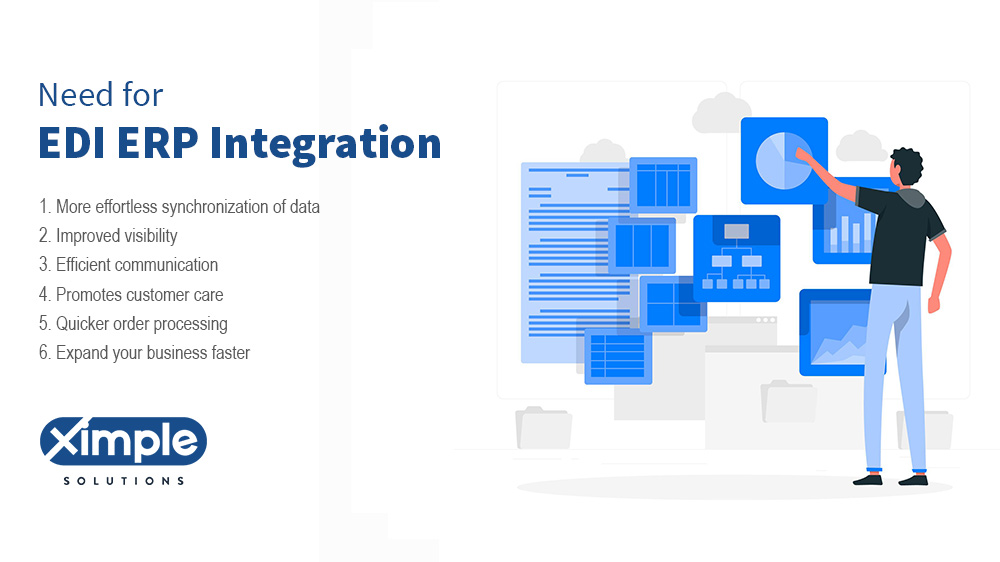 Enterprise Resource Planning vendors regularly mention the term EDI. But what do they mean? EDI refers to Electronic Data Interchange. Discovered in 1980, EDI is a technology for exchanging documentation from one PC to another. ERP is business management software that puts everything into a single centralized database. It produces real-time updates from various business departments, processes, and activities. Many of you may ask this: What is the difference between EDI and ERP? We will educate you more about EDI and how you can integrate it with ERP software.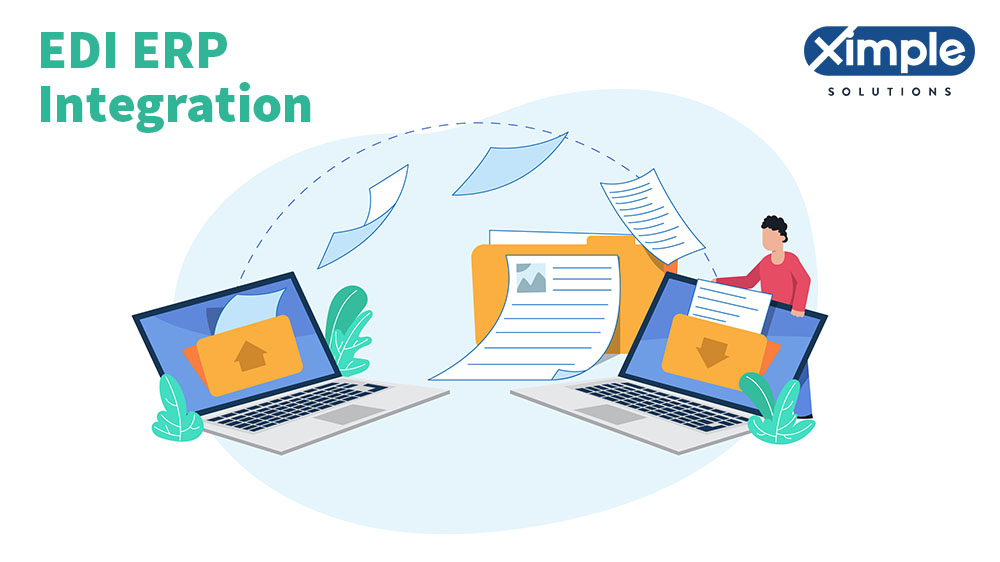 EDI vs. ERP
ERP and EDI are different in some ways. First, they differ in their meanings. As earlier hinted, ERP is a software suite with several integrated applications. It enables a business to gather, store, organize and analyze data from different business areas. A typical ERP application will offer modules to help a business track Accounts Payable, Accounts Receivable, inventory, sales orders, purchase orders, payroll, etc.
EDI is a method through which businesses exchange documents with each other. It supports communication by enabling entities to send documents electronically. EDI came to replace faxing and post-mailing as means of sharing business correspondence. EDI allows users to exchange purchase orders, sales orders, shipping notices, invoices, payment documents, acknowledgments, shipping status statements, etc.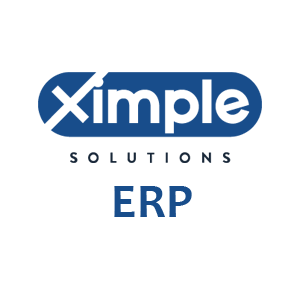 See How We Can Help to Integrate EDI with ERP for Your Wholesale Distribution Business.
Ximple ERP automation improves workflows & processes across the distribution departments which help to reduce operational cost and productivity.
If you want our wholsale distribution business experts at Ximple Solution to help you digitalize your distribution business or upgrade your legacy ERP, just book a call
EDI does not need ERP to perform its roles. However, ERP uses EDI technology to facilitate the real-time transmission of data. That is another way in which EDI and ERP systems differ. The two systems are similar in that they reduce the risk of human error.
EDI carries out document exchange via computers rather than humans. ERP automates every business process and activity to reduce data entry errors. Thus EDI ERP systems minimize paperwork and human interventions. Also, they lower administrative costs and boost productivity.
What is EDI in ERP?
The modern EDI solutions are easy to merge with ERP. EDI and ERP integration seem like the future as even the entry-level ERP vendors provide embedded EDI. A combination system can offer the benefits of EDI in ERP.
The integrated system is ideal for most industries, including manufacturing, wholesale distribution, transportation, etc. If your business exchanges large volumes of documents daily, Edi in ERP might work for you. Even small businesses that aim to expand fast should consider EDI when implementing their ERPs.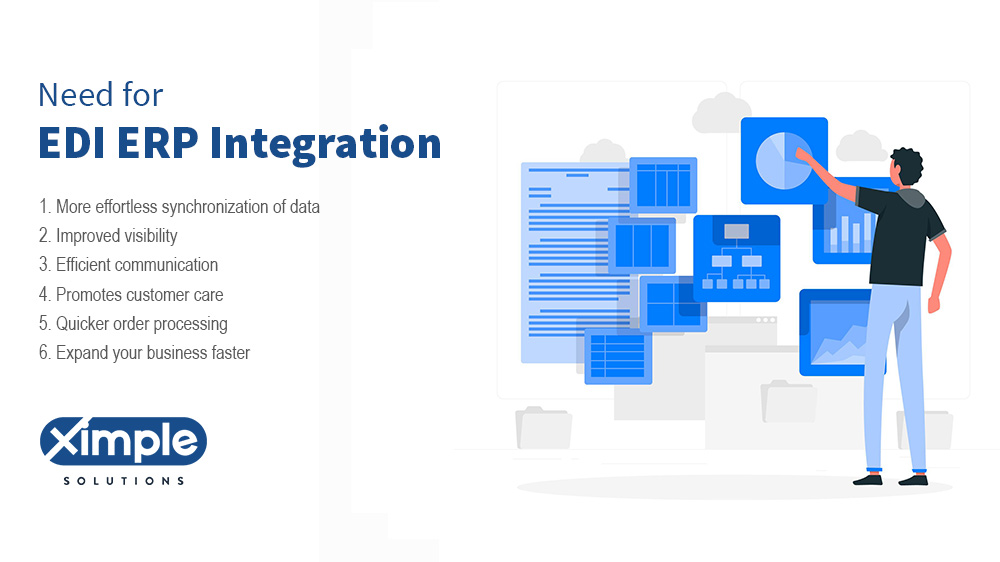 Need for EDI in ERP
What are the advantages of having components of EDI in ERP? These include the following:
More effortless synchronization of data – Both EDI and ERP allow the electronic transmission of files. Thus, they eliminate paperwork and save a lot of time. And to view synchronized files, users can log into their ERP systems and view them. They do not have to rely on fax anymore.
Improved visibility – A supply chain can be long and complicated. Luckily, EDI integration with ERP increases the visibility of even the most complex supply chains. Due to better visibility, a company can process orders faster, shorten its order to cash cycle, and welcome partners already using EDI.
Efficient communication – EDI supports seamless file exchanges between departments and organizations. It essentially reduces paper-based communication. As a result, EDI integration ERP software reduces procurement costs and streamlines the purchasing process.
Promotes customer care – How your customer care department responds to customers' questions matters. If customers have to deal with paperwork, the retrieval and exchange process will be long and tiring. EDI in ERP simplifies customer data retrieval and promotes a quick resolution process. Prompt resolution translates to a happy customer who comes back over and over.
Quicker order processing – Customers everywhere love a business that serves them quickly and effectively. A combined EDI and ERP system can quickly help your business process orders and respond to issues faster. They will also reduce manual work and alleviate fatigue. Besides, if you process orders quickly, you can make more sales.
Expand your business faster – A company that wishes to form new partnerships must be willing to pay the price. Progressive organizations can easily accept allying with a business that uses an EDI ERP system. Thus, incorporate EDI into your communication systems to obtain more valuable tenders and opportunities.
EDI ERP Integration & its benefits
Are you a wholesale distributor with a local or global supply chain? If yes, you should explore the benefits of having EDI in your ERP. Having EDI services in ERP will promote communication between your organization and its trading partners. EDI boosts front-end communication while ERP controls and records back-end communication.
Connected data streams between EDI and ERP platforms can give you the best of both worlds. Despite these advantages, you must do a correct and thorough EDI integration. More than seventy percent of integrations fail, leading to wastage of time and money. So, we insist on carrying out the process more meticulously via professional help.
EDI to ERP integration can help make your supply chain more visible and cost-efficient if you do it right. A thorough integration process allows data to flow between your front-end and back-end. The automation procedure removes manual data entry and human error.
The seamless process starts at the front end, where you have EDI. It enables the easier and quicker exchange of a business document like a sales order. Once the document arrives, it will automatically tally and convert into an acceptable internal document format like XML or Idoc. Next, the sales order will enter your ERP systems like Ximple Solution, SAP, or Netsuite. Finally, users will view the sales order in a language they can comprehend via the help of an API application.
An automated ERP and EDI software solution works better than a traditional one. The traditional one could not merge as each option had its boundaries. Organizations would try to make the two software tools work together by entering EDI data into ERP. Creating a data flow manually was still a solution, but it was strenuous. Today, EDI systems provide a way to integrate with any ERP software.
Because of ERP EDI integration, companies have improved data accuracy. It also increases business cycle speed and enhances supply chain visibility. Your organization can make more sales, reach its profit targets, and expand with increased business cycles. We cannot forget that the two software systems automate only accurate data.
Without human hands coming into contact with business data, it is less likely to have errors. A lack of misplaced values in data can eliminate headaches for everyone.
EDI integrated ERP: Ximple ERP for wholesale Distributors
Do you need an EDI integrated ERP? It is the best choice because it is more modern and reliable. Ximple ERP for wholesalers is the perfect choice for you. It provides EDI architecture in ERP, making it a ready-to-use platform. As a wholesale distributor, you need to make your supply chain more visible.
With an EDI-ERP-ready Ximple Solution, you can boost supply chain visibility and increase order processing times. The system will reduce administrative costs and enhance your customer care department. Ximple is a unique ERP for those in the distribution business.
As your EDI-ERP integrated solution, it will allow the faster exchange of business documents between you and your associates. Ximple will make your operations more efficient and position your wholesale distribution business for success.
FAQ about ERP and EDI
What is EDI integration in ERP?
EDI refers to Electronic Data Interchange. It is a software tool for automating paperless communication between companies. ERP EDI integration allows companies to minimize manual processing and enables the ERP to transmit data in real-time. The combination of EDI and ERP leads to better data synchronization, faster order processing, efficient communication, quicker scalability, etc.
What is API vs. EDI?
Here, we are trying to answer how API and EDI differ. EDI is an electronic data exchange system that works for companies with large transaction volumes. API refers to Application Programming Interface. While it does the same thing the EDI does, the two systems work exclusively. EDI creates a connection between two communication systems, while API provides an internet-based protocol that allows many systems to communicate simultaneously.
What is an example of EDI software?
Many EDI software systems exist. To name a few examples, they include Jitterbit, SPS Commerce Fulfillment EDI, TrueCommerce EDI, Cleo, GoAnywhere MF, and ParnerLinQ.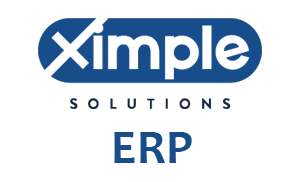 Hope you are enjoying reading this post.
If you belong to a medium or large-size distribution business, Ximple ERP is just for you.
Ximple ERP offers independence and flexibility to your B2B customer to grow their business. Our solution has D2C features they expect from you. Also Our ERP has EDI Integration facility.
You are one click away from transforming your wholesale distribution businesses, book a call now for the free demo
Conclusion
If you are looking for a way to improve your supply chain management, look no further than the EDI. It is now an integral part of the wholesale distribution business. If you run a legacy EDI system, you can replace it with Ximple. It is one of the best EDI and ERP integration solutions for wholesale distributors. It is also an advanced cloud platform that cannot disrupt your business processes and activities. The only way to integrate EDI with ERP and benefit from it is to do it well. Avoid making mistakes, and you will enjoy all EDI-ERP benefits.
Hitesh Barot is a Technologist and blogger passionate about solving business and technological challenges in Wholesale Distribution, Retail, and Manufacturing Industries. He has more than 20 years of experience leading the IT department for the Distribution, Retail, and Manufacturing business. Learn more about him here and connect with him on LinkedIn.
---
Posted on