Which of the Following Best Describes ERP Systems
#
We need to understand the following points which describe the ERP Systems
ERP is an integrated software application that standardizes and streamlines business processes to improve productivity and efficiency, improve internal and external communications, and provide easy access to information for business decision making. ERP Systems integrates business processes into all business functions, accounting, finance, human resources, purchasing & procurement, distribution, manufacturing, warehousing, inventory management, sales, and other departments.
From supply chain management to purchasing, customer relations to sales and inventory to accounting, ERP system covers all areas of planning, operations, logistics, administration, finance and management on a single platform. Real-time data is accessible with honesty and accuracy, leading to quick and confident decision making, premium customer service and transparent risk management.
Following Points Describes, What is Best ERP Systems
ERP System Built with industry-specific focus, provides a strategic foundation that will integrate your entire enterprise on one platform, enabling you to excel in today's competitive marketplace.
Characteristics and Features of ERP System
Scalable & Designed for Growth Grows with your wholesale distribution business without any limits.
Customization Out-of-the-box customization with parameters and API / micro services.
Expert Support Expert support from an industry expert with over 10+ years of experience.
Productive Minimize manual and spreadsheet based processes by taking advantage of integrated ERP software.
Reliability 99.99% Cloud ERP uptime.
Real-time Earn daily cash balance visibility using real-time reports.
Fastest Payback Fastest implementation and payback. The average implementation is done in less than 90 days. ROI in less than 9 months.
Single license Managing multiple companies with a single license.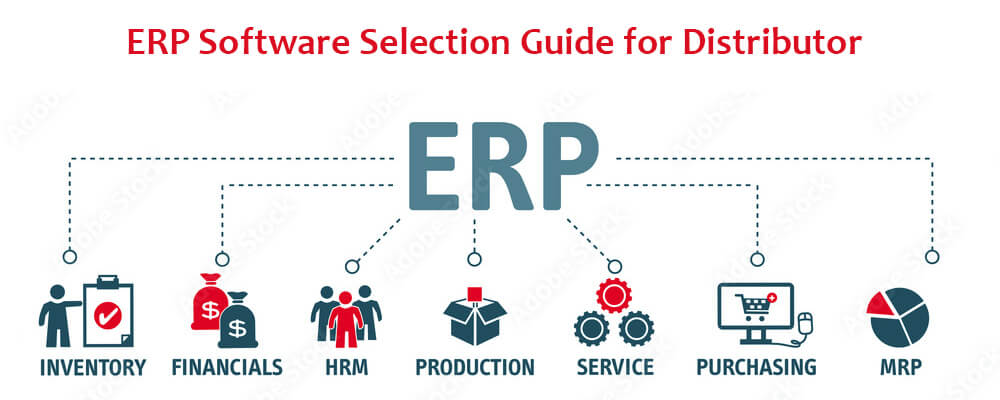 How to Identify that which is the Best ERP
To find the ideal ERP for you, you need to take a closer look at your business, your strengths, your weaknesses, and your needs, and then do a little research to find the ERP tailored to your unique business.
For so long there have been only a few ERP providers on the market, but today there are ERP vendors for every industry, size and specialty.
The best ERP for you will be the one that specializes in your business line, and the features you need to improve your business.
Related articles
Finance Describes in ERP Systems
The finance module in ERP software is the one that automates the tasks performed by different users in the finance department of the company. These users can be an accounting clerk, accountant or manager. The finance module in ERP allows you to configure the system precisely so that all transactions are accurately accounted for and reported automatically.
Payroll Definition Describes ERP System Role
ERP payroll management is software that integrates payroll management activities with the overall business process flow in the organization. The typical ERP for the payroll handles the various functions of the payroll department, including calculating the pay for the period, with further breakdowns in allowances and deductions, including dividing it into different cost elements. The system also calculates the right to tax and (alternatively) transfers the tax deduction to the government treasury.
ERP transforms distributors and wholesale businesses that will grow along with them, keep pace and help them face challenges of today and tomorrow.
To make a business successful in this digital era is not accidental. Ximple ERP can be a ladder to your success. Make your smart choice today by choosing Next-Generation ERP Software. It's that "Ximple".
About Ximple Solutions – Overview
Ximple Solutions is a company that designs, develops, and distributes Enterprise Resource Planning solution. Ximple Solutions was founded by Carlos Aguado, and his subordinate team. It took them a combination of hard work, dedication, and meticulous research to bring the company from its humble beginnings to heights of success. Although its ERP solution can help businesses of all sizes, the company focuses on medium-sized and large-sized organizations. Additionally, Ximple provides consultancy services on technology matters. As the leading ERP provider, Ximple excels in HVAC, Plumbing, Electrical, Fastener, Hose and other industries. Its software consists of different modules that harmonize to offer the best customer experience.
Modules- Ximple has the following modules:
Sales
Purchasing
Warehousing and Inventory Management
Delivery Route Setup
Product Catalog
Administration
Employee Management
Banking
Billing
General Ledger
Accounts Payable
Accounts Receivable
Reporting
Activity Based Costing
Bar Coding and Label Printing
Check Reconciliation
Contact Manager
Cylinder/ Container Tracking
Document Imaging
eBusiness/eCommerce Platform
Electronic Catalog
EDI(Electronic Data Interchange)
Electronic Mail
Digital Payment
---
Posted on